Last updated on November 12th, 2023
Worcester boiler problems, like most boilers, are not uncommon and can be a nightmare when they cause your boiler to break down on a cold winter night.
I have been fitting and fixing boilers full-time for over a decade and have fixed my fair share of Worcester Bosch boilers.
In this post, I'll go through some of the many problems I come across based on my experiences when I get called out to repair a Worcester boiler.
Worcester Boiler Troubleshooting Problems
Here are some Worcester Bosch boiler faults and issues that I have come across on many jobs and what you can do to try and troubleshoot these issues.
Worcester Boiler Not Turning on
A Worcester boiler not turning on could be for many reasons and there are many ways you can troubleshoot yourself.
No Power Supply: If you have no lights on the boiler at all, you probably have no electric supply to the boiler. You should make sure you have credit if you have a prepayment electric meter, check the circuit hasn't tripped at the consumer unit, and check the fuse in the spur and boiler.
No Gas Supply: Check the gas is turned on at the meter and that you have credit if you have a prepayment gas meter. You should check if other gas appliances are working if you have any, as this will confirm if you have gas or not.
Thermostat Problems: Check that the temperature is turned up higher than what the room temperature is. Check the batteries in the thermostat if it's wireless.
This is some simple Worcester boiler troubleshooting you can easily check.
Worcester Boiler Leaking Water
Unfortunately, Worcester Bosch boilers have a few common leaks, probably more than any other boiler that I know of.
Here are some common recurring Worcester-specific boiler leaks I come across:
Flow turbine adaptor
Flow unit left-hand block
Right-hand block
Whichever one of these parts is leaking will need to be replaced to fix the leak.
The flow turbine adaptor is the most common cause of a Worcester boiler leaking water in my experience.
Worcester Boiler Low Pressure
A Worcester boiler low pressure problem is most often caused by bleeding the air out of radiators, having a leak on the system, or when the expansion vessel has no air in it.
To fix this low pressure problem you will need to repressurise the boiler by adding water to the system via the filling loop.
If the pressure keeps dropping too low then you will need to find and fix the problem that's causing it to drop.
You could have a leak anywhere on the heating system, or the pressure relief valve might be letting the water outside.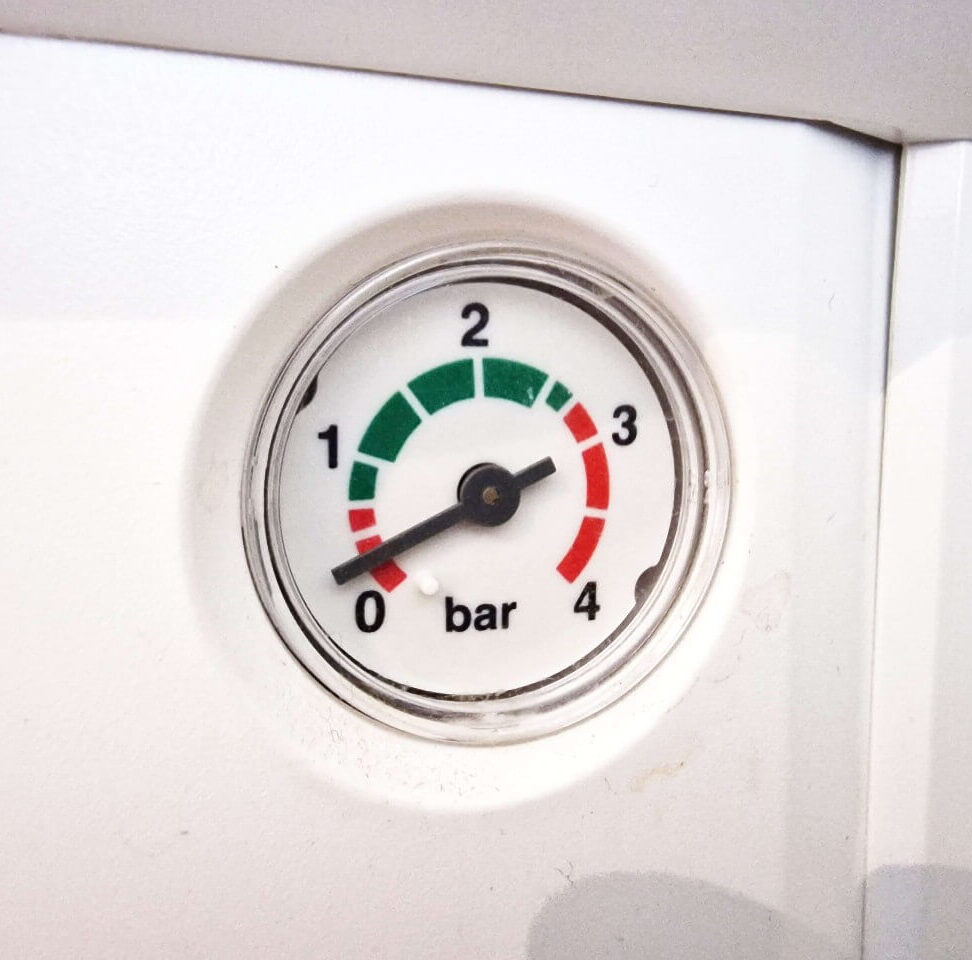 Worcester Boiler Reset
First off, whenever you are having problems, whether it's lights flashing or just not working, you should reset the boiler.
Resetting it can sometimes save the day when the boiler has gone to lockout as it can happen when there aren't any issues. It could also be an intermittent problem and resetting it could get it going again until you get it repaired.
The Worcester boiler reset process (unlike some other boilers) is straightforward as you press the reset button on the front of your Worcester boiler and hold it in for around 5 seconds.
If your Worcester boiler doesn't have a reset button, you should check the boiler's manual for resetting it.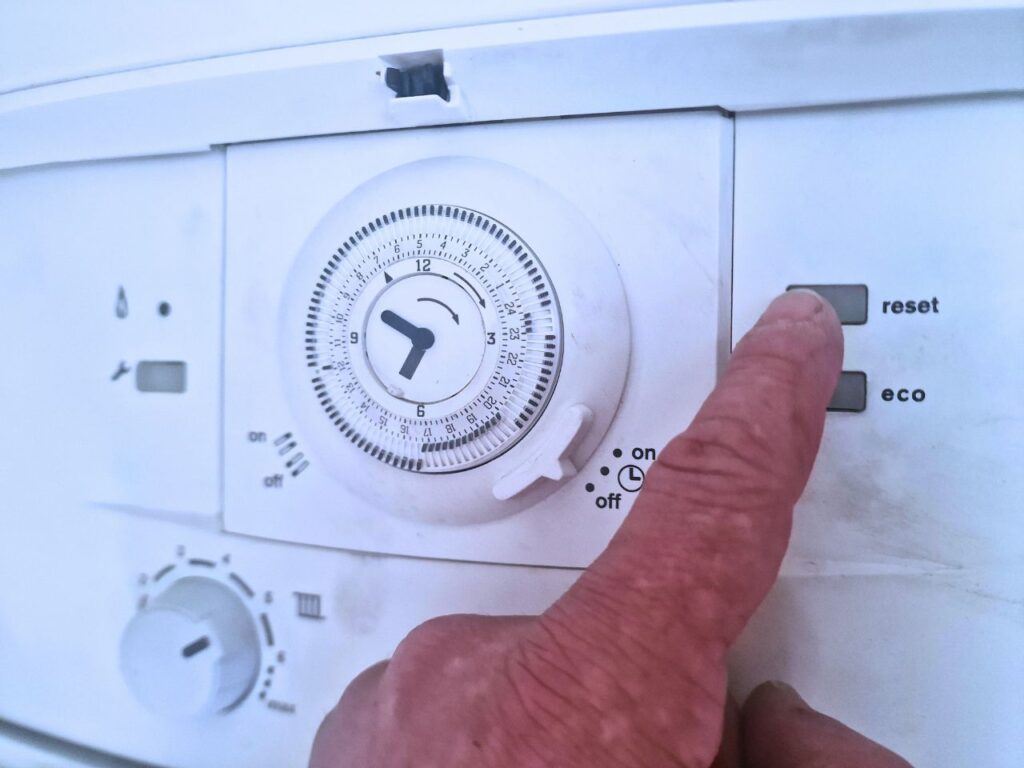 Flashing Blue Light on Worcester Boiler
The flashing blue light on a Worcester boiler is to tell you there is a fault with the boiler, or the boiler has been put into service mode.
Your Worcester boilers flashing blue light usually means it has a fault and should accompanied by a fault code.
Worcester Boiler Frozen Condensate Pipe
If it's sub-zero temperatures outside and the boiler isn't working, there is a good chance it's because your Worcester boiler condensate pipe has frozen.
This can be easily thawed out by pouring hot water over the plastic pipe outside and resetting the boiler.
Worcester Boiler Fault Codes
Worcester boiler fault codes are a great way to find out what might be wrong with the boiler when it goes lockout.
The fault codes will give an engineer a great starting point when fault finding to help diagnose and fix the problem and often helps us find the issue very quickly.
Here are some of the most common Worcester boiler fault code errors:
227: No flame detected. Possibly caused by a frozen condensate pipe or no gas supply.
A21: No signal between your wireless thermostat and receiver.
E9: The safety temperature thermostat has tripped. This means something is causing the pipes to get too hot, (possible blockage or pump failure) or the actual safety thermostat is faulty.
Summary
Worcester Bosch boilers are a well-made and trusted boiler but they have problems like every other brand.
There are some simple troubleshooting you can try to fix your problems like making sure you have gas and electricity to the boiler, making sure the pressure is good, and resetting it should be the first thing to do.
Feel free to ask me any questions in the comment section below and I'll try my best to help.
Please share this post if you find it helpful.
---
Worcester Boiler Problems FAQs
---
Why does my Worcester boiler keep firing up when the heating is off?
Your Worcester boiler will fire up randomly when the heating is off when the hot water preheat function is activated.
You can turn this off by turning on ECO mode but the preheat will keep some water hot so it comes out of the hot tap quicker.
What is the life expectancy of a Worcester boiler?
The average life expectancy of a modern Worcester Bosch boiler is 10-15 years.
This can vary a lot and having a magnetic system filter can help to make it last longer.
But, if you are having regular breakdowns and having to replace parts on a Worcester boiler older than 10 years old, you should probably think about replacing the boiler.