Last updated on September 24th, 2023
The best plumbers tool bag is subjective as some plumbers use the best tool bag money can buy and some literally use cheap buckets to carry their tools.
I have been a full-time plumber for over a decade and have bought many tool bags over the years, from the cheapest going to the best quality and most expensive.
Here I'll show you from first-hand experience what are the best plumbers tool bags.
Best Plumbers Tool Bag
I have been through every stage when it comes to tool bags from the cheapest possible to the best available.
My preference is an open tote tool bag for my plumbing tools and I used to go through many cheap tool bags a year.
I thought this was the way to do it to save money but buying an expensive quality bag works out cheaper in the long run as they last a very long time.
I have more tools than I need and I definitely think you should buy the best plumbing tool bag for the best tools.
Veto Pro Pac
Without a doubt, the best way to go when it comes to plumbing tool bags is to get a Veto Pro Pac.
They come with 5-year warranties.
I own three Veto Pro Pac tool bags:
Veto Pro Pac OT XL
Veto Pro Pac TECH-MCT
Veto Pro Pac TP4-B Tool Pouch
---
Veto Pro Pac OT XL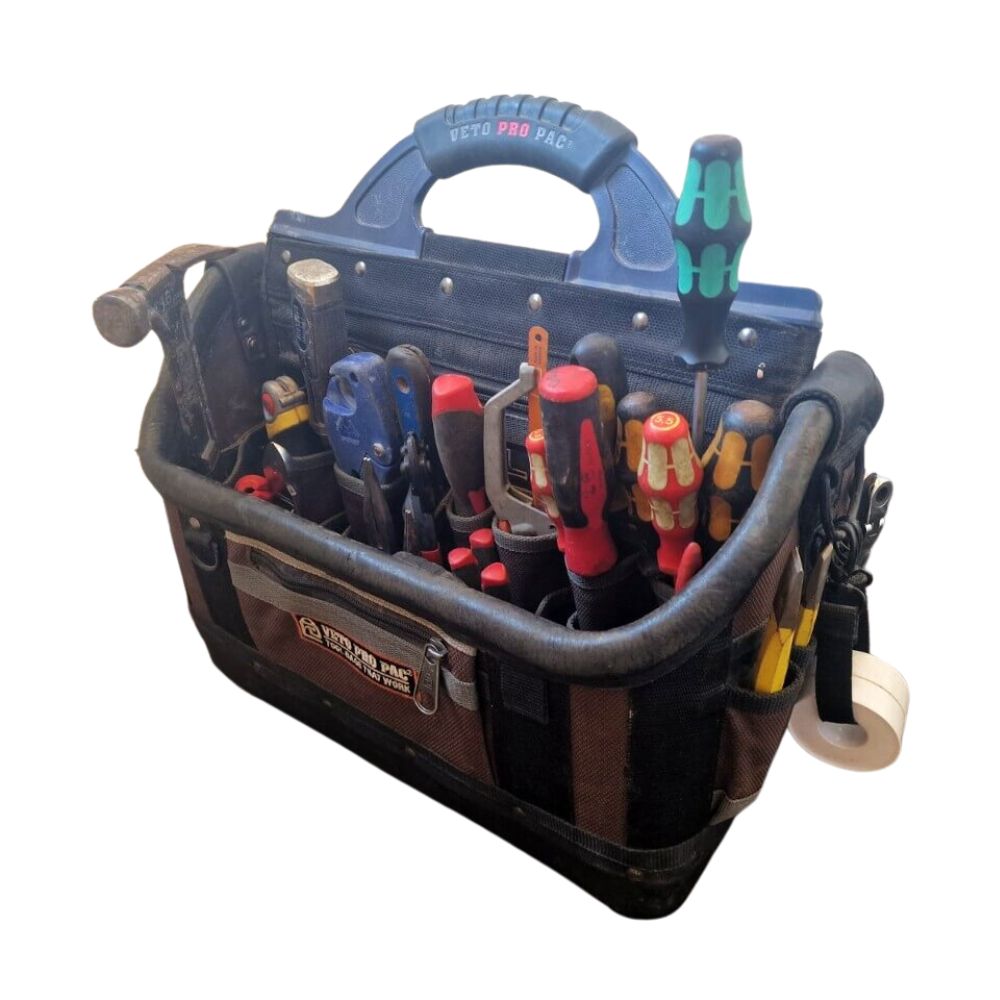 The Veto Pro Pac OT XL is a large open-tote tool bag which still seems indestructible after 4 years of regular use by me.
This is a huge bag with lots of room for tools and my main tool bag that I couldn't do without and great for big jobs like boiler installations.
There's lots of pockets to keep lots of tools easily accessible and lots of open space for chucking them all in (and other crap) when I've finished working on a big job in a hurry and itching to get home.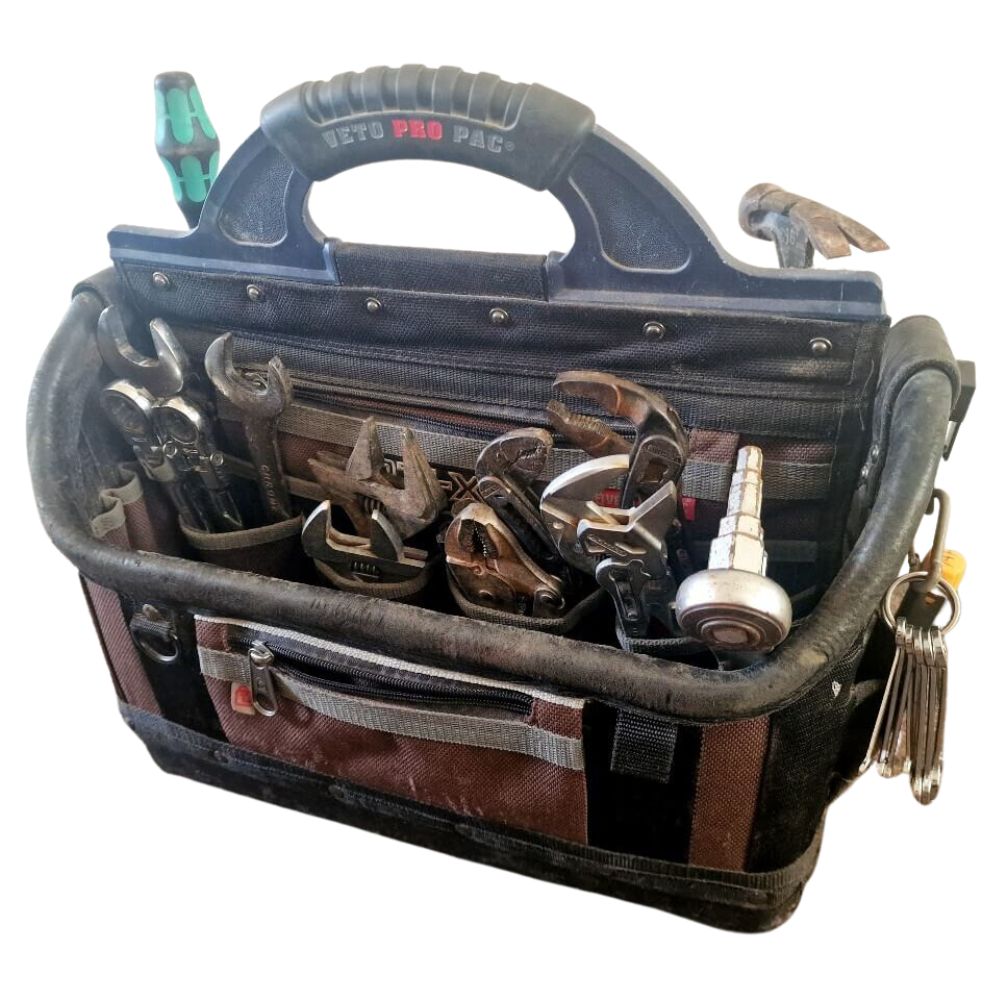 The only downside of the OT XL tool bag is it can be very heavy when full of tools (too heavy for some people), but you can get smaller and larger versions.
This is one of the best tool bags money can buy.
I don't think I'll ever need to buy another plumbers tool bag as this one is so solid, but if I do, I'll be buying another one of these.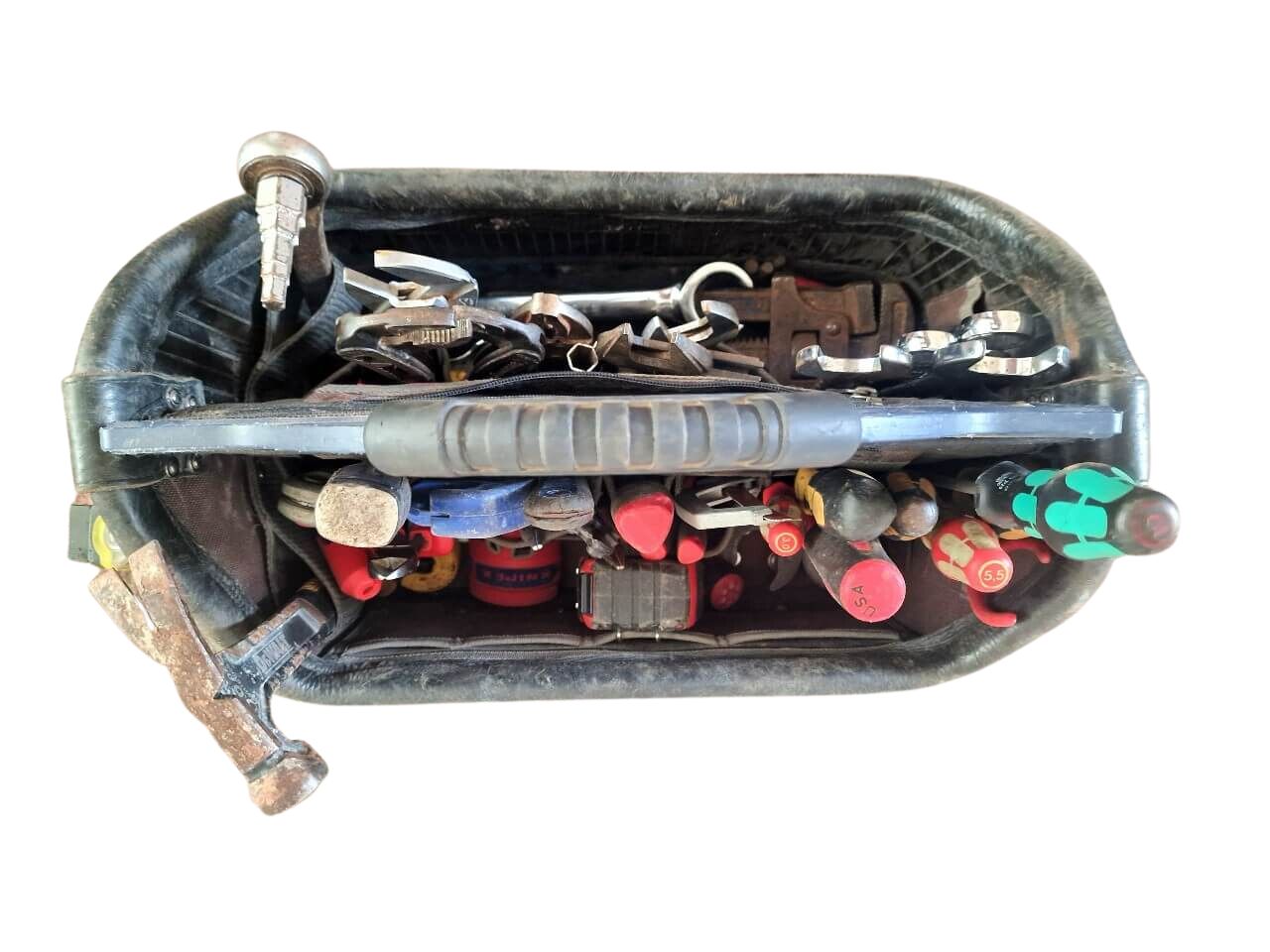 ---
Veto Pro Pac TECH-MCT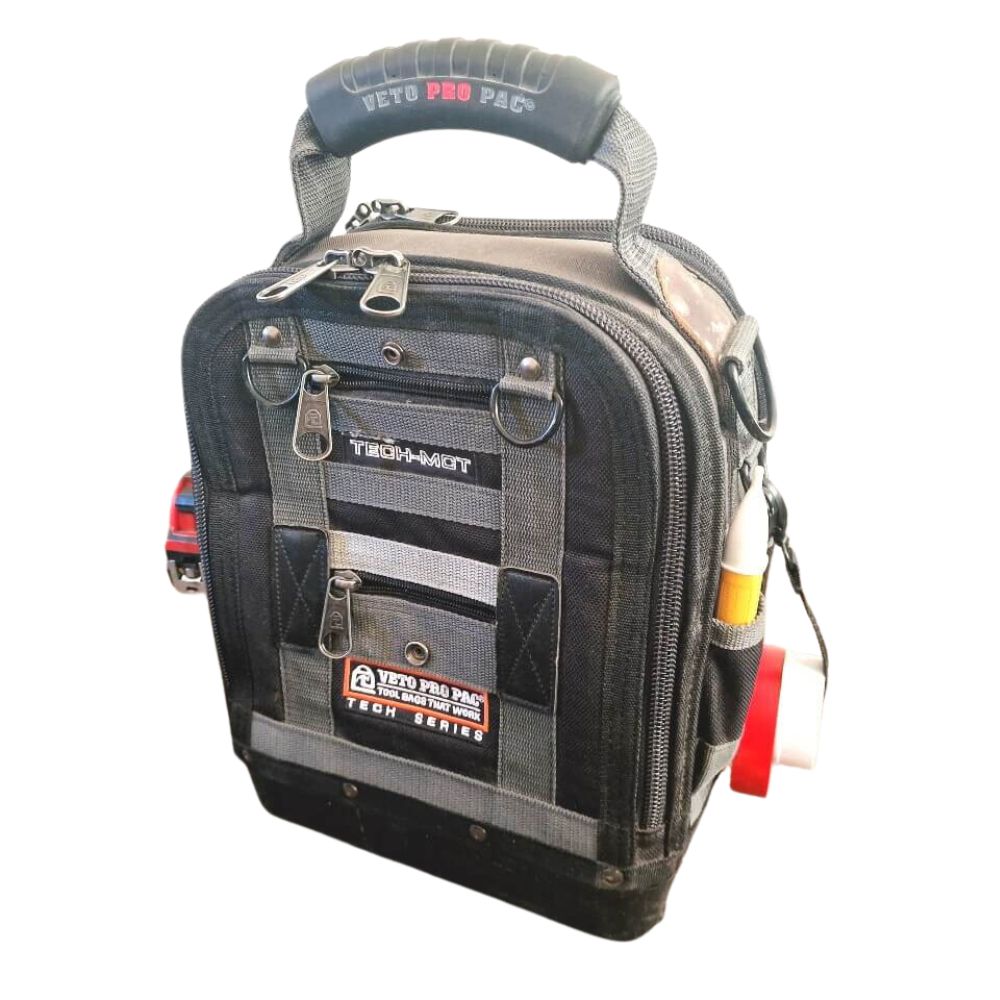 The Veto Pro Pac TECH-MCT is a zip-up tool bag and great for boiler servicing and repairs or smaller plumbing jobs.
This is a great gas engineer tool bag with lots of pockets to hold small and medium-sized tools.
You can't fit a full-size claw hammer in here so bear that in mind, and this is the taller version of similar Veto bags.
---
Veto Pro Pac TP4-B Tool Pouch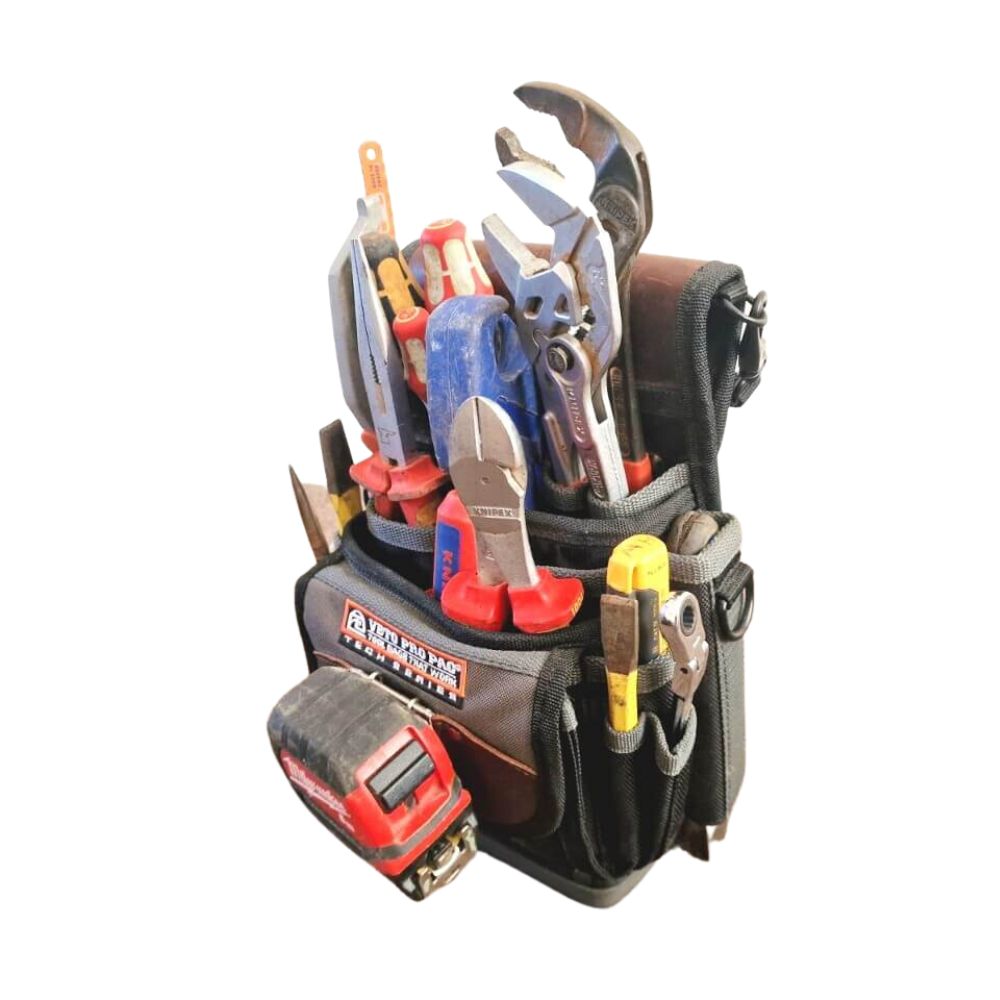 My Veto Pro Pac TP4-B Tool Pouch is quality tool bag that feels indistructable.
It's great for jobs where you don't need a lot of tools or when it's very tight for working space.
With a nice little strap on the top that can be hooked on to a ladder rung when working up a height.
---
CK Magma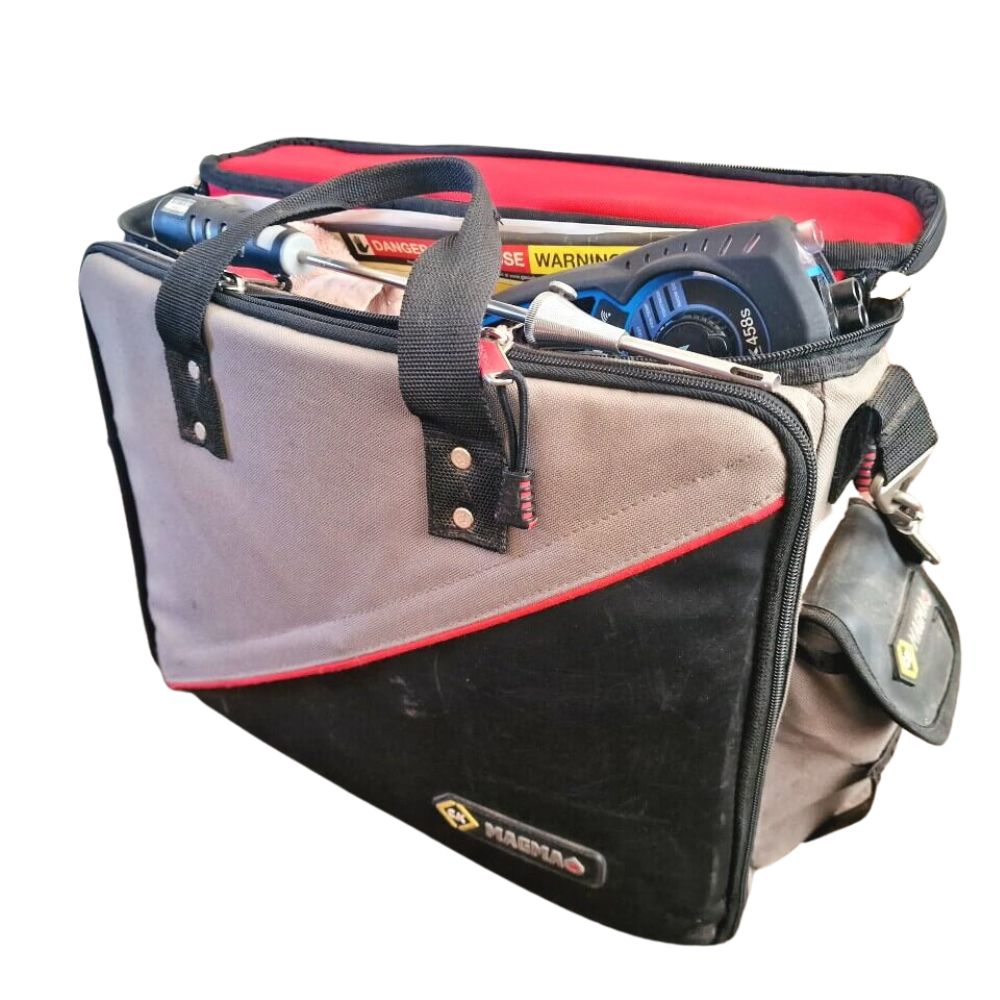 My main gas engineer tool bag for my flue gas analyser is the CK Magma MA2630.
CK Magma make some great tool bags for electricians which makes them perfect for gas engineers too.
This tool bag holds my analyser with probe and tubes, along with other hand tools and lots of space for large certificate pads and a laptop if needed.
I use the CK Magma tool bag for boiler servicing and repairs often as it holds my flue gas analyser and probe comfortably in the large compartment in the centre.
I also keep a flow cup, multimeter, socket set, a small towel, and other things in the centre as this is the main reason I bought this bag.
The front and back covers open up and have lots of little compartments and straps for tools but not a lot of them get used. They could be better for my needs but I've never managed to find the perfect bag for this that suits me.
I do use some of them for a cleaning brush, screwdrivers etc but the main large compartment is it's main use.
---
Best Plumbers Soldering Bag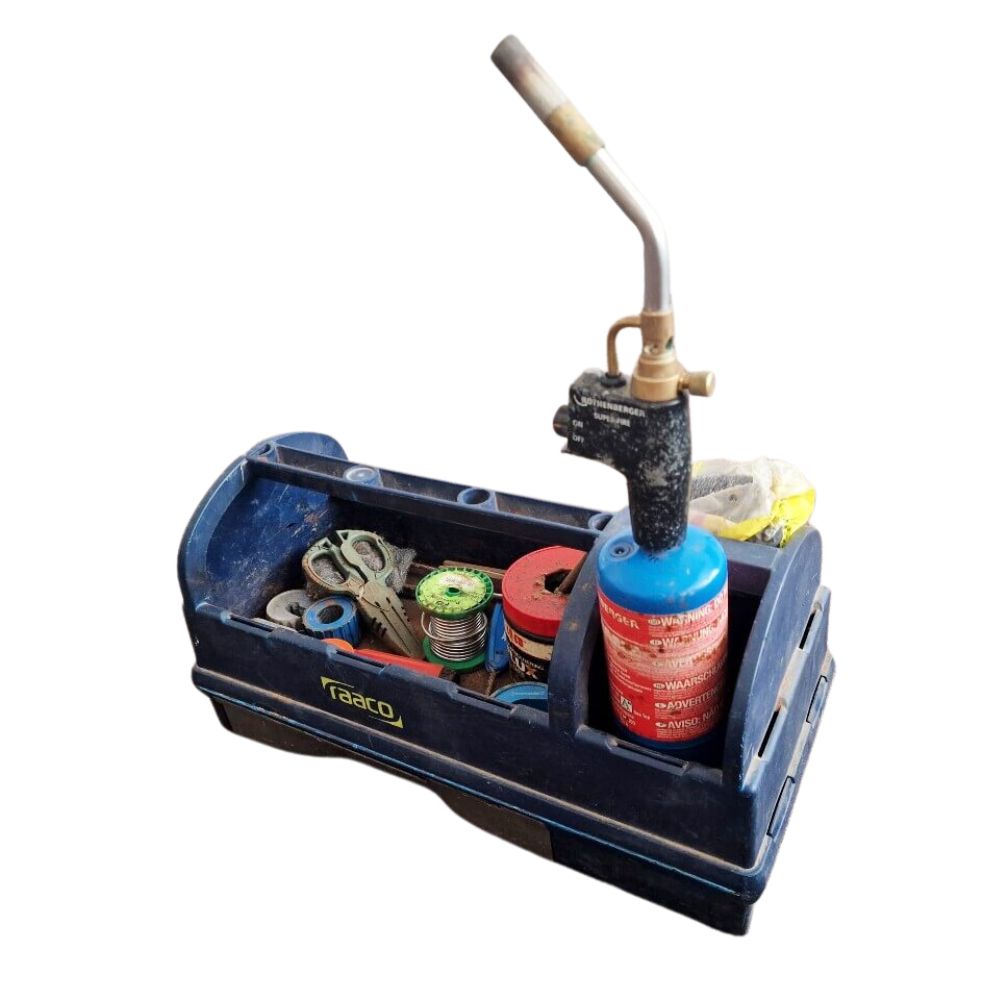 The best plumbers soldering bag (or box) by far is the Raaco tool box. Not really a bag but this is the best soldering gear holder on the market.
With great size sections for standing the gas torch when you're using it so it doesn't fall over when it's hot, and a draw for holding copper fittings and brushes etc.
Great holders for gas bottle and torch which is great storing it in the van and for quick access. I use the other one for steel wool but you could keep another gas bottle in it if you wanted to.
Huge open space for keeping solder, flux, pipe cleaners and cutters etc, and normally good for filling up with old pipe and fittings and other crap when tidying up on a job.
A drawer for keeping fittings, spare flux brushes, pipe cleaners, emory cloth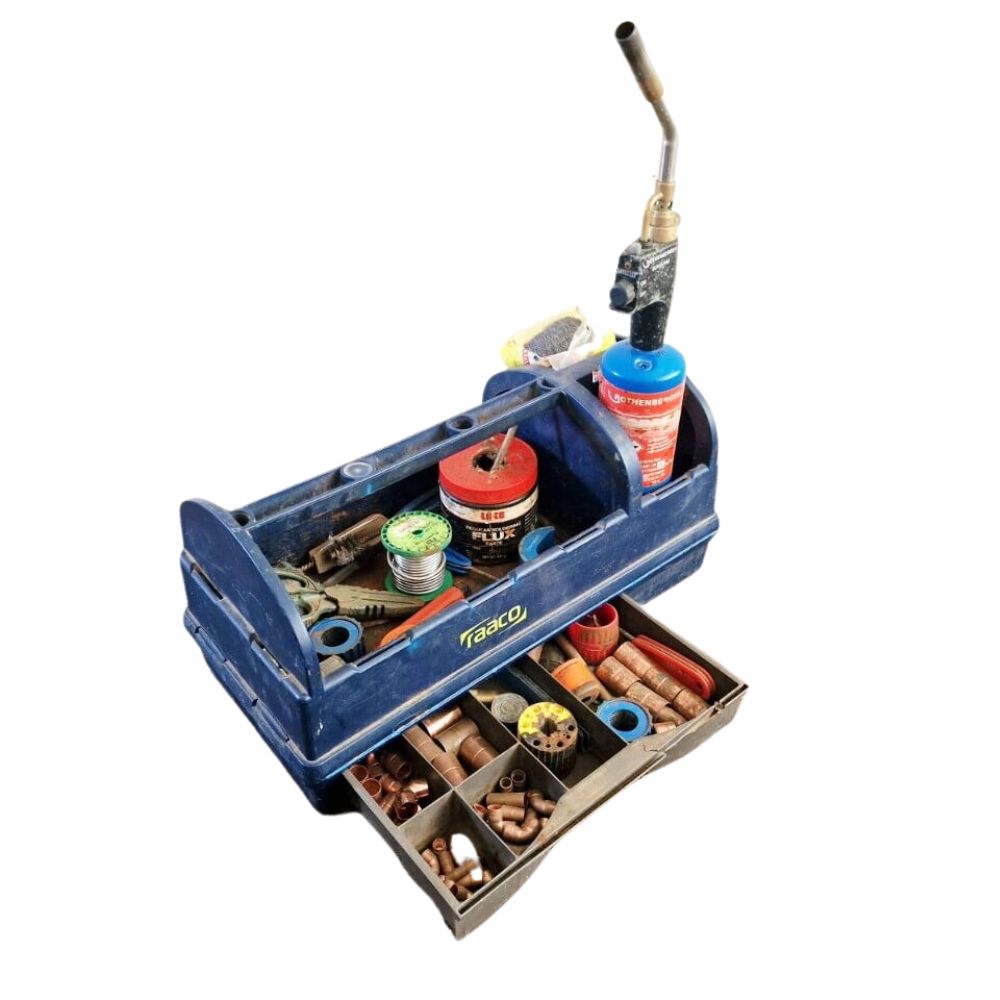 The Raaco box is definitely the best plumbers soldering bag you can get after trying them all in over a decade of plumbing and is made of quality durable plastic.
I can't find anything negative to say about it and I've been using it regularly for almost 5 years now. It has been abused in the back of my van after taken corners faster than I should, and the only bit of damage is a crack in the drawer which doesn't affect the use.
I will definitely be buying this again if I ever need a new one.
---
Finding the Best Tool Bag
There are many different tool bags available for plumbers, and the best one for you will depend on your specific needs and preferences. Some things to consider when choosing a plumbers tool bag include:
Size and capacity: Make sure the tool bag is large enough to hold all of your necessary tools, but not so large that it becomes cumbersome to carry around.
Durability: Plumbers often work in tough environments, so it's important to choose a tool bag that is made of durable materials and is built to last.
Organisation: Look for a tool bag with plenty of pockets and compartments to help keep your tools organized and easy to find.
Comfort: A padded shoulder strap or handle can make a big difference in terms of comfort when carrying a heavy tool bag.
Price: Tool bags can range in price from a few quid to a few hundred. Determine your budget and look for a bag that fits your needs and falls within your price range.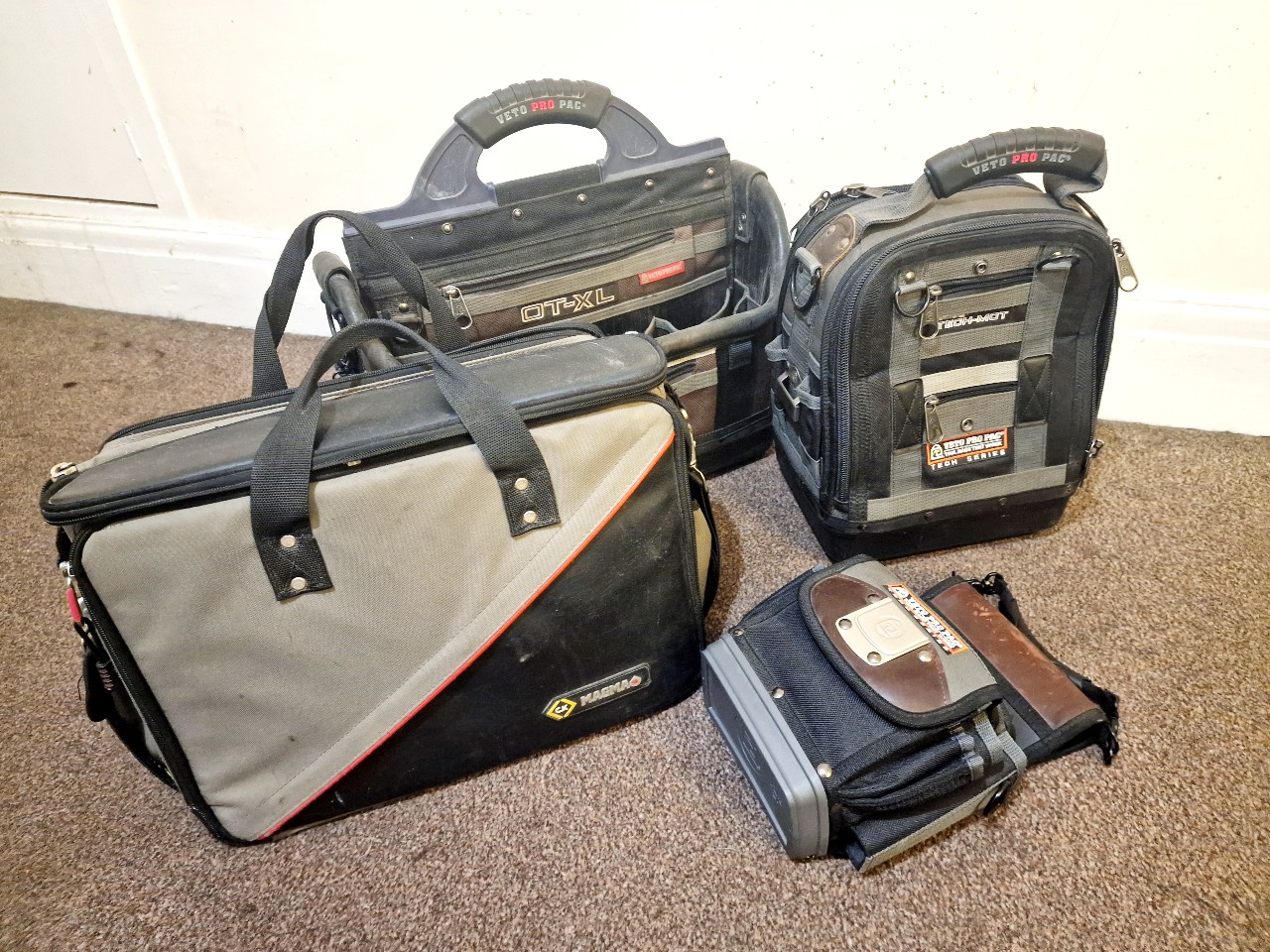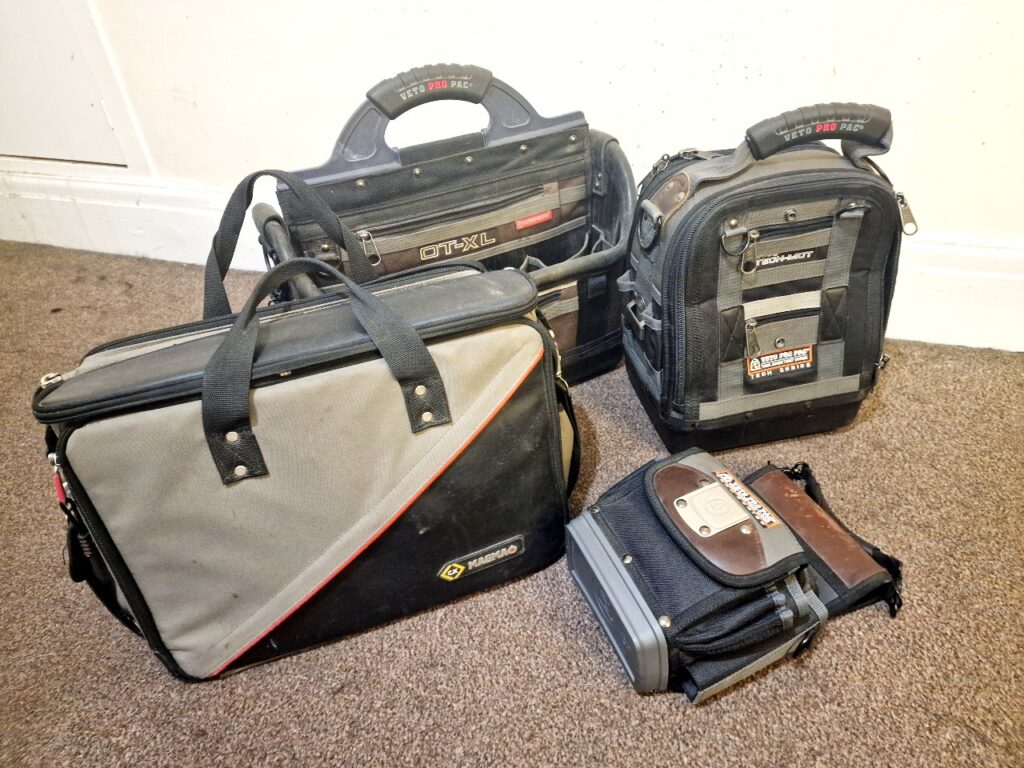 Summary
When I first started plumbing I used to buy cheap tools and cheap tool bags but doing this means you are replacing them very often.
Now I only buy the best plumbing tools on the market, including the best thermal imaging camera, and would only ever buy the best quality tool bags as they last a lot longer and get the job done more efficiently.
It definitely works out cheaper in the long run to buy the best quality tools and the best quality tool bags.
If I could only have one, then I would say without doubt that the Veto Pro Pac OT-XL tool bag is the best you can buy.
If you click a link on this page and buy any items from Amazon, I will earn a commission.
Feel free to ask me any questions in the comment section below and I'll try my best to help.
Please share this post if you found it helpful.