Last updated on September 23rd, 2023
The best plumbing blow torch for soldering copper pipes is without a doubt the Rothenberger Super Fire 2.
Rothenberger make some crap tools but their gas torch is definitely one of the best tools around.
I have been plumbing and soldering for over a decade and in this post I'll show you why I think it's the best gas torch for plumbing.
Best Plumbing Blow Torch
I have two Super Fire 2 gas torches and had my first one since day one. Although it still works, it has had a battering over the years and has failed a few times but I always managed to get it going again.
I bough a new one after about 10 years because it wasn't as reliable as it once was and decided it would be good to keep the old one as a back up.
Although soldering is becoming less common, because of press fit guns, there will always be a need for gas plumbing torches.
Soldering is much better for tight spaces as end feed fittings are son much smaller (and cheaper) than press fit and push fit pipe fittings.
---
Rothenberger Super Fire 2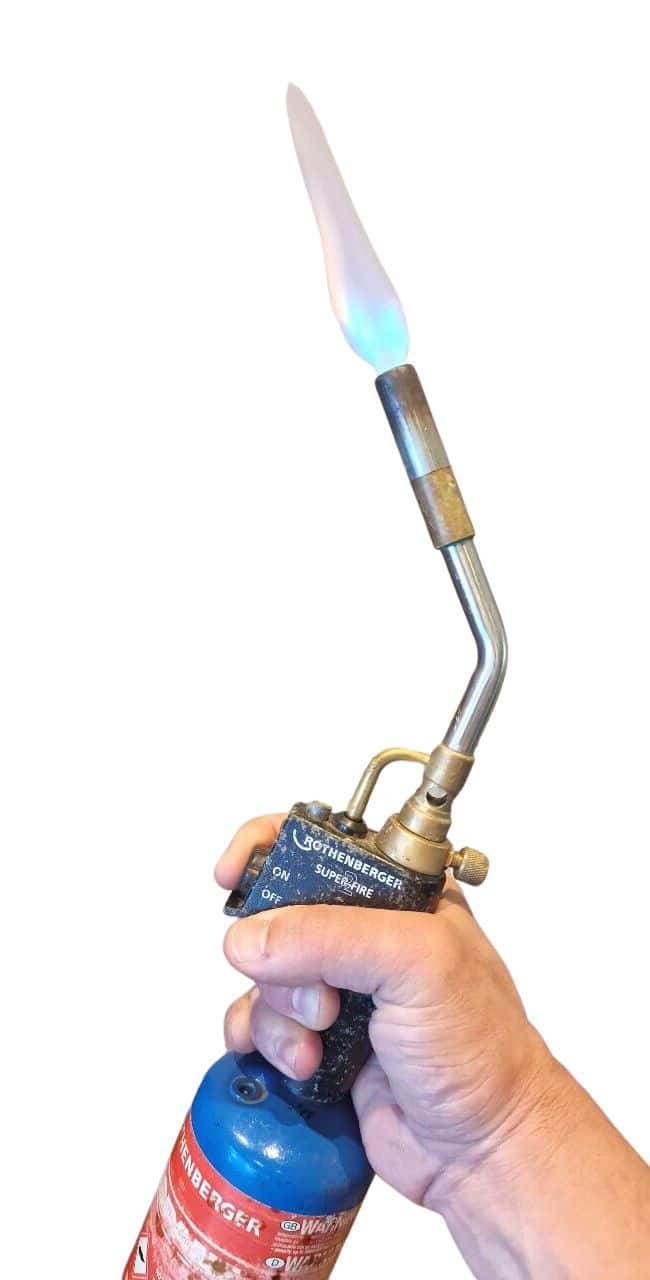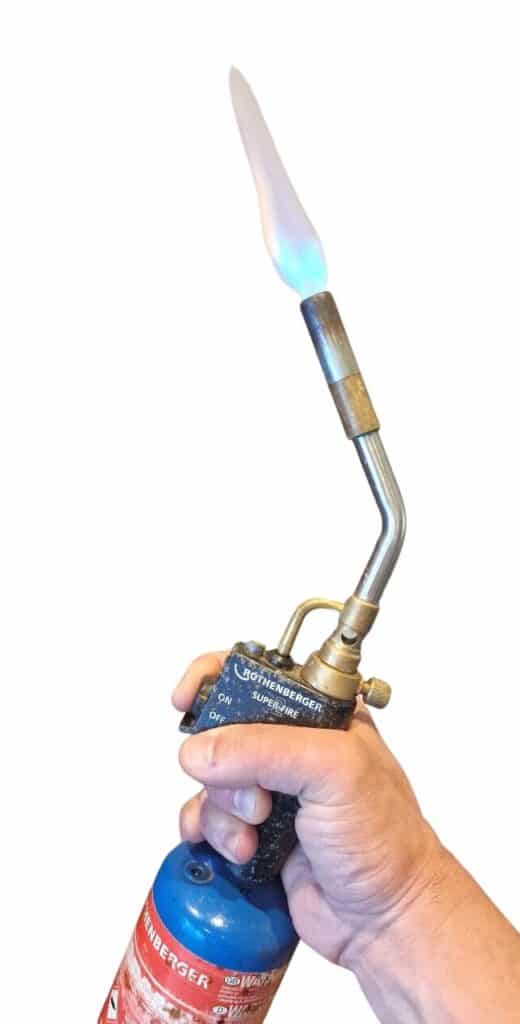 The Rothenberger Super Fire 2 fires up with a press of the trigger when the spark lights the gas like a lighter and goes out when you release the trigger.
The flame size can be controlled with a simple knob for when you want a high flame for heating the copper up quicker, or a low flame for when you're working close to a wall or plastic and don't use a flame protector mat (like me).
There is also a button on the Super Fire torch that you press when the flame is lit and you want it remain lit without holding the trigger.
This is super helpful and the main way I use my blow torch when soldering. You can hold the bottom of the gas bottle if you want which is a lot more convenient sometimes.
---
Rothenberger Hotbag Deal Kit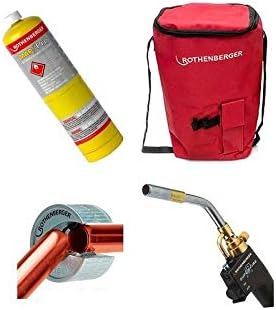 The Rothenberger hotbag deal kit is a good little starter kit that comes with:
Super Fire 2 torch
15MM Pipe cutter
22MM Pipe cutter
MAPP gas
Carry bag
This is a good quality carry bag that should last. MAPP gas burns hotter than propane but you can use either with a Super Fire blow torch.
---
Rothenberger Super Fire 2 Accessories
The good thing about the Super Fire 2 gas torch is the accessories.
Plumbers gas torches, including the Super Fire 2 can take MAPP and (more commonly) propane gas bottles.
They also do adaptors to take other gas bottles as well as these other accessories: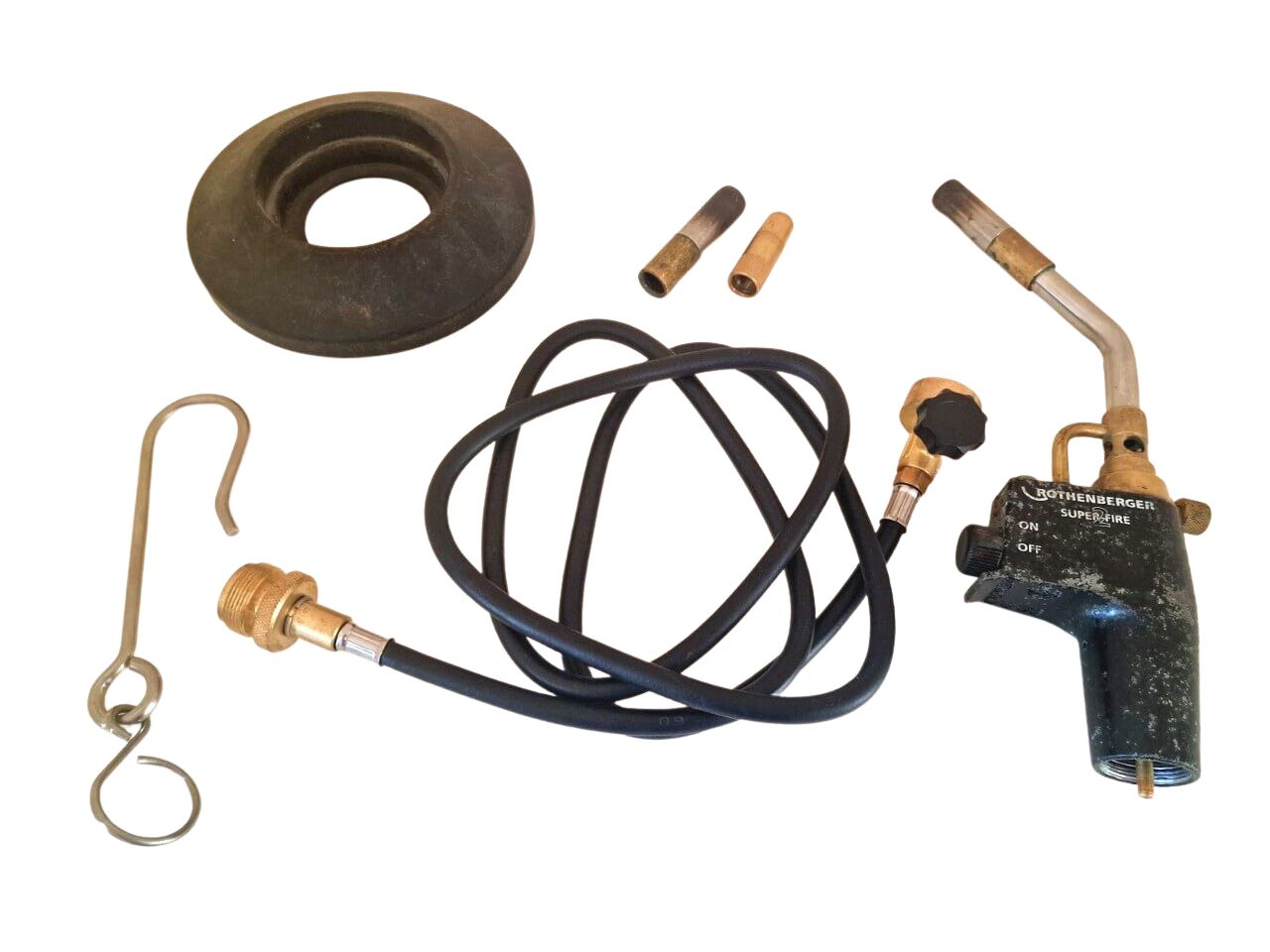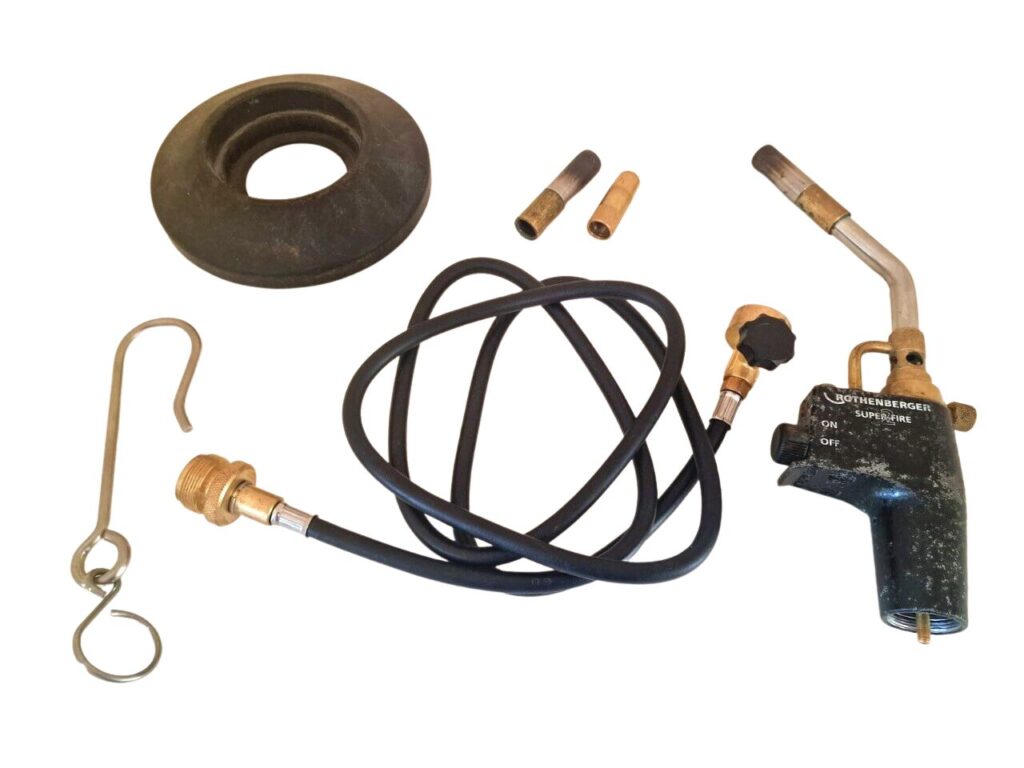 Swirl Flame Burner Tip
The swirl flame burner tip is a different tip to change the flame which produces a swirl flame.
Although I bought one of these I don't use it but some plumbers think they're much better than the standard flame burner tip.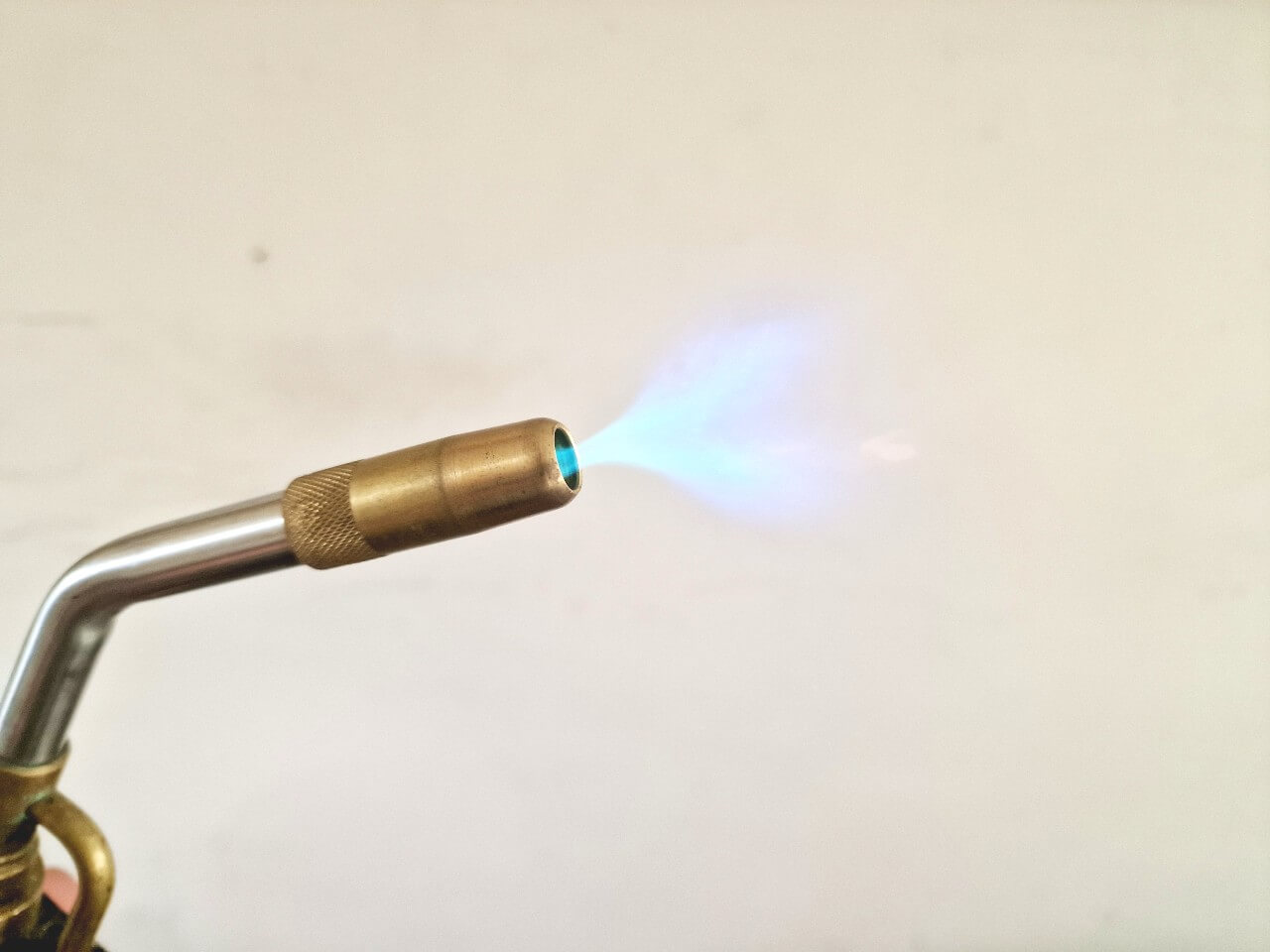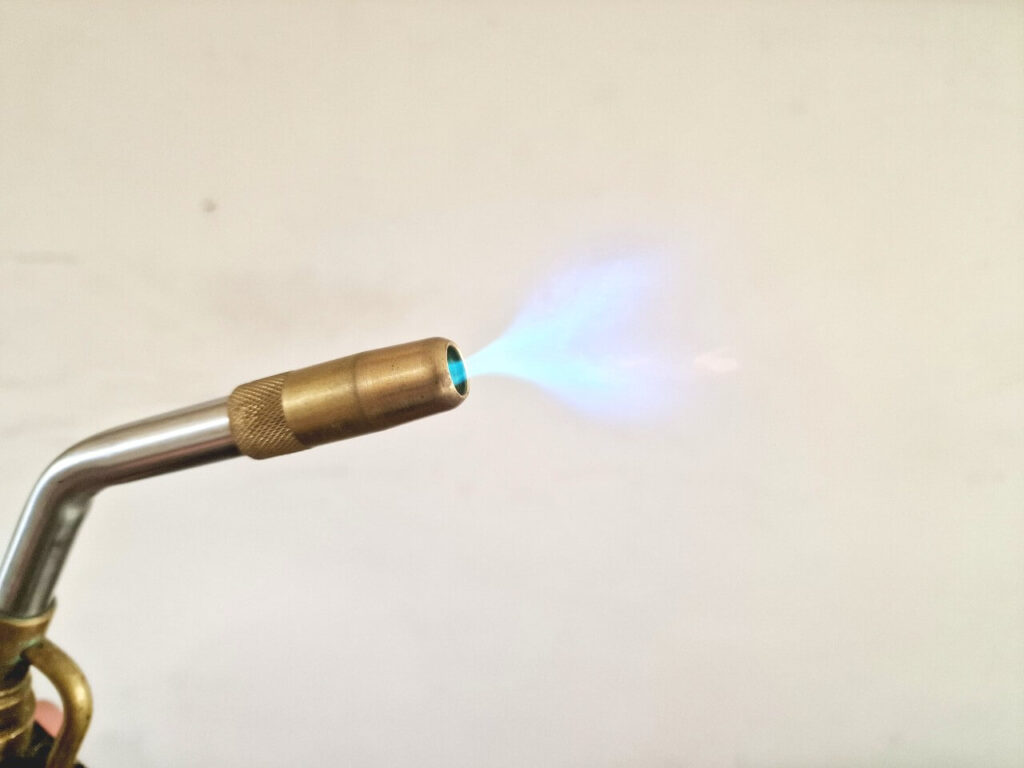 Heat Deflector Guard
The heat deflector is of one the worst things I've ever bought and is impossible to help in any way when soldering.
You have to move the flame and torch constantly when soldering copper pipe fittings and this guard can only work when keeping it perfectly still.
It's literally impossible to solder a fitting fully using this so don't even bother trying.
I gave mine away to someone who thought they would be able to use it and he soon realised he couldn't.
Gas Cylinder Support Stand
The gas cylinder support stand is simple yet very effective for propane and MAPP gas bottles.
It's a basic piece of plastic that fits nicely on the bottom which stops the gas bottle with torch connected from falling over when you're using it.
Extension Hose
A gas torch extension is great for working in tight spaces. I don't use mine often but it really comes in handy sometimes.
I know some plumbers who use them all the time instead of connecting the torch straight to the bottle.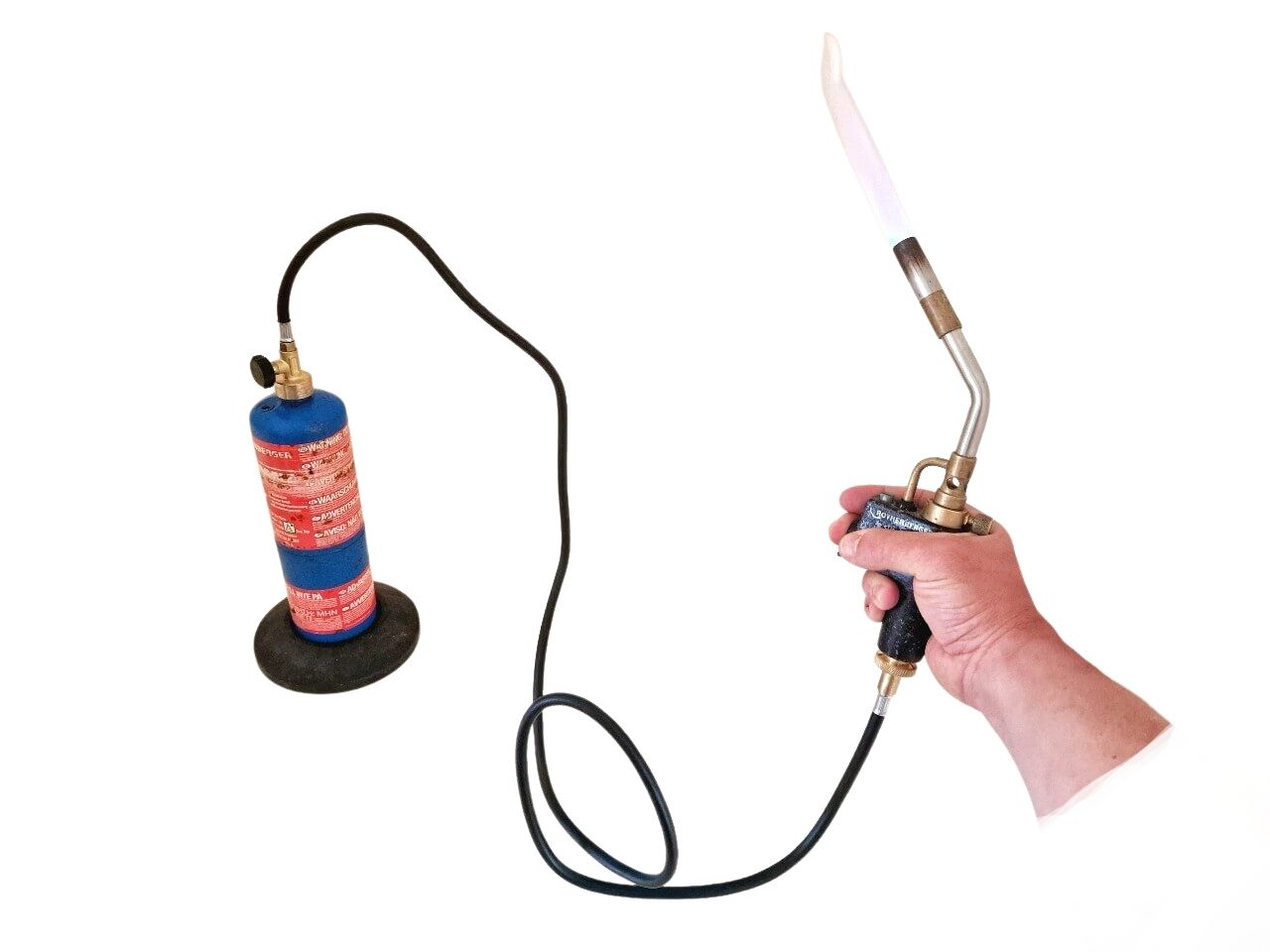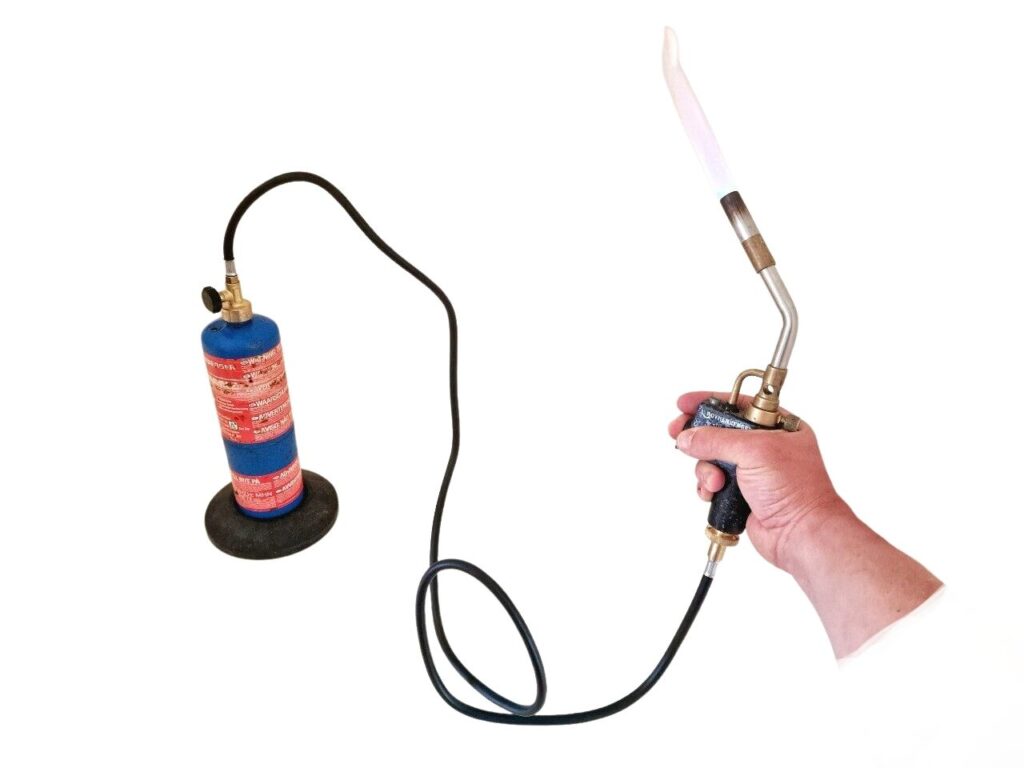 Plumbing Blow Torch Problems
Blow torches have common problems. One of those problems is having melted solder drip into the tube on the blow torch where the flame comes out of. This will cause the flame to not work.
The good thing about the Super Fire 2 torch is that all the parts can be stripped down to clean or replace.
I have unscrewed the turbine burner off the end to clean out the solder or just clean the in side where it sparks with a wire brush.
I haven't had any other problems in over decade of regular use but there are replacement parts for other problems:
Turbine flame burner
Burner tube
Piezo ignition unit
Summary
Plumbers gas torches aren't always needed nowadays because of press fit and push fit but if you're going to get one then I don't know anyone who would disagree with the Rothenberger Super Fire 2 being the best plumbing blow torch.
If you click a link on this page and buy from Amazon then I may earn a commission.
Check out the best thermal imaging camera for plumbers on my best thermal imaging camera post.
Feel free to ask me any questions in the comment section below and i'll try my best to help.
Please share this post if you found it helpful.