Last updated on October 29th, 2023
A thermal imaging camera is one of the best plumbing tools and can save the day for a plumber.
They allow you to see temperature differences in surfaces and can help you with water leak detection, blockages in pipes, and show you exactly how a radiator heats up to check for sludge.
I have been plumbing for over a decade and a thermal imaging camera has helped me find problems in heating systems and saved the day a few times.
Here I'll show you what are the best based on my usage and research.
Best Thermal Imaging Cameras
When shopping for a thermal imaging camera, there are a few key features to consider:
Resolution: The higher the resolution, the more detailed the thermal image will be. This is especially important for identifying small issues or for use in tight spaces.
Temperature range: Make sure the camera you choose can detect the temperature range you need for your work.
Field of view: A wider field of view can be helpful for scanning larger areas quickly, while a narrower field of view may be better for more detailed inspections.
Display: Look for a camera with a clear and easy-to-read display, as you may need to refer to it while working.
Durability: Plumbing work can be tough on equipment, so it's important to choose a camera that is built to withstand rough handling.
Some popular thermal imaging cameras for plumbers offer high resolution, a wide temperature range, and durable construction, making them well-suited for use in the plumbing industry.
---
Best Thermal Camera for Android
I have an Android phone and the best thermal camera on the market for it is a FLIR ONE Edge Pro.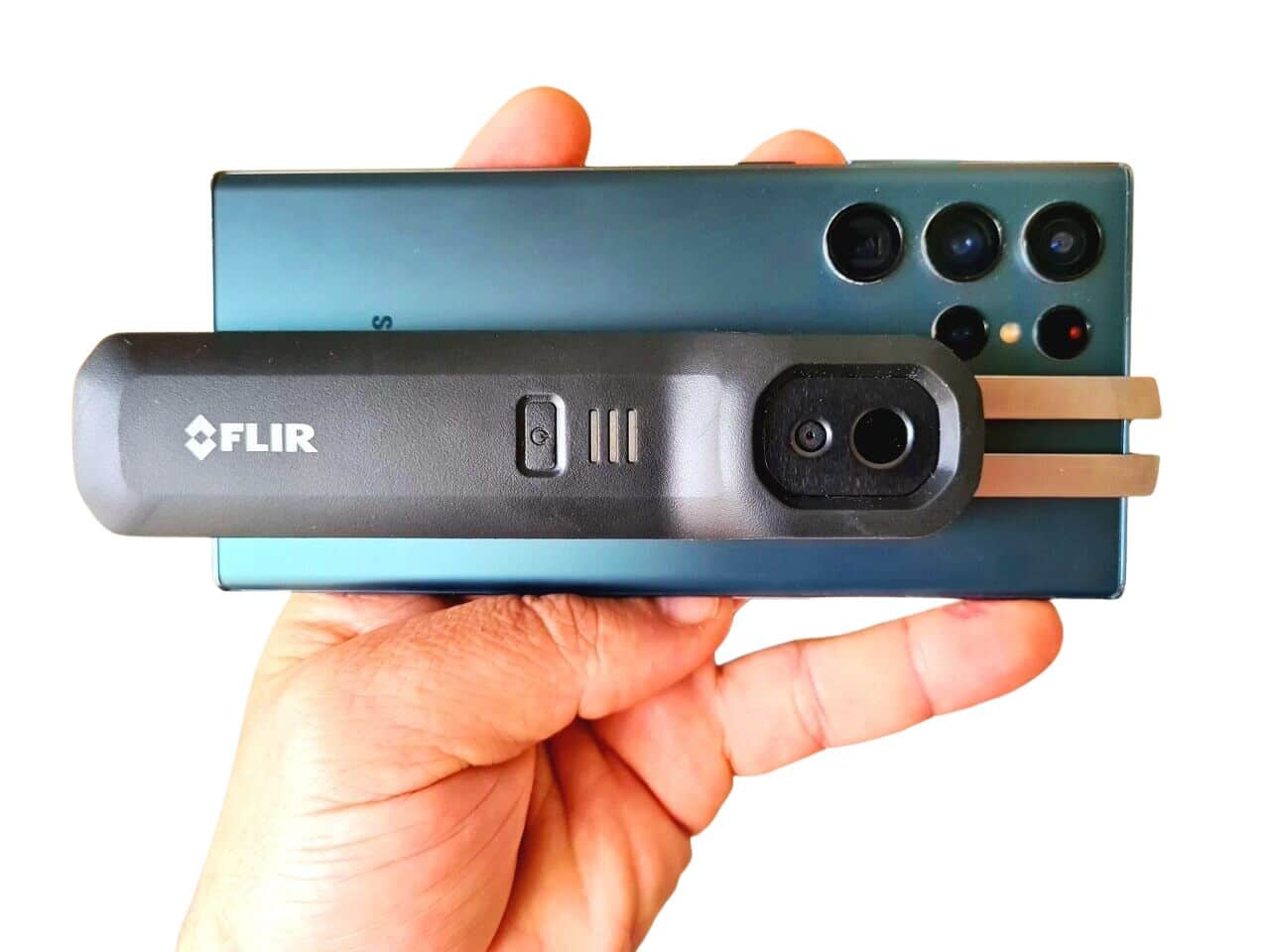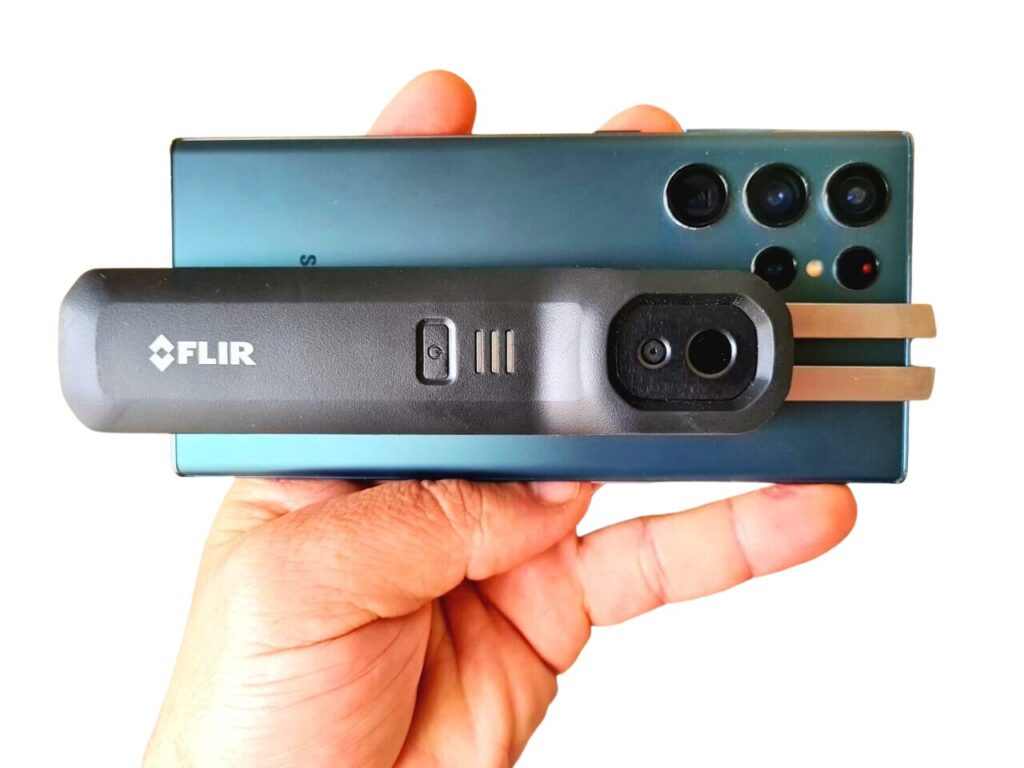 The FLIR ONE Edge Pro is brilliant for plumbing. It's compact and uses wifi and bluetooth so no need for a USB C connection like on the other version of the FLIR One Pro.
It can also be used with any smartphone or tablet (that's not too big) but you don't need to attach it to anything if you don't want to, it only uses the phones screen (via bluetooth), not the camera.
You can fit it in smaller spaces than a phone so you can use it in awkward places.
---
Best Thermal Camera for iPhone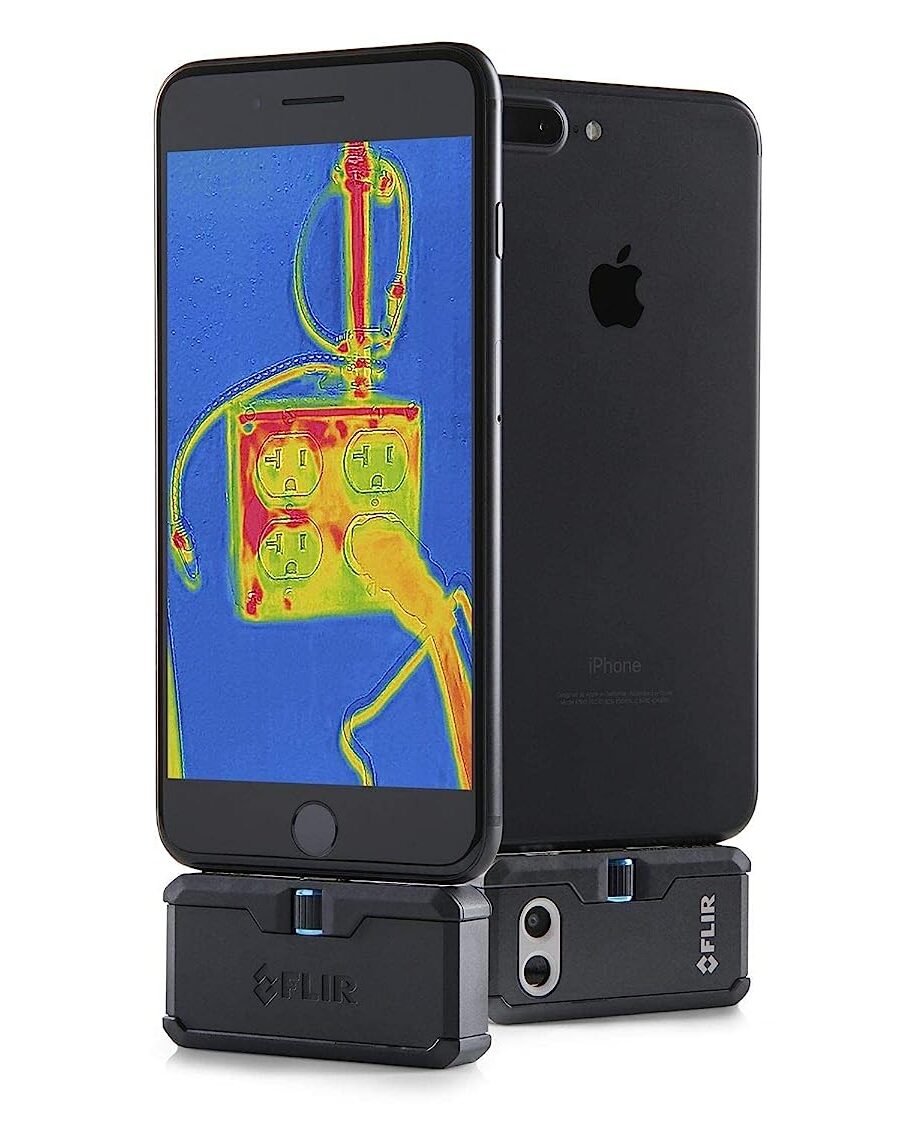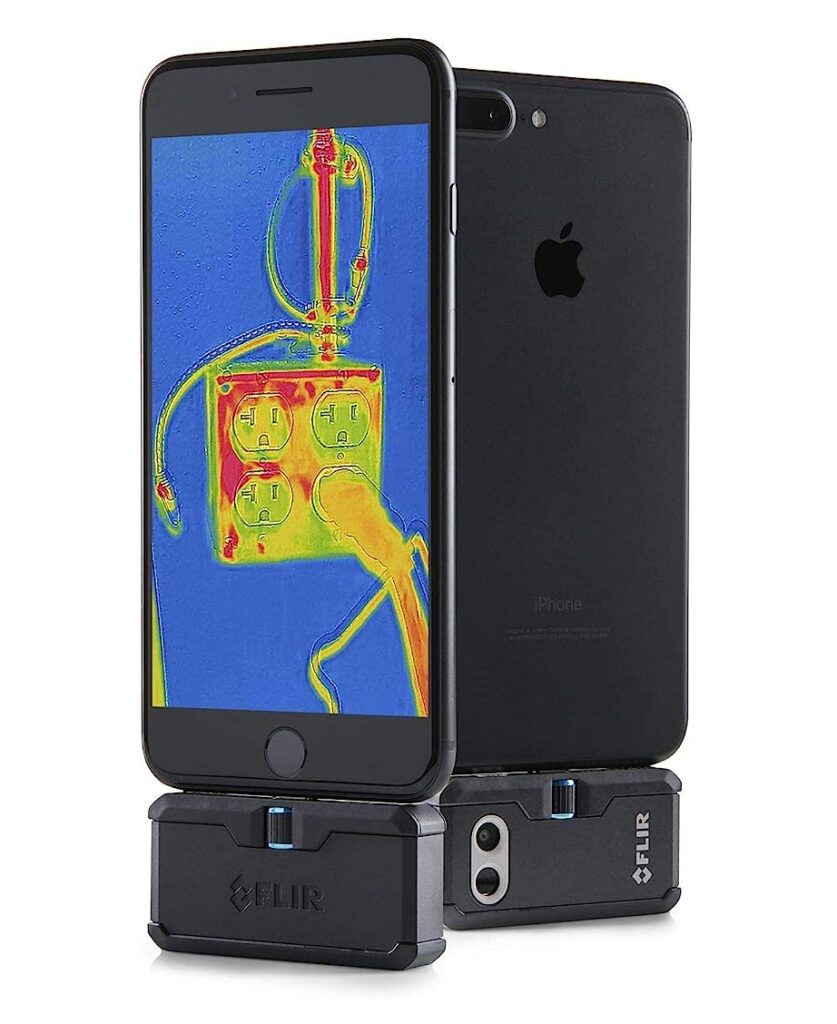 The FLIR ONE Edge Pro (☝️) can be used on your iPhone which I use on my Android phone. This is the best thermal camera for any smartphone in my opinion, including iPhones.
You can also get the FLIR ONE Pro iOS which plugs into the bottom of your iPhone which which is cheaper than the Edge version but can only be used on an iPhone.
---
Best Budget Thermal Imaging Camera
The best budget thermal imaging camera is one that you can use with your phone. Using your phones screen means there is a lot less to them so they can be made much cheaper.
My recommendation for the best budget thermal camera is the standard version of the FLIR ONE. It's less than half the price of my Edge Pro and the cheapest around for a well known and trusted brand.
---
Android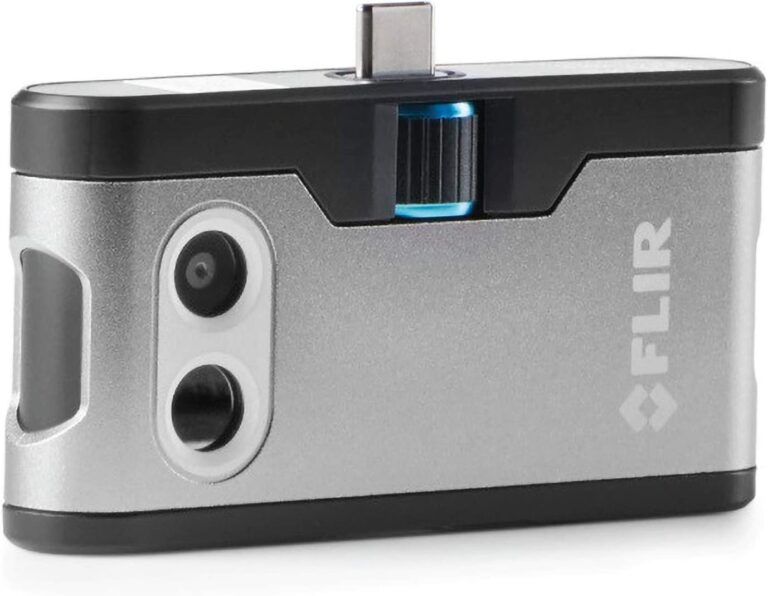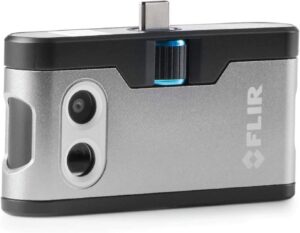 There's the FLIR ONE Android version plugs into the USB C port on the bottom of your smartphone.
These are very compact and easy to carry around. Not as good as the Pro but amazing for those on a tight budget.
---
iOS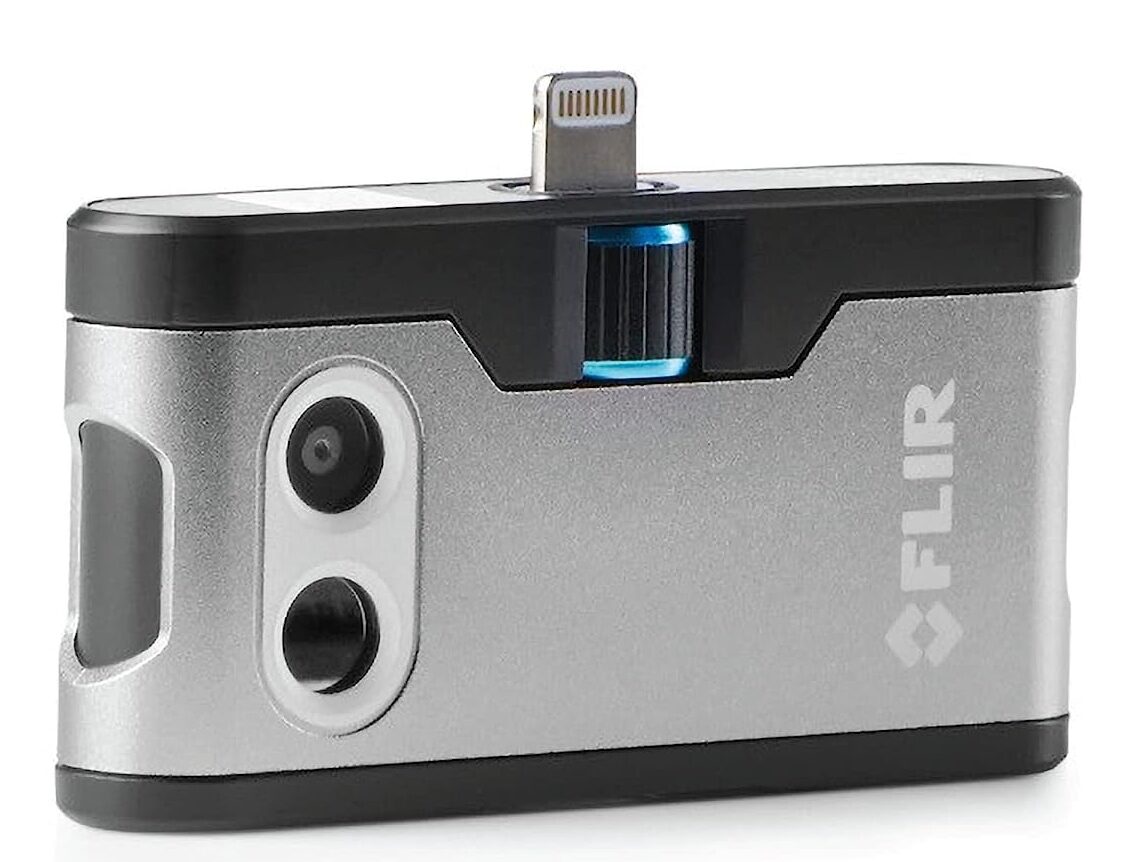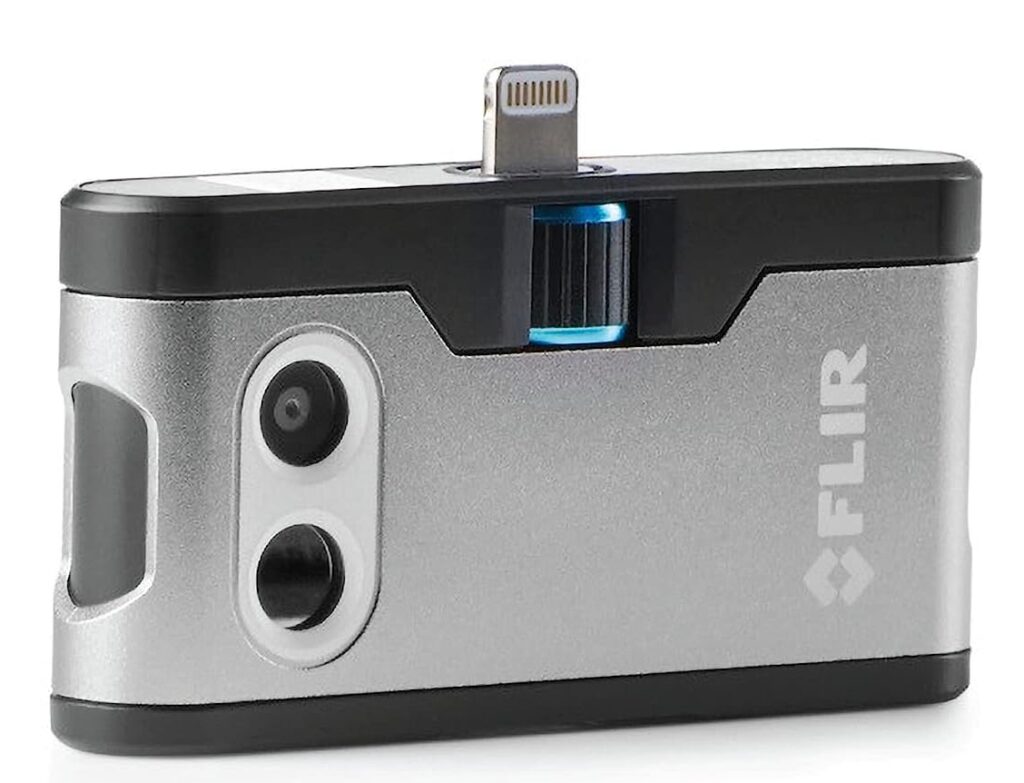 And the FLIR ONE iOS version which you need to plug into your iPhone or iPad.
Again great value for money as you get one of the cheapest thermal cameras on the market from the biggest and best brand in the game.
---
FLIR Thermal Cameras
FLIR are the market leaders when it comes to thermal cameras and are dedicated only this.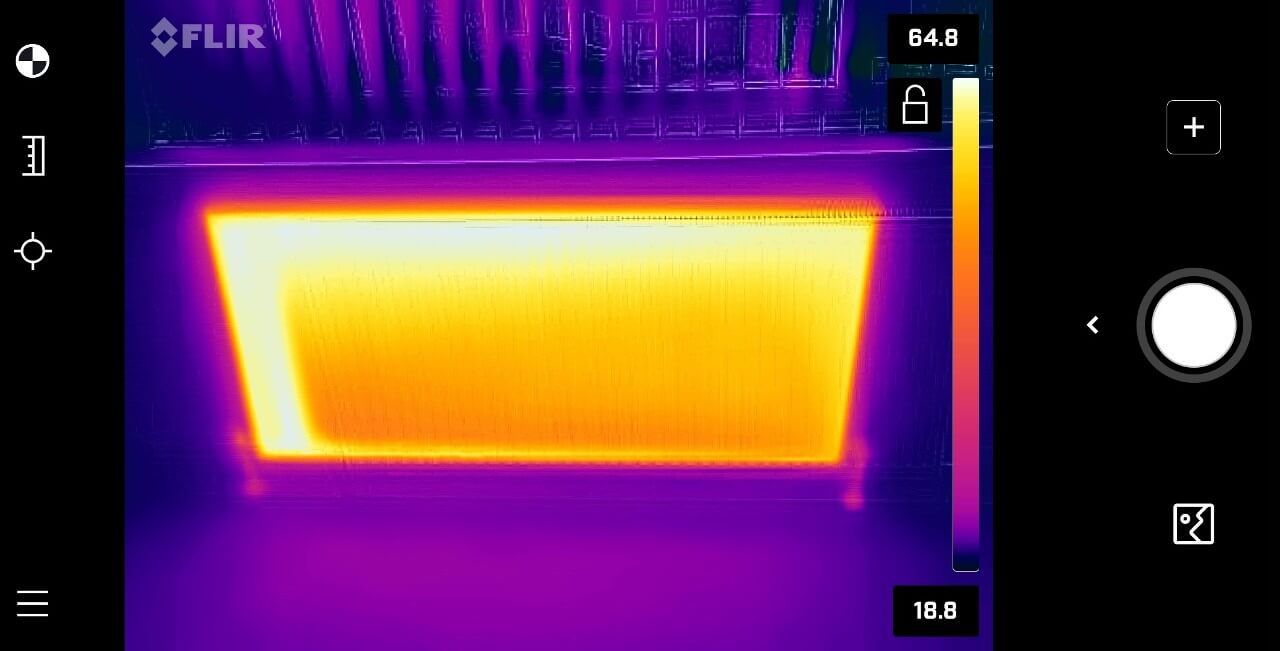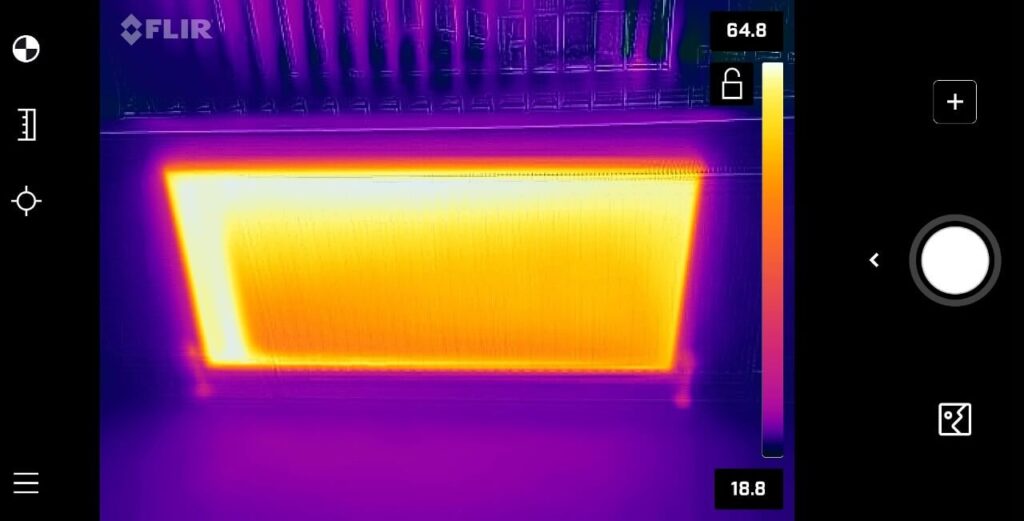 Most other manufacturers specialise in other products and just added thermal cameras so you can guarantee FLIR know what they're doing.
Although they have some very affordable models, they also have the very best money can buy. If money isn't an object for you, then the latest and greatest FLIR model should be a serious consideration.
Here are some of the best FLIRs:
---
FLIR Systems E8 Compact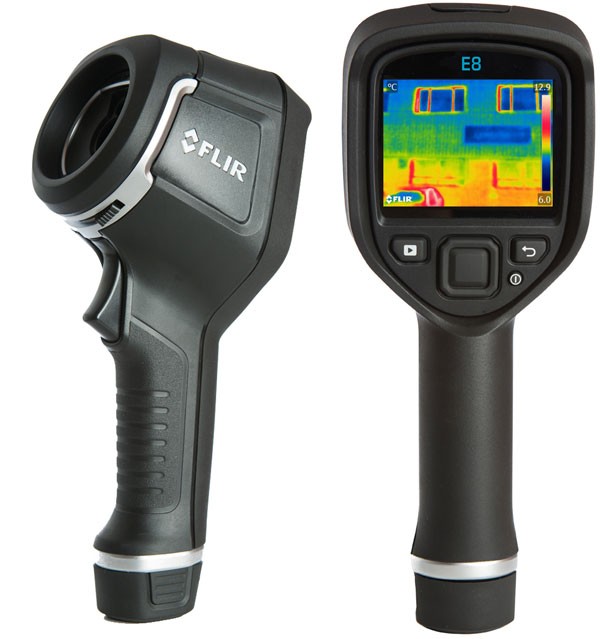 The FLIR Systems E8 Compact is a handheld thermal camera that allows users to visualise and measure heat patterns and temperatures.
It features a 320 x 240 pixel thermal resolution and a 2.8″ colour display. The camera is capable of capturing both thermal and visible light images, and it has a temperature range of -20°C to 250°C.
It is designed to be rugged and durable, with a tough rubber exterior that can withstand rough handling.
The FLIR E8 is used in a variety of applications, including electrical inspections, HVAC and plumbing maintenance, and building energy audits.
---
FLIR Systems E5 Compact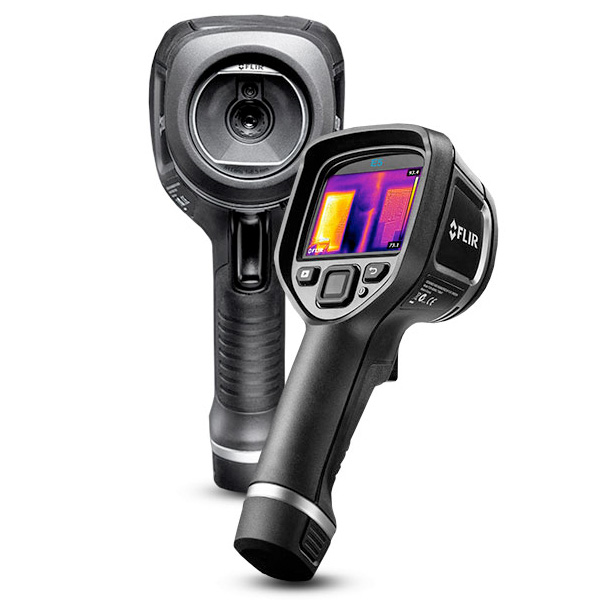 The FLIR Systems E5 Compact is a portable thermal imaging camera designed for use in a variety of applications, including electrical, mechanical, and building inspection.
It features a high-resolution thermal imaging camera with a temperature measurement range of -20°C to 250°C, as well as a built-in digital camera for capturing visible light images.
The camera has a large, easy-to-read display, and is lightweight and compact, making it easy to carry and use in tight spaces.
It also includes a number of features such as temperature alarms, temperature spot metering, and the ability to store and transfer images and data.
---
FLIR ONE Edge Pro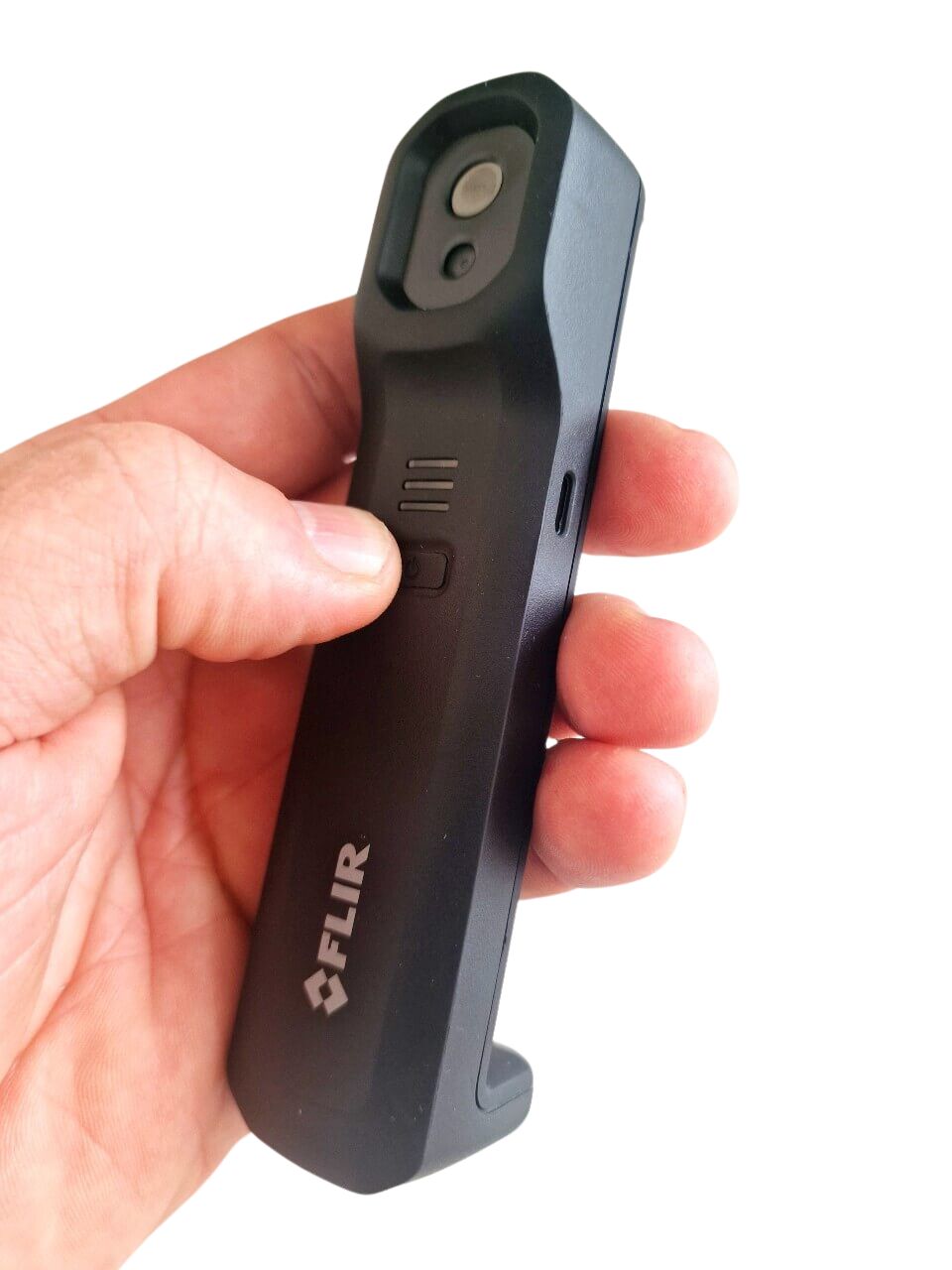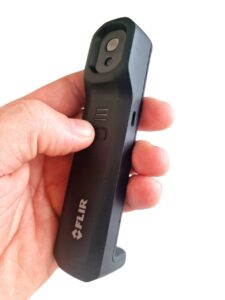 The FLIR ONE Edge Pro can be attached to an Android or iPhone and any other smartphone or tablet to allow you to see and measure heat patterns in your environment.
It can be used for a variety of applications, including building inspection, electrical maintenance, and outdoor adventures.
The device features a high-resolution thermal camera with a temperature range of -20°C to 120°C, a rugged, weather-resistant design, and a long battery life.
It also includes a number of advanced features, such as on-device image processing, multiple palettes for visualising temperature data, and a measurement mode that allows you to take precise temperature readings of specific points in the field of view.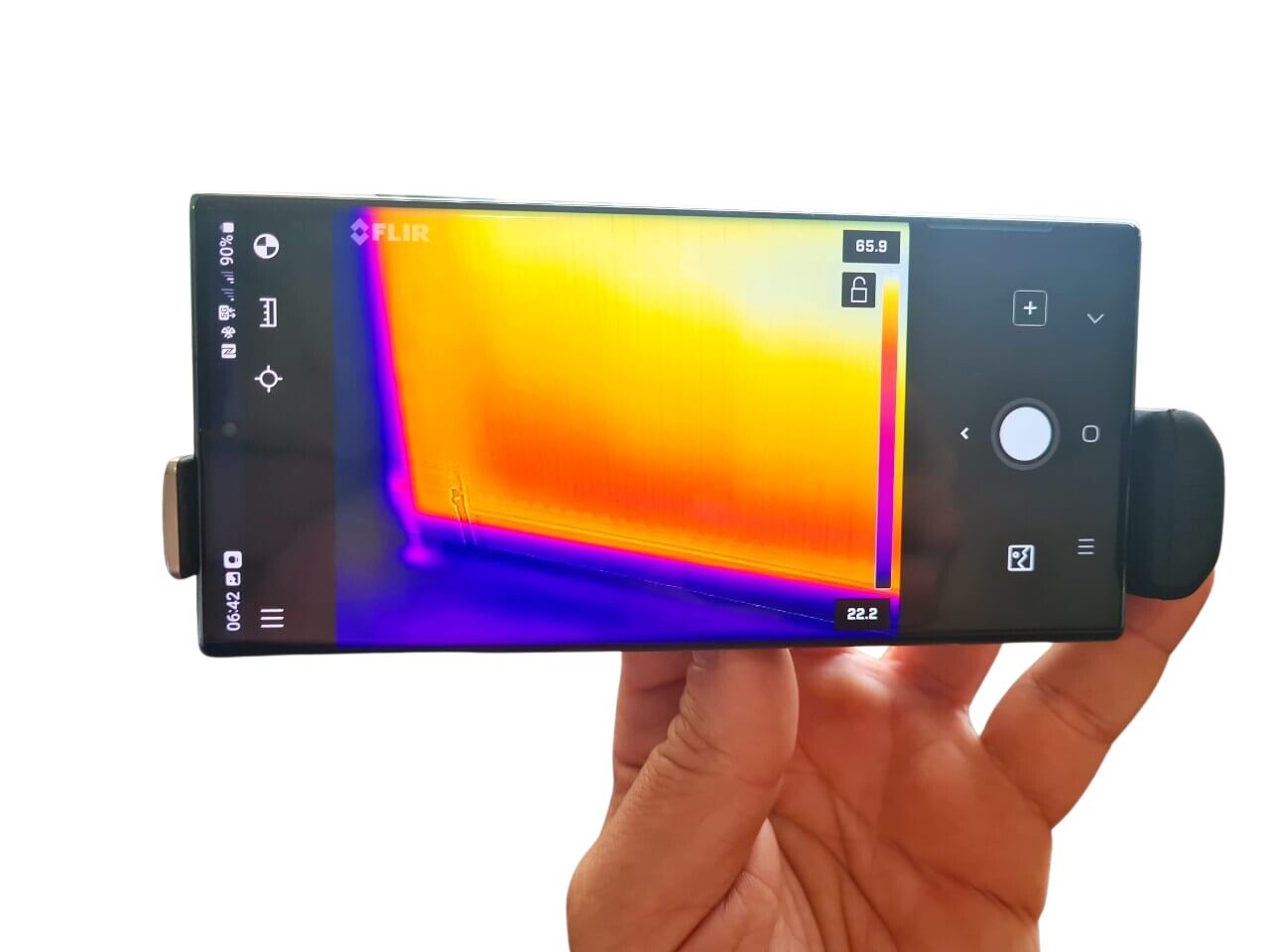 ---
Thermal Camera Brands
Choosing the best thermal imaging camera depends on your specific needs and requirements.
There are several reputable manufacturers that offer high-quality. Here are some popular options known for their performance and features:
FLIR Systems: FLIR is a well-known brand in the thermal imaging industry and offers a wide range of cameras suitable for various applications. Some popular models include FLIR ONE Pro, FLIR E4, FLIR T540, and FLIR T1020.
Seek Thermal: Seek Thermal specialises in affordable thermal imaging cameras that can be attached to smartphones. Their models, such as Seek Thermal Compact and Seek Thermal Shot, offer good image quality and convenience.
Testo: Testo is another respected manufacturer of thermal imaging cameras. They offer a range of models suitable for different needs, including building inspections, electrical maintenance, and industrial applications. Testo 868, Testo 875i, and Testo 890 are some notable options.
Fluke: Fluke is a renowned brand known for its reliable and durable thermal imaging cameras. Their cameras are often favoured for industrial and professional use. Models like Fluke Ti450 PRO and Fluke Ti300+ are popular choices.
Hikvision: Hikvision is a well-established brand in the security and surveillance industry. They offer thermal imaging cameras designed for monitoring and perimeter protection. Hikvision DS-2TD1217B and Hikvision DS-2TD2636B are commonly used models.
TOPDON: While primarily known for automotive diagnostic tools, TOPDON also offers thermal imaging cameras suitable for various applications. Some popular options include TOPDON TP31, TOPDON TP54, and TOPDON TP61. These cameras offer features such as adjustable emissivity, multiple colour palettes, and temperature measurement capabilities.
Remember to consider factors such as image quality, resolution, temperature range, sensitivity, user interface, and additional features when selecting a thermal imaging camera.
It's recommended to thoroughly research and compare specifications and user reviews to find the best fit for your specific requirements.
Summary
The best thermal imaging camera for plumbers depends on your wants and needs.
Overall, any of these thermal imaging cameras would be a good choice for a plumber looking to help them work, depending on your budget.
Check out my recommendation for the best plumbing blow torch.
If you click a link on this page and buy any items from Amazon, I may earn a commission.
Please share this post if you found it helpful.
---
FAQs
---
What is a Thermal Imaging Camera?
A thermal imaging camera is a handheld device that uses thermal imaging to produce a visual representation of the heat being emitted by an object.
Thermal imaging cameras work by detecting the infrared radiation being emitted by an object and converting it into a visible image. This allows the camera to "see" heat, even in total darkness.
Thermal imaging cameras are used in a variety of applications, including building and home inspections, electrical, heating and plumbing maintenance, medical imaging and more.
They are also commonly used by law enforcement and military personnel for surveillance and search and rescue operations.
Can I use my phone as a thermal camera?
Yes, it is possible to use your smartphone as a thermal camera by attaching a thermal imaging camera accessory. There are several companies that offer thermal camera attachments or cases that work in conjunction with smartphone apps to provide thermal imaging capabilities.
One popular example is the FLIR ONE thermal camera attachment, which is available for both iOS and Android device
Do thermal cameras work in the dark?
Yes, thermal cameras work in the dark. The images come from the heat so they work in the dark the same as they work in the light.