Last updated on September 23rd, 2023
Water pump pliers, called grips by plumbers, are adjustable pliers that are much-needed and one of the best tools in every plumbers tool kit.
I have been plumbing and buying plumbing tools (many more than I need) for over a a decade and have had my first and best water pump pliers since day one.
Here I'll show you the best plumbers grips available based on my tool-buying addiction to keep in your tool bag.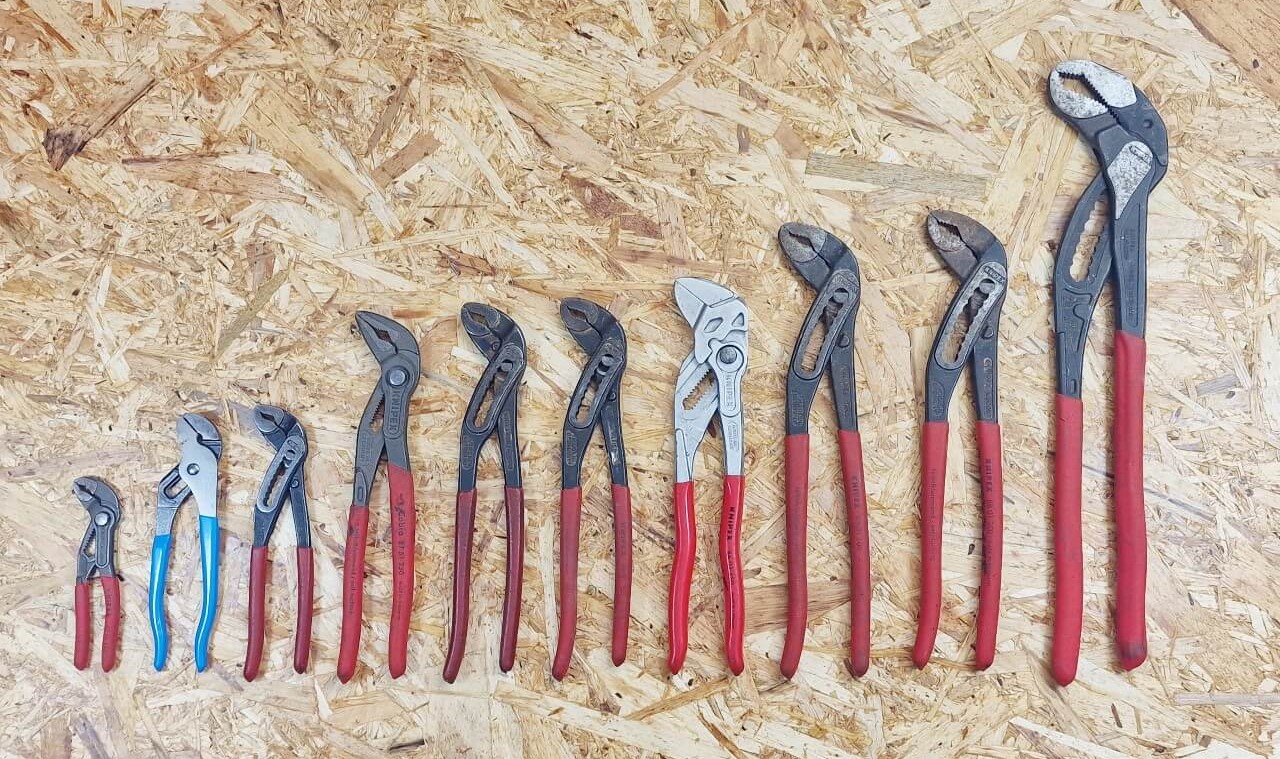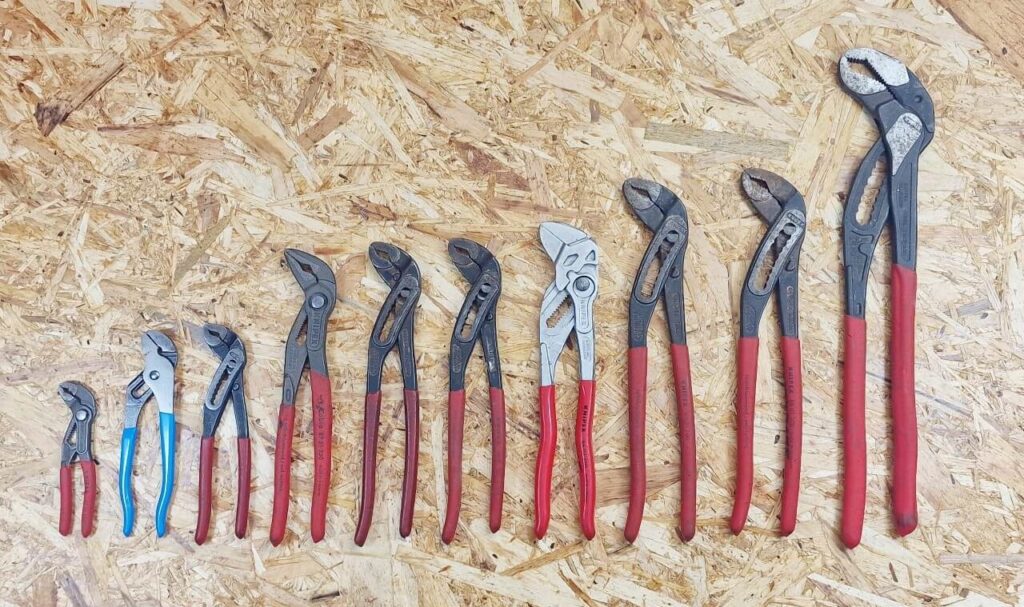 Water Pump Pliers Uses
Water pump pliers are mostly used for gripping and tightening nuts and fittings.
They have taken over the role of a pipe wrench for a lot of plumbers but pipe wrenches do still have their uses.
Water pump pliers are usually used with an adjustable spanner.
If fitting a radiator valve, for example, you will grip the radiator valve with water pump pliers and turn the nut with an adjustable spanner. Check out my best adjustable spanner post.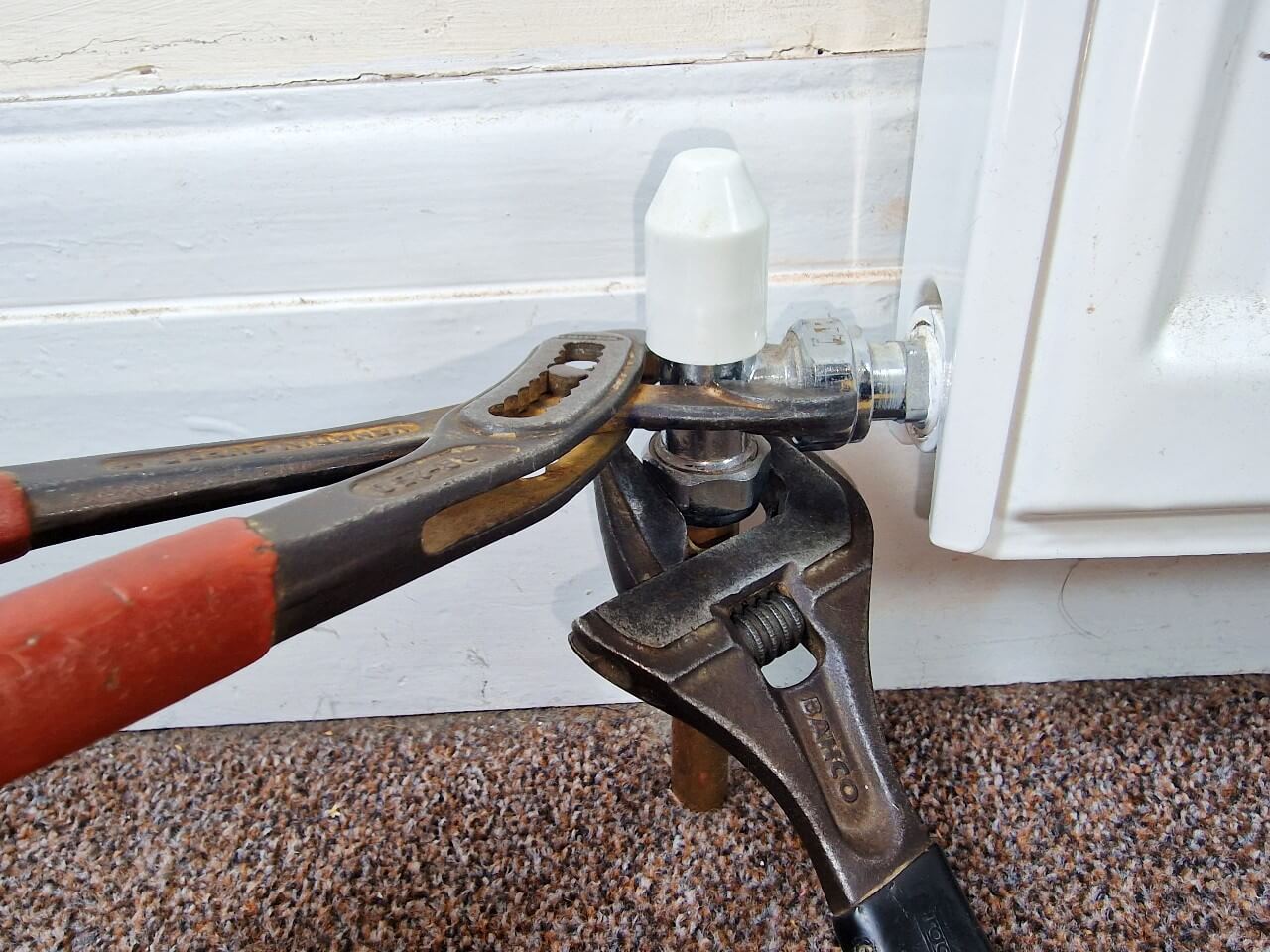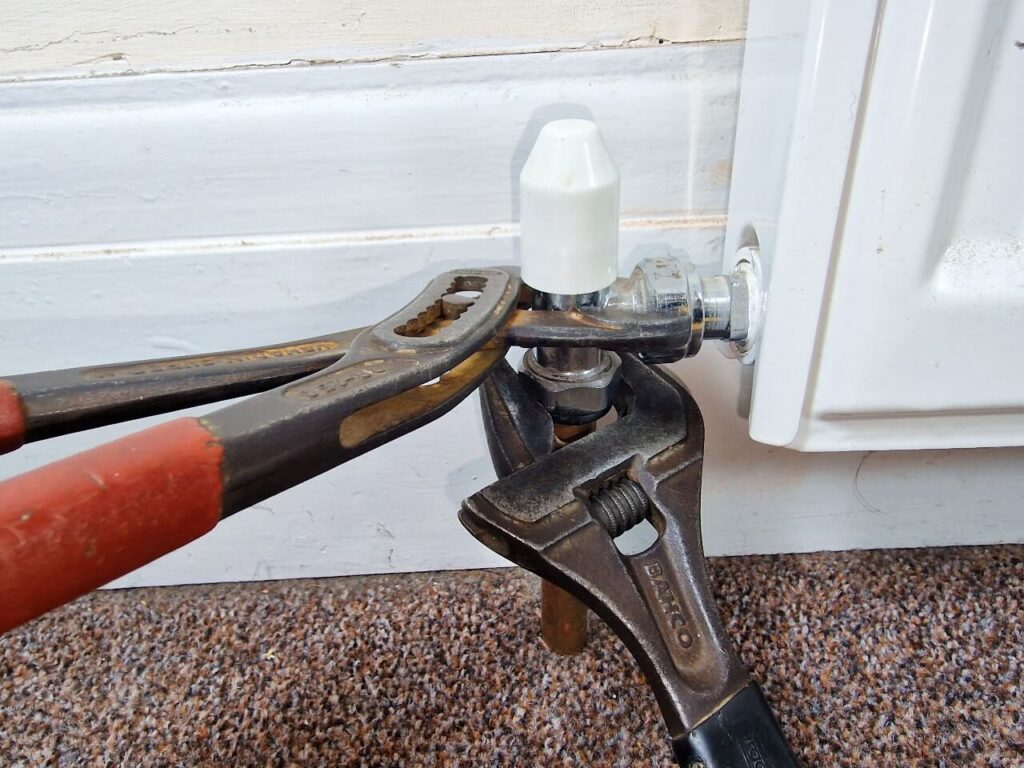 They can also be used for other things like pulling out small nails and staples, flattening out pieces of metal, and even as a hammer when you don't have one to hand.
Best Water Pump Pliers for Plumbers
Different plumbers prefer different grips. Some will say either Rothenberger, Channellock, or Crescent are the best water pump pliers, but I don't like any of them.
They just don't feel like they grip things as well as they could and I think people only buy them to save money.
Channellock grips are huge in America, so much so that water pump pliers are called Channellocks. A bit like how vacuum cleaners are called Hoovers in the UK.
I own a pair of Channellocks (blue handles in the photo) and can say they are the worst grips I've ever used. They are loose and rattly and awkward to adjust.
Everything about them is bad.
---
Knipex
German brand Knipex makes some of the best quality tools in the world.
Solid, robust tools that do the job better than their competition.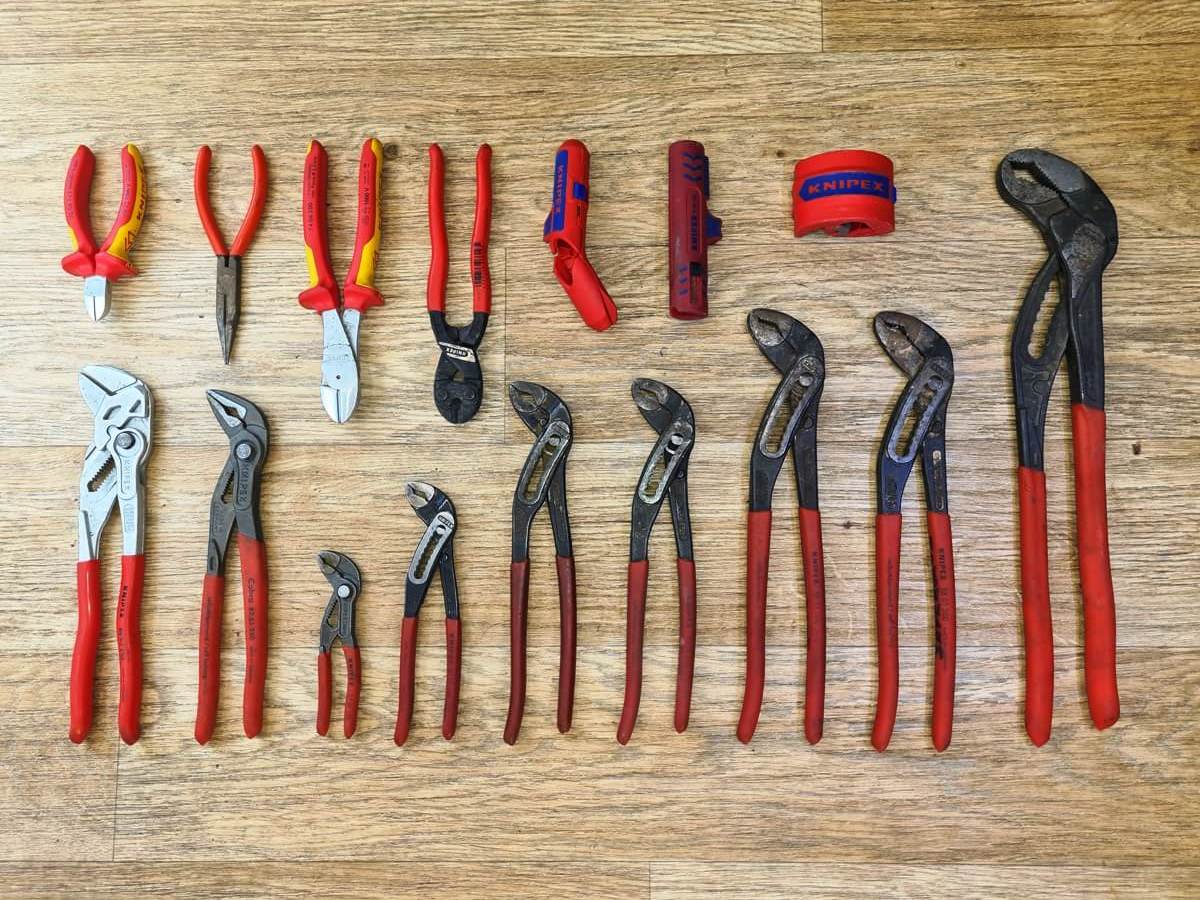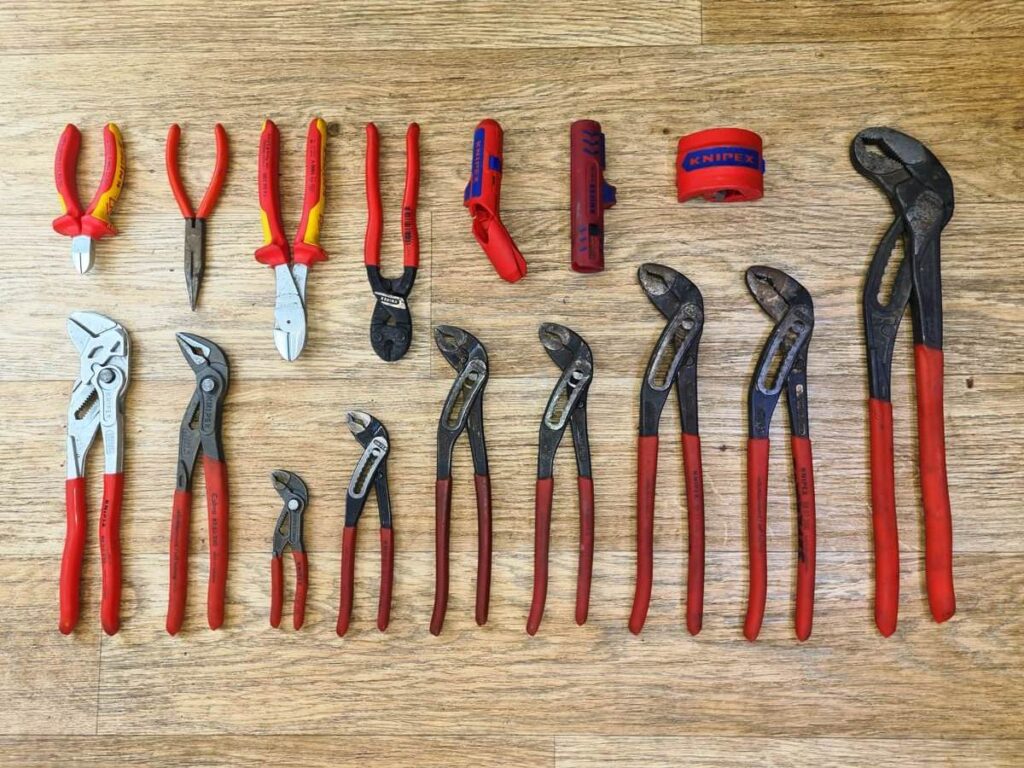 ---
Alligators
The best water pump pliers are the Knipex Alligators.
I have all four sizes that Knipex make and have two of some sizes as they are some of the best plumbing tools on the market.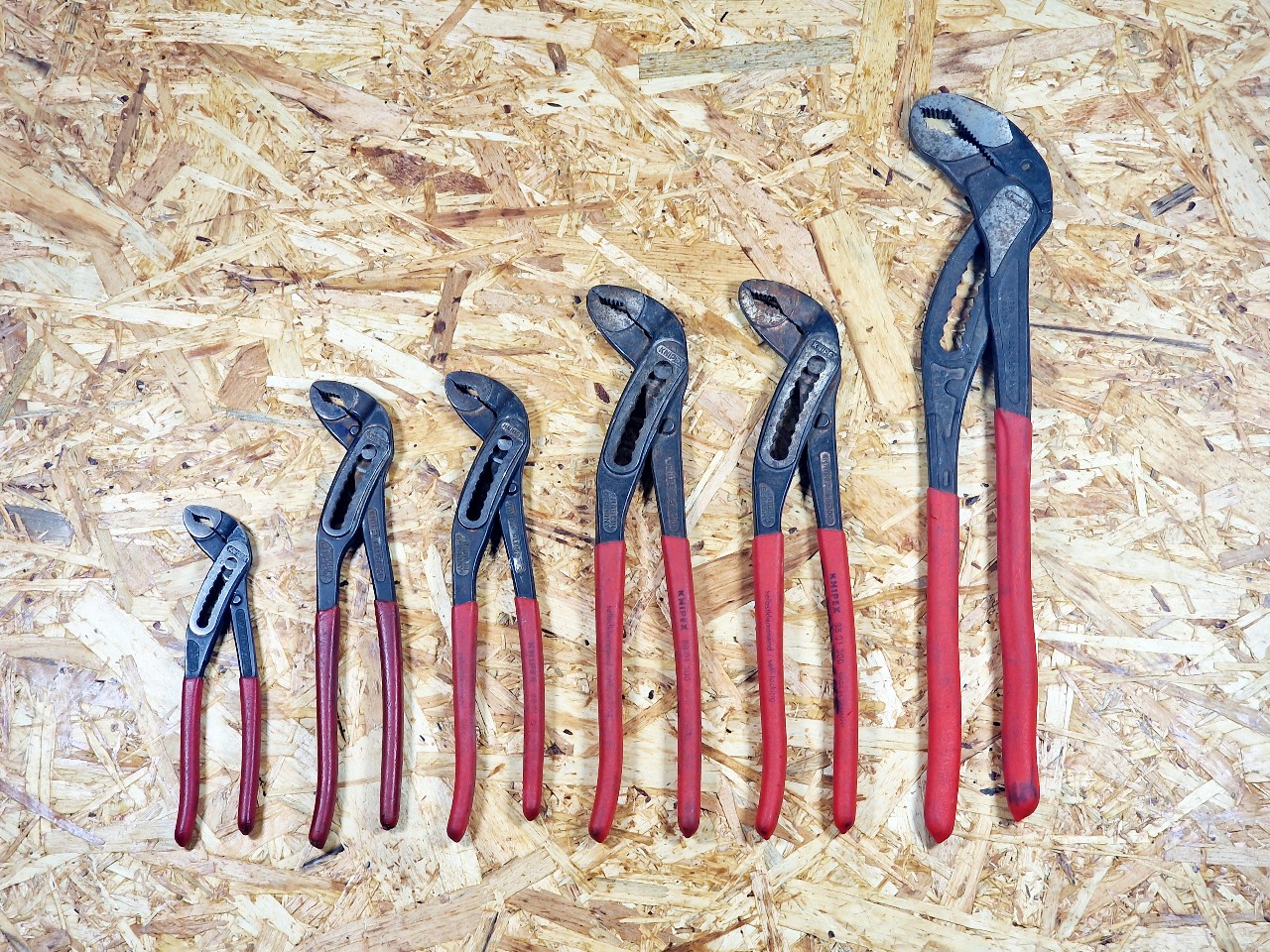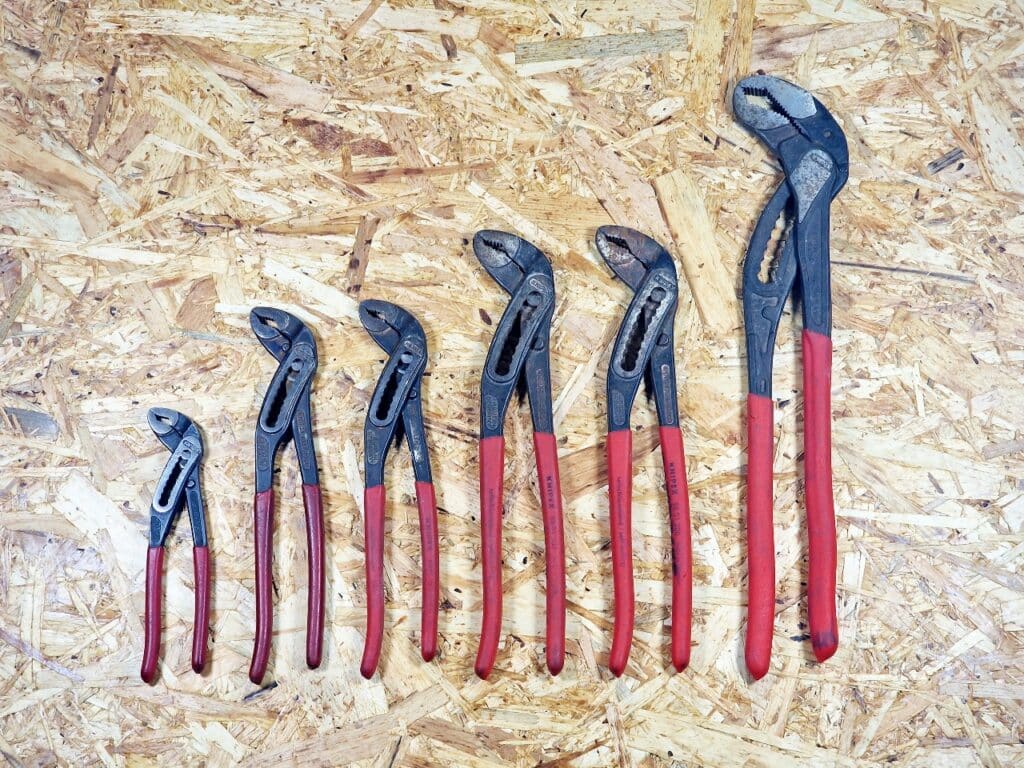 Alligator Sizes
180mm (7″)
250mm (10″)
300mm (12″)
400mm (16″)
---
The smallest Knipex Alligator water pump pliers available are 180mm and mine live in a pocket on my work trousers. I use them a lot as they are always on hand when I'm working.
These are a great size for most things in the home but the short length means you have less leverage so more force is needed to turn things.
---
Then there are the 250mm (10″) Knipex Alligator pliers which are the most useful size and this is the size I mostly use when I have a bag of tools out on a job.
This is the size I would recommend a plumber buys as their first set of water pump pliers and a DIYer has for around the house.
---
The 300mm (12″) Alligators are the next size up, and although they don't get used as much, they can be a lifesaver.
Much better size for things like tap valve cartridges that don't want to come out, large plastic nuts on toilet flush valves, and replacing a central heating pump.
---
Then there are the big 400mm (16″) Knipex Alligator grips – they don't come out often, but they are beasts compared to the 300mm (12″) Alligators.
It doesn't sound like much of a difference, but it is huge. These large water pump pliers save the day when they come out (very rarely) and have never let me down when all else failed.
---
Knipex Alligators Are the Best Water Pump Pliers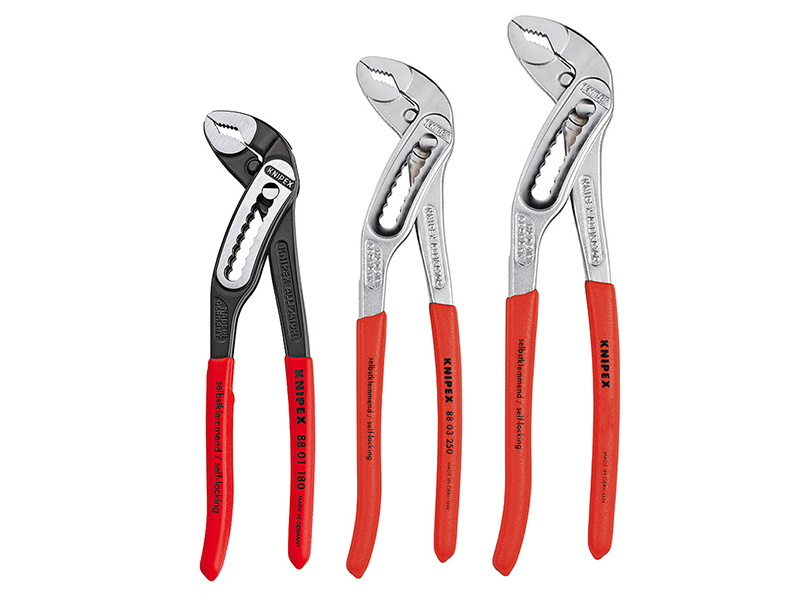 Knipex grips are to me the best water pump pliers money can buy no question. Anyone who says otherwise hasn't given them chance or even tried them out in my opinion.
Knipex Alligator water pump pliers on Amazon:
Knipex grips come in different variations of handle covers and colours of metal but I always stick to the originals.
---
I think most British plumbers would say Knipex Cobras are the best water pump pliers.
Cobras are very similar to Alligators, but they have a push button (Alligators do not) to change the jaw size, and they have more teeth where they adjust so more sizes to adjust them.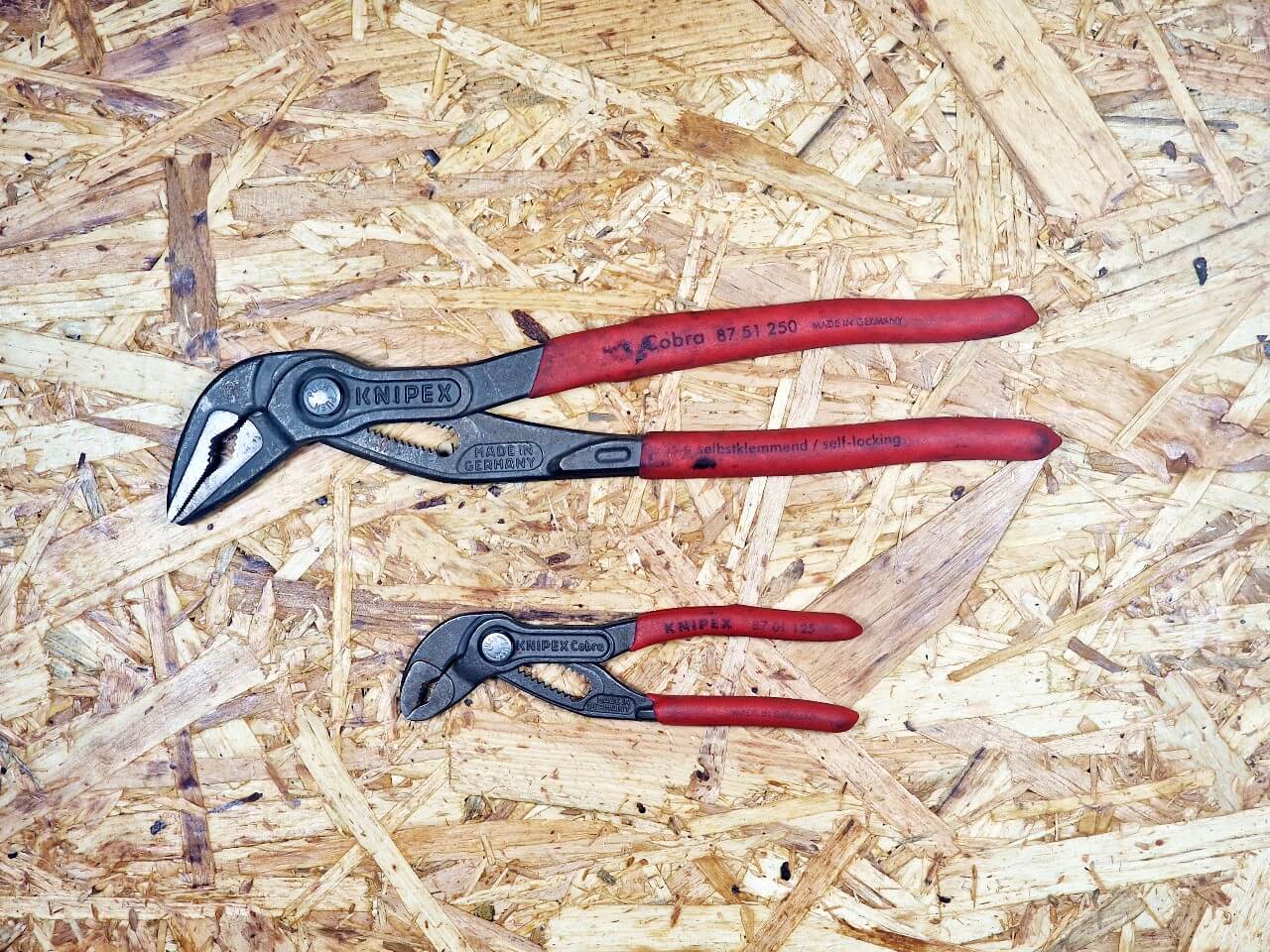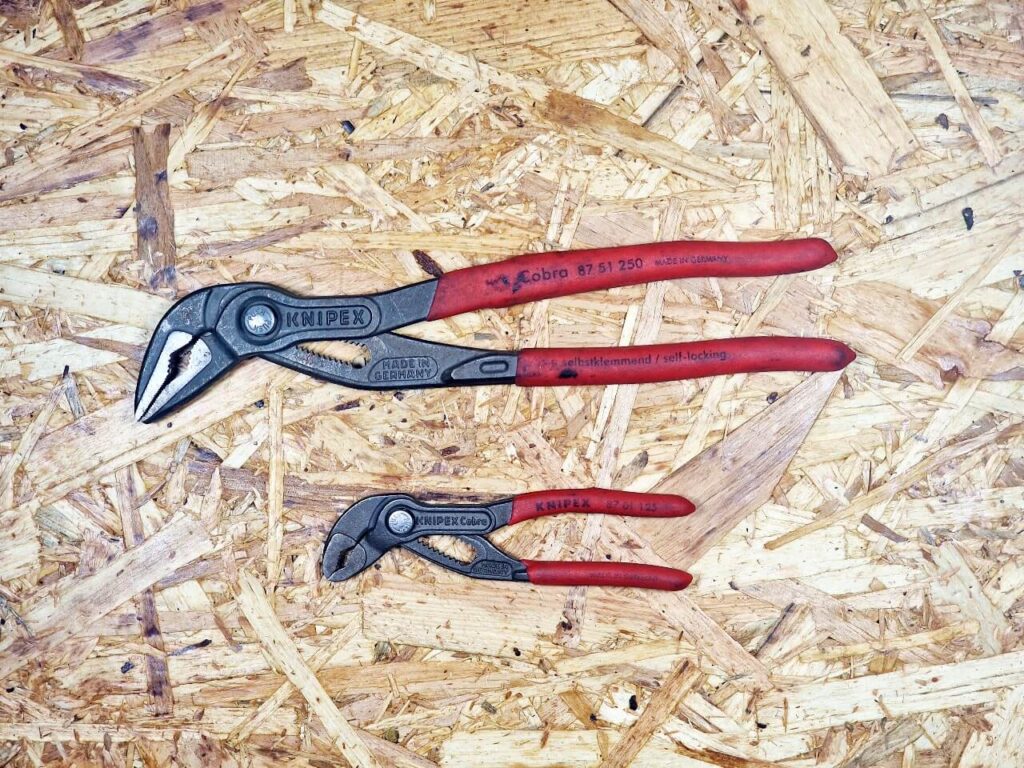 I prefer not to have a button because it makes it slightly trickier to adjust them, especially if you only have one hand free.
Cobras are more popular, and they have more variations to choose from. They start at 125mm (5″) and go right up to 560mm (22″).
I have the 125mm Cobras (the smallest grips around) and the 250mm Knipex Cobra Extra Slim jaw grips for extra tight gaps, but rarely use either of them.
Knipex Cobra water pump pliers on Amazon:
---
Not technically water pump pliers but the Knipex pliers wrench is definitely worth a mention.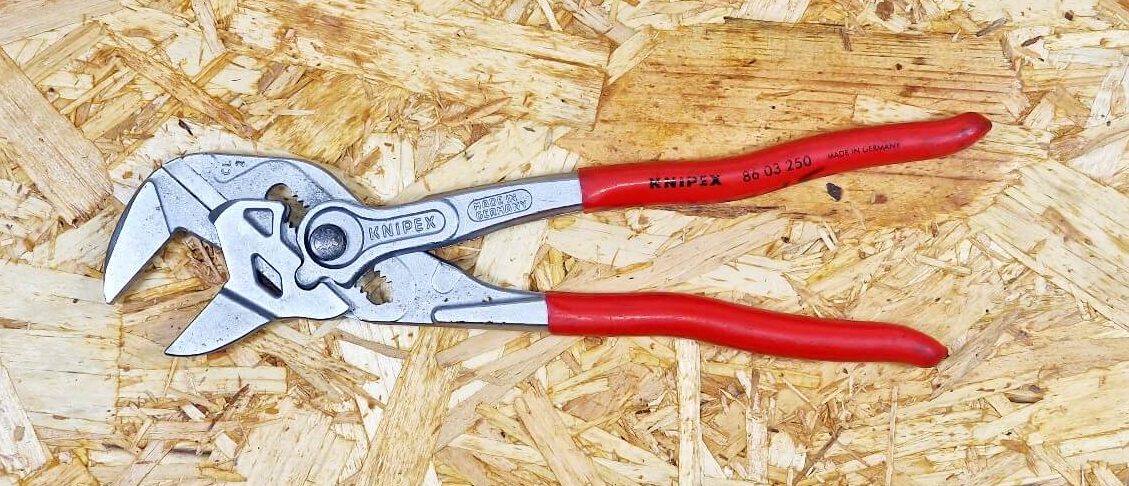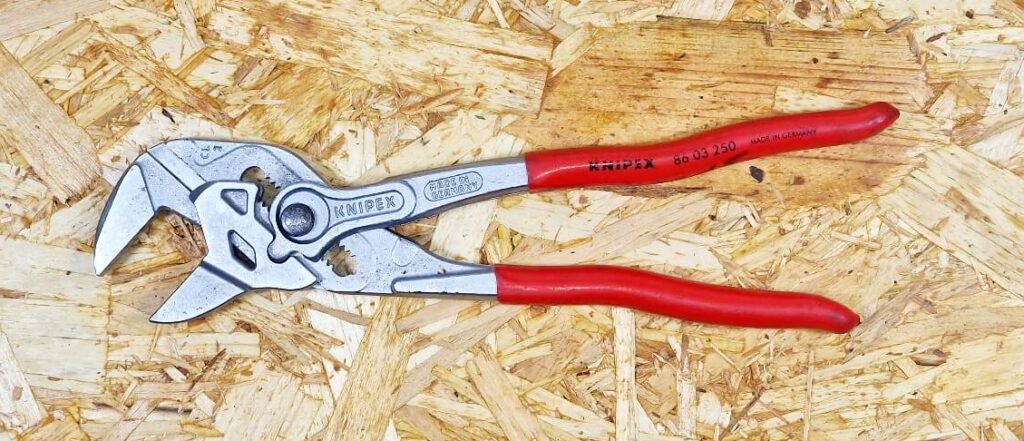 They are combined pliers and an adjustable spanner in one tool.
The jaws are flat and smooth so gripping chrome nuts on mixer showers, for example, will not scratch and damage the chrome as water pump pliers can.
Also, when you adjust it to the correct size, they will grab the nuts so much better than an adjustable spanner.
These are a must-have for any plumber who takes their job seriously.
I have the 250mm (10″) pliers wrench but they start at 125mm and go up to 400mm.
---
Other Recommendations
Summary
Whether you're a DIYer or a full-time plumber, you should have at least one pair of quality water pump pliers in your tool kit.
The best water pump pliers available in the UK are Knipex and the only decision you should be making is whether to buy Knipex Alligators or Knipex Cobras.
If you hardly ever use them and just want to have them in the cupboard just in case, then you might get away with buying a cheap pair.
If you click a link on this page and buy any items from Amazon, I may earn a commission.
Feel free to ask me any questions in the comment section below and I'll try my best to help.
Please share this post if you found it helpful.
---
Best Water Pump Pliers FAQs
---
Who makes the best water pump pliers?
German tool makers Knipex make the best water pump pliers. They are the best quality and grip like no other water pump pliers.
If you want things to go smoothly and you like to use the best plumbing tools available, then investing in Knipex water pump pliers is the way to do it.
What size water pump pliers do I need?
What size water pump pliers you need depends on what you need them for. They are typically used by plumbers and the most common and useful size for domestic plumbing is 250mm or 10 inches.
If you fit central heating pumps regularly or you just want more leverage (use less force), then you might want to go for 300mm or 12 inches.