Get a carbon monoxide detector alarm today if you don't already have one.
They are cheap, easy to fit, and most importantly they save lives!
Find what to do if you hear your carbon monoxide detector beeping.
Carbon Monoxide
Carbon monoxide (CO) is an odourless, colourless, and tasteless gas created by gas burning appliances.
These are found in most homes including boilers, cookers, and fires.
CO can cause death or serious health problems like brain damage.
Carbon monoxide is created by the incomplete combustion of natural gas and liquid petroleum gas (LPG).
It can also be created in the burning of oil and solid fuel like wood, coal, and petrol, which can happen when appliances are fitted or repaired incorrectly or have blocked flues or chimneys.
Carbon Monoxide Poisoning
Because carbon monoxide is virtually untraceable to humans, you will probably never know if you are breathing it in.
Carbon monoxide poisoning causes around 60 deaths per year and around 1,100 recorded admissions to the hospital, according to the Gas Safe Register.
You only need to breathe in a small amount of carbon monoxide for it to be dangerous or potentially lethal.
Carbon Monoxide Detectors
There are different types of CO detectors.
You can even get smart ones now (like Google Nest Protect) which are pretty expensive.
But you can get a decent standard one for around £20.
You should always buy branded detectors, as some cheap ones have been known to not work.
FireAngel and Kidde are two well known brands, but you can't go wrong with a Honeywell carbon monoxide detector.
Carbon Monoxide Detector Beeping
It is highly recommended having at least one CO alarm in your home.
Your carbon monoxide detector alarm should be tested regularly by pressing the button and making a beeping noise.
It should also be tested when you have a gas safety certificate inspection.
Carbon monoxide detector alarms are very much like smoke alarms.
They beep continuously when they detect carbon monoxide.
If you find your carbon monoxide detector beeping intermittently, then the batteries need to be replaced.
What to do if it Goes Off!
If you find your carbon monoxide detector beeping continuously, you should turn off any gas appliances.
You should then open your windows and call your local registered gas engineer.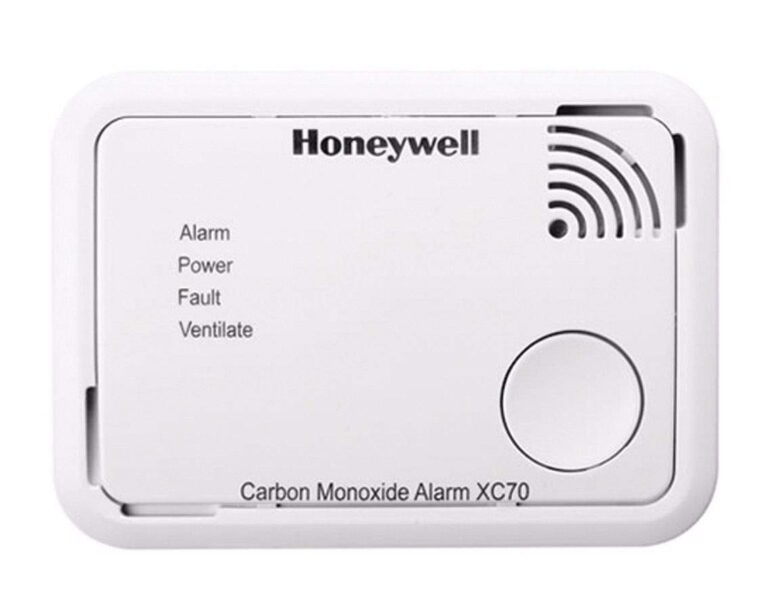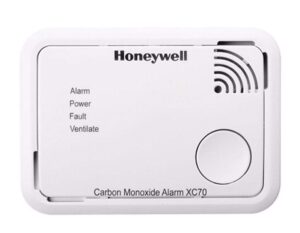 You can press the button to test if it is working correctly.
If it's not working, then you must replace it as soon as possible.
They only have a certain amount of years lifespan, so need to be replaced every few years.
Where to Place Carbon Monoxide Detector
Carbon monoxide detector alarms are best placed on the ceiling.
They are generally fitted simply with two screws.
The best place to fit a carbon monoxide detector alarm is on the ceiling, just outside the room or cupboard that the gas appliance is fitted in.
If there are more than one gas appliances in the property, then finding the best spot is even more important.
Sometimes fitting more than one carbon monoxide detector alarm is needed.
Carbon Monoxide Detector Patches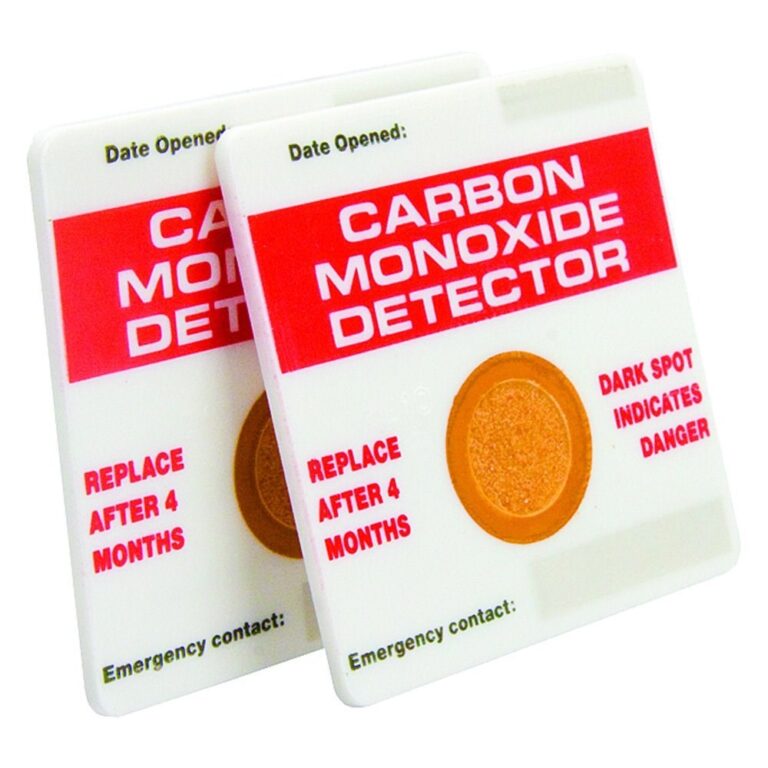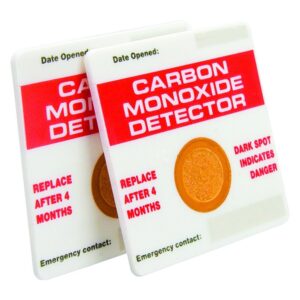 It is not recommended using these carbon monoxide detector patches.
They only show a black spot on the patch, which you have to check with your eyes.
They do not give you an audible alarm to when there is carbon monoxide detected.
Most people will never check them, so pointless having them.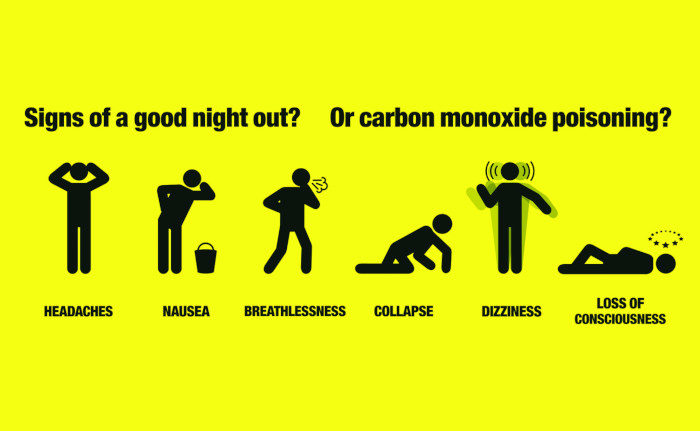 Carbon monoxide symptoms to look out for include –
Headaches
Dizziness
Nausea
Breathlessness
Collapse
Loss of consciousness
If you experience carbon monoxide symptoms or hear your carbon monoxide detector alarm beep, you should –
Leave your home and open windows/doors and turn off gas appliances if possible.
Seek medical attention immediately and tell your doctor about possible carbon monoxide poisoning.
Call your local Gas Safe registered gas engineer/heating engineer immediately to check your gas appliances and make them safe.
Who is Carbon Monoxide Likely to Harm
Carbon monoxide is potentially dangerous to everyone. It is more likely to affect babies, young children, and pregnant women.
It is also more potentially dangerous to people with chronic heart disease and respiratory problems.
If you feel that there is a potential for carbon monoxide to spill into your home, or you want to know how to get a carbon monoxide detector, then switch off all gas appliances immediately and call a Gas Safe registered engineer.