Learn how to fit an outside tap like a plumber, by a plumber.
There are some good outside tap kits you can buy, but you should try to avoid using a flexible hose.
Flexible and plastic hoses will most likely leak eventually, or might even burst open and flood your house one day.
Materials and Tools for Fitting an Outside Tap
Materials:
An outside tap with a double check valve.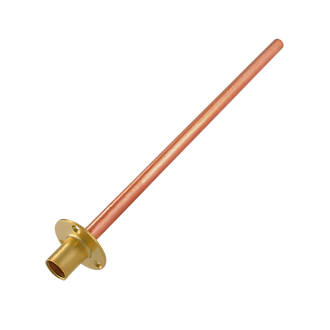 A hose union backplate or wall plate – Make sure it is the correct length for going through the wall you're putting it on.
Hozelock tap connector
Brass or Speedfit pipe fittings – I typically just need a 15mm tee piece, and a 15mm 90° elbow, but it depends on your setup.
15mm isolation valve
15mm pipe – Again, it depends on how far away your cold water supply that you are connecting it to when fitting the outside tap.
PTFE Tape 
7mm wall plugs x 3
Brass screws x 3
Brown or clear builders silicone
Outside Tap Fitting Tools:
An SDS drill
A 10mm and an 18mm SDS drill Bit – 400mm will be long enough to go through most walls. But you may need a longer one depending on the thickness of the wall. I drill through with a 10mm drill bit first to make a pilot hole. This makes it much easier, then the bigger hole for the pipe.
A 6mm or 7mm SDS drill bit –  anything over 50mm will do.
A screwdriver
A 15mm pipe cutter
An adjustable spanner
Water pump pliers (grips)
15mm pipe collar (optional) – Lots of colours to choose from if you want to make the pipe hole tidy inside the home.
You can get all the materials at most plumbing merchants.
I find Screwfix is the best for ordering online to collect.
How to Fit an Outside Tap – a 3-Step Guide
Step 1: Drill a Hole All the Way Through the Wall
Work out where you want to fit your outside tap, and find out where the mains water supply pipe is that you're connecting the tap pipe to.
Ideally, they should be very close to each other.
You then need to measure inside where the drill bit will be coming through the wall from outside.
This can be very tricky to measure, but you have to learn how to fit an outside tap properly.
Once you've done this, make sure that you're not going to hit anything on the inside when you drill through the wall from outside.
Then mark and drill the wall where the outside tap is going.
The reason you drill the wall from outside is, you do not want to blow the brick out on the outside if you drill from the inside of the house.
Sometimes, when things are very tight, like next to where your washing machine is fitted etc, I will have to drill through from the inside, but it takes a lot of practice to not blow the brick out.
I will turn off the hammer function on the SDS drill when I only have an inch or so to go and just use it on drill mode.
Mastering how to fit an outside tap like a pro will not happen on the first attempt, just like fixing a tap and most plumbing.
Mistakes will happen.
Step 2: Fit the Hose Union Backplate and Outside Tap
Push the hose union backplate through the wall and make sure the copper pipe inside the home is in a good position.
You can cut the copper pipe back if needed.
When the brass backplate is sitting against the wall, mark the 3 screw holes on the wall with a pencil or marker.
Remove backplate and drill 7mm screw holes carefully as you have much room around that big 18mm hole.
This is key to learning how to fit an outside tap like a pro plumber.
Step 3: Connect the Copper Pipe to the Water Supply in the Home 
The most common way of connecting this to the water supply is to add an elbow to the copper.
Then add a length of pipe to the elbow that you are using.
This needs to go in to the 15mm tee fitting, that should be connected to the cold water mains supply inside the home.