Last updated on October 25th, 2023
Whether it's one radiator not working or two radiators or more, a cold radiator means there's a problem with your central heating system that needs to be fixed to get the hot water flowing through again.
I have been a full-time heating engineer fitting and fixing central heating systems for over a decade.
Here I'll show you the possible causes of radiators not working and how to fix them.
Why Won't My Radiator Heat Up?
Your radiator is not heating up most likely for one of these reasons:
An airlock in the radiator or pipes
The radiator needs bleeding
The radiators need to be balanced
The radiator valve is blocked
The radiator is full of sludge
The radiator is not piped up correctly
Closed Radiator Valve
A closed valve is an easy fix for a radiator not working. You need to make sure the valves are fully open.
A thermostatic valve is easy to see if it's open or closed but with a lockshield, you will need to try turning to find out.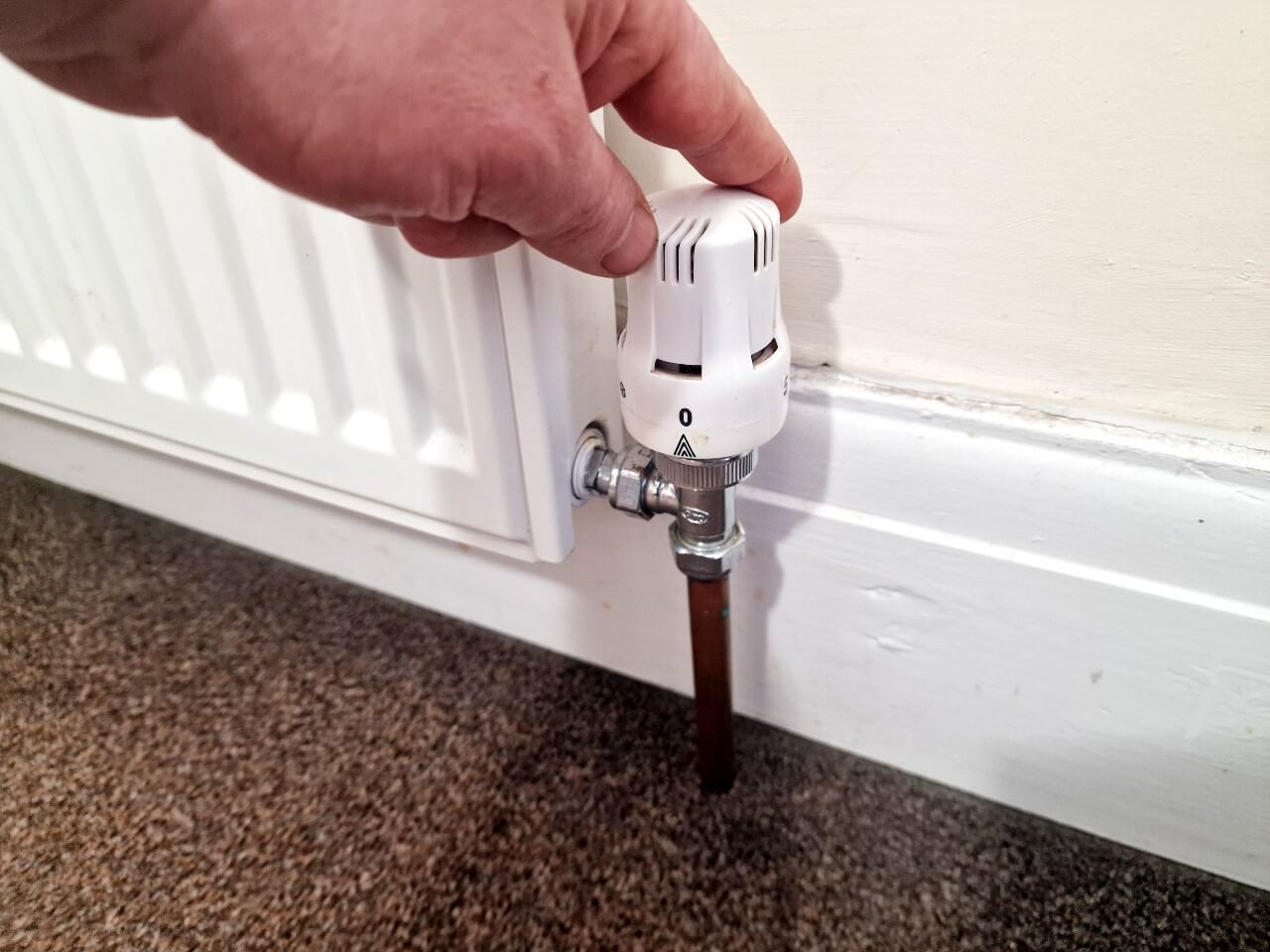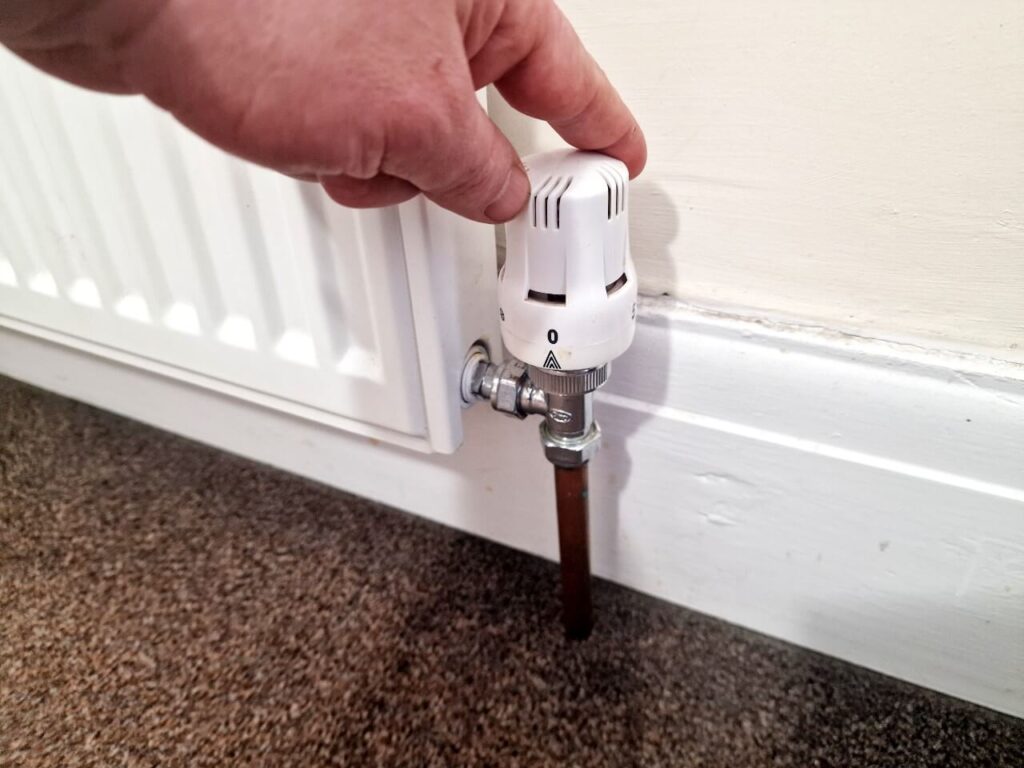 Radiator valves needs to be turned anti-clockwise as far as they will turn to open.
Other valve problems could be the valve being broken and stuck in the closed position or blocked. You might need to replace the radiator valve.
A thermostatic radiator valve pin can also get stuck and can sometimes be tapped with a hammer to free it.
Airlock in the Radiator
This is a common cause of a radiator or two not heating up, especially after draining the system.
Whenever I drain a central heating system and refill it and a radiator is not heating up, it's guaranteed to be because of an airlock in the radiator pipes.
To fix this, you must close one of the valves on every radiator apart from the ones not heating up.
This will force the heat to the cold radiators and force the air out. Then you can open all the other valves back up.
Radiator Needs Bleeding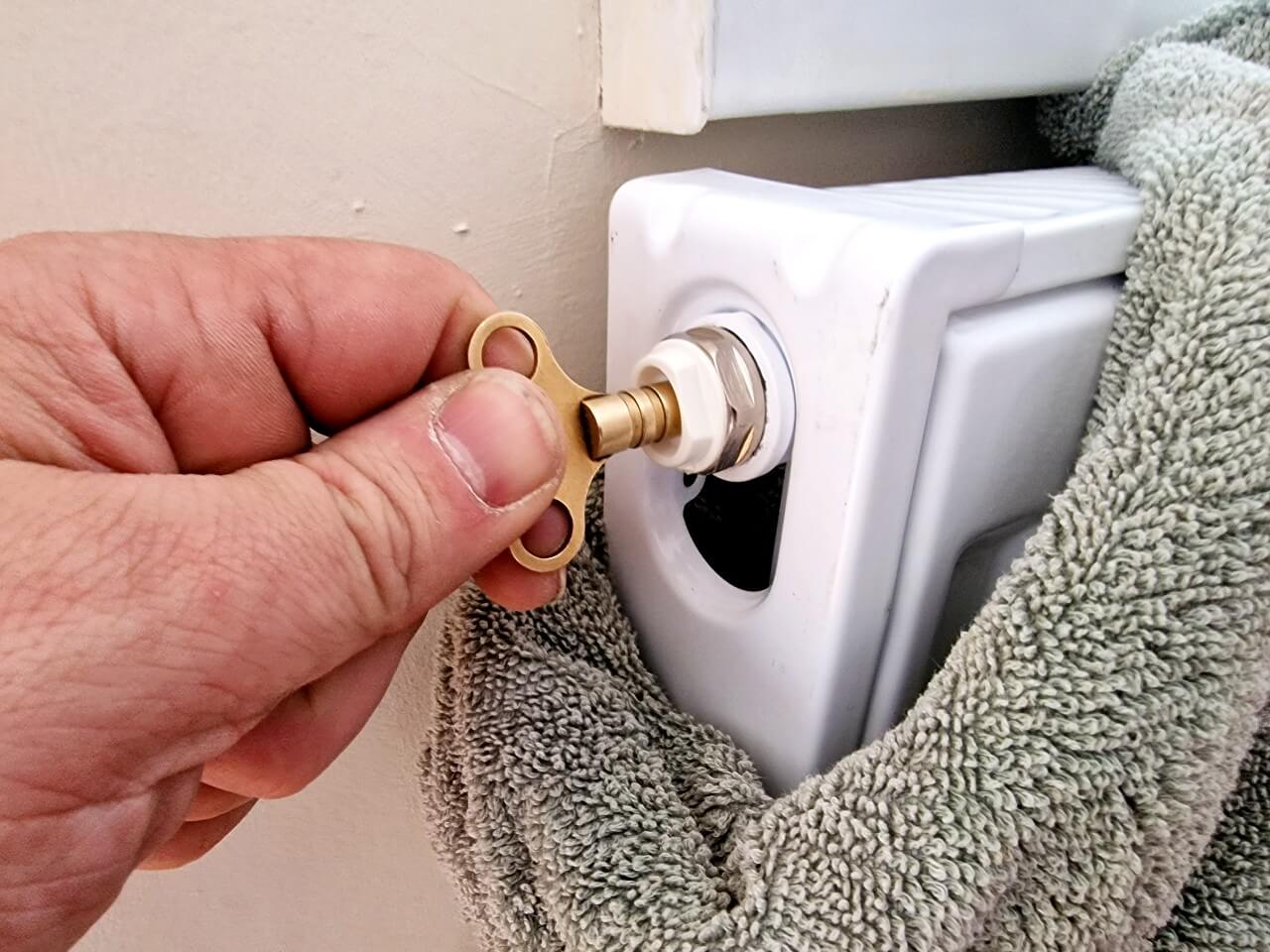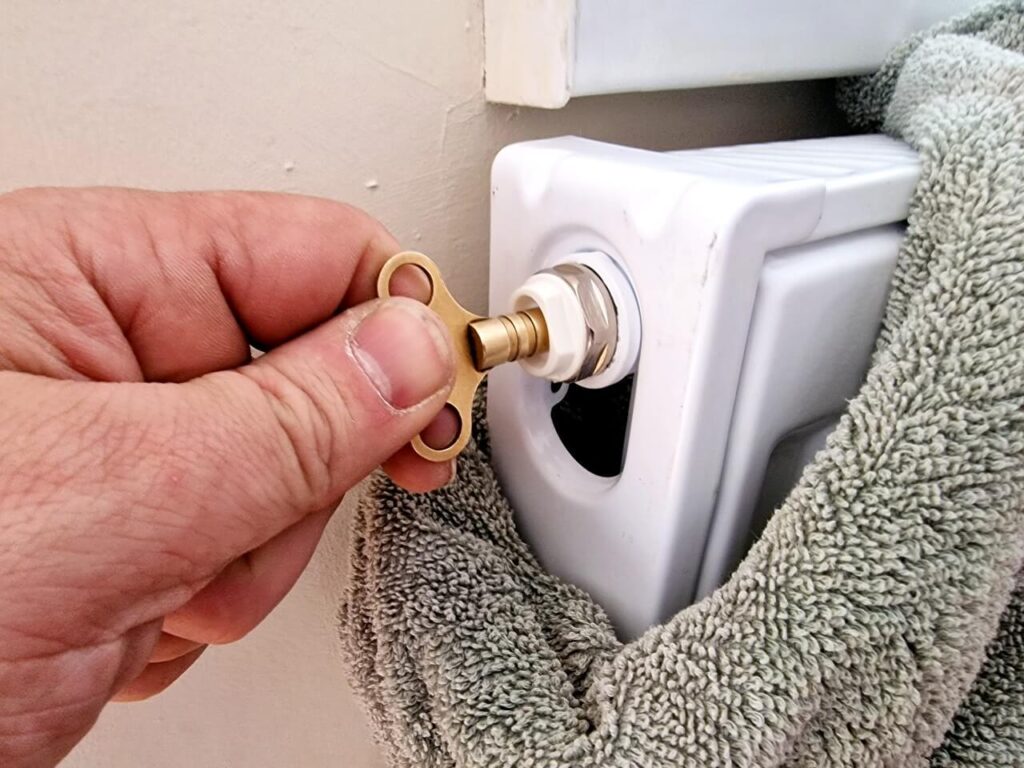 Another reason for a radiator not working is that it's full of air and needs bleeding. A sure sign it needs bleeding is when the radiator is cold at the top.
You must bleed the radiator with a bleed key or flat screwdriver to fix this and then repressurise the boiler.
If the radiator is not getting hot after bleeding then this means it's another problem causing the radiator to not get hot.
Radiators Need Balancing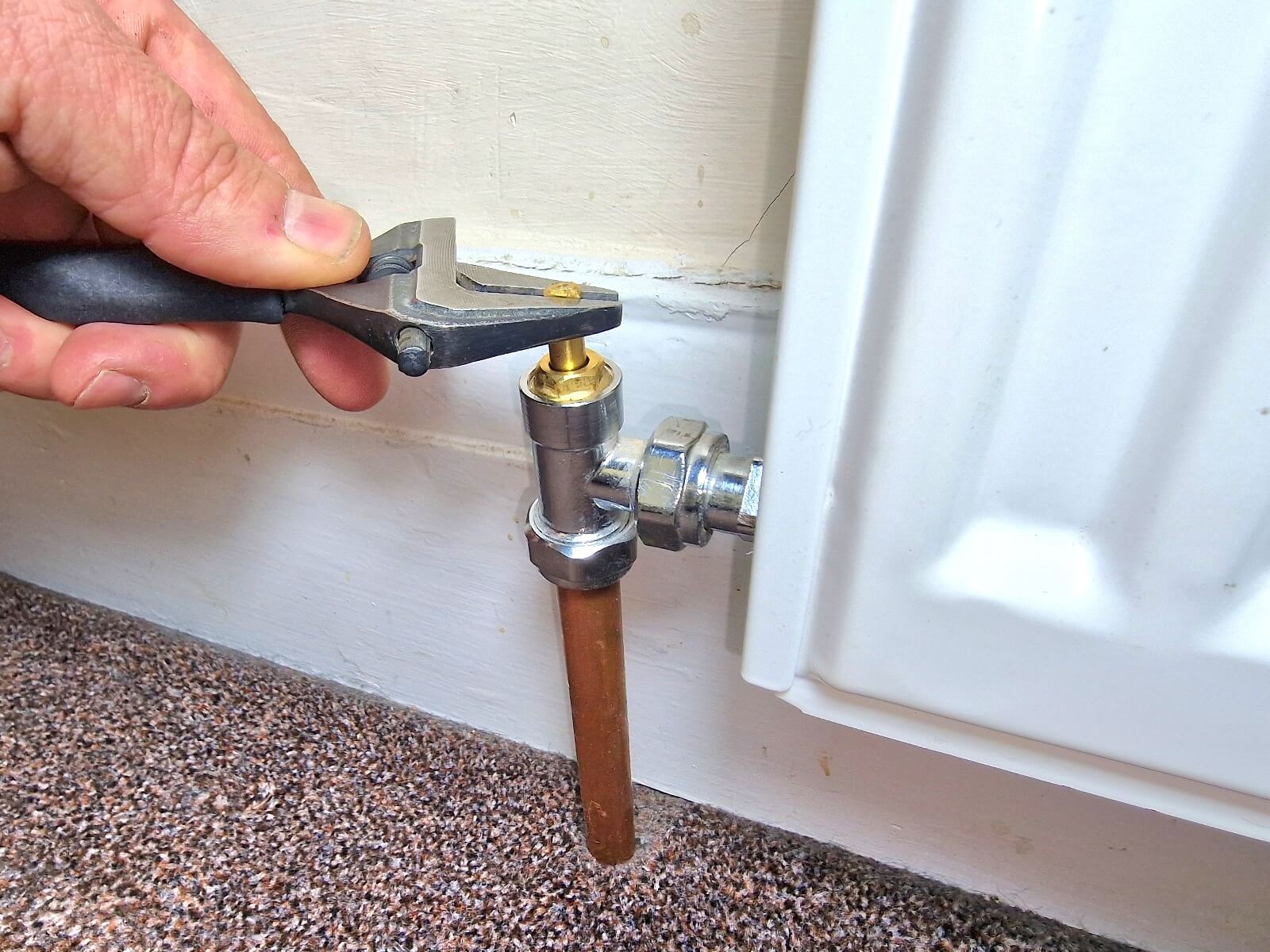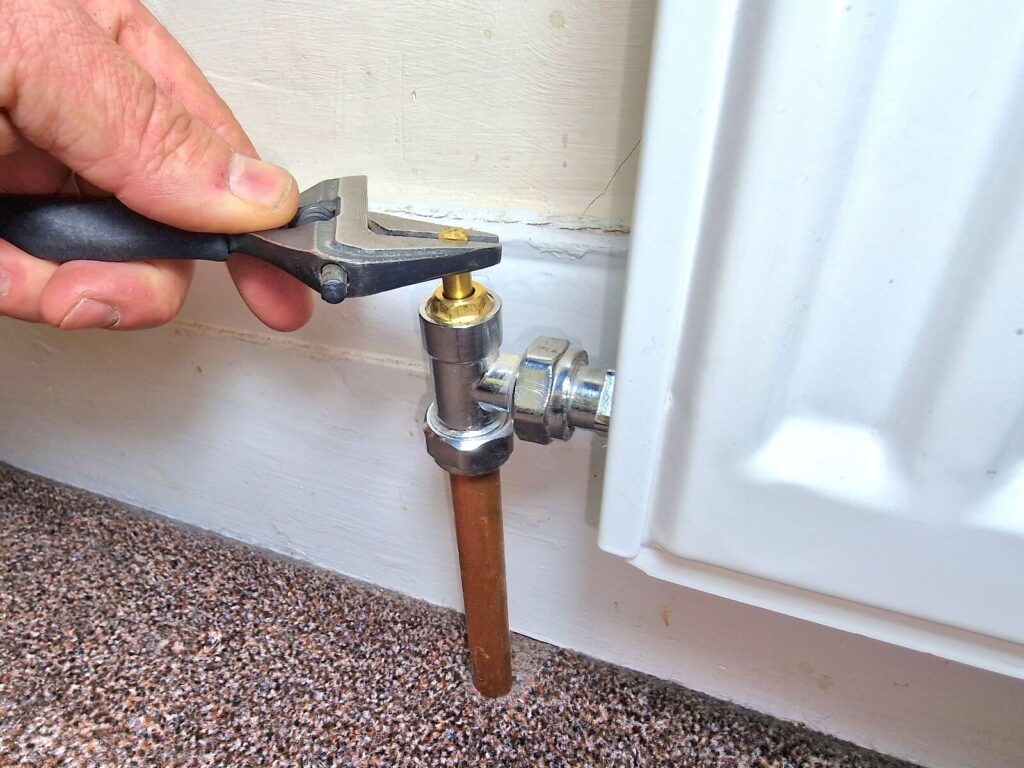 Balancing radiators on a heating system is sometimes needed, especially on larger systems.
When radiators need to be balanced, it's usually because one or more radiators aren't getting any heat or they're not heating up enough.
The heat can be manipulated and spread out evenly across the system by partially closing the lockshield valves.
Make sure every thermostatic radiator valve is fully open when balancing a central heating system.
Blocked Radiator Valve
A blocked valve will cause the radiator to not heat up.
It's hard to tell if the valve is blocked without removing it. You'll need to drain the system, remove the valve to check for any dirt or debris, and clean it out if you see any.
Radiator Full of Sludge
A radiator being cold at the bottom or cold in the middle is a big sign that it is full of sludge.
Sludge typically builds up on the bottom of the and causes the radiator to be cold.
You will need to flush the heating system to fix this, or you can remove the radiator and clean it out with a hose if it's only one radiator.
Radiator Not Piped Up Correctly
A new radiator not working or not heating up properly is a sign that the new radiator hasn't been piped up correctly or the new radiator pipes are too small.
For example, if you have added a new radiator and connected it by teeing into old 10mm pipes to supply the new radiator, then this will most likely cause the radiator to not work properly.
If the radiator used to get hot but has stopped then you can rule out not being piped correctly.
Radiator Not Working Properly
If your radiator is not heating up properly in certain places then here are the most likely causes:
Radiator cold at the top: Needs bleeding
Radiator cold in the middle: Full of sludge
Radiator cold at the bottom: Full of sludge
Radiator Hot at Bottom Cold at Top
When you have a radiator hot at the bottom but cold at the top, this is almost certainly because there is air in the top that needs to be bled out.
The radiator being hot at the bottom means the radiator valves are working fine and there aren't any problems with the pipes so bleeding the air out will stop the radiator from being cold at the top.
Radiator Hot at Top Cold at Bottom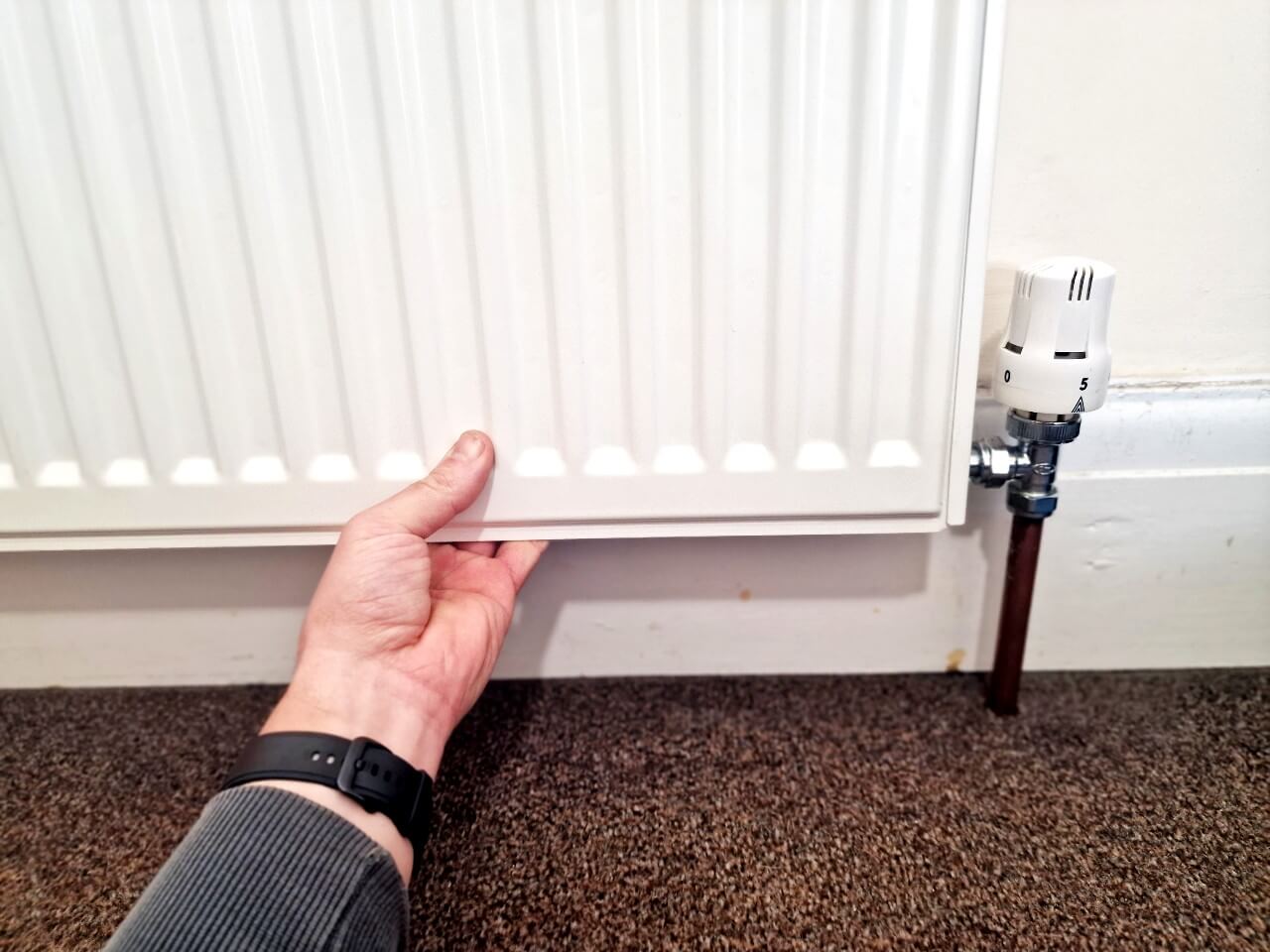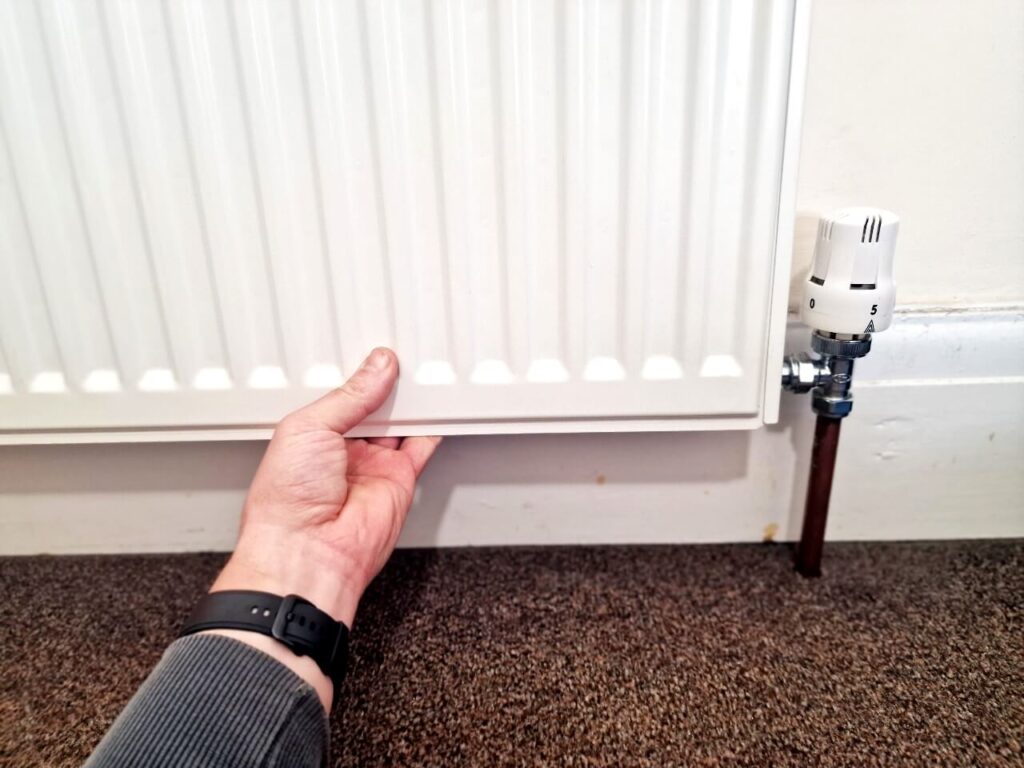 A radiator cold at the bottom when it's hot at the top is a common sign of sludge in the radiator, and probably in other radiators.
Sludge in the heating system means the system needs to be flushed and a magnetic system filter fitted.
You can also remove the radiator and flush it out individually with a garden hose.
Electric Radiator Not Heating Up
An electric radiator not working is not caused by the central heating system. You must have an electrical problem.
Here is my suggestion to help with an electric radiator not working:
Check the fuse in the spur or plug supplying the power next to the radiator
Check the electric circuit hasn't tripped at the main fuse board (consumer unit)
Call an electrician
Radiators Not Working But Hot Water OK
No radiators heating up at all but the hot water is ok means there will most likely be a problem with the boiler on a combi boiler or could be external parts on a heat-only boiler.
It could also be an airlock or blockage causing the water to not circulate and cut the boiler out but you can rule this out on a combi boiler (if you are still getting hot water).
Radiators not heating up after the summer sometimes happens as the heating system hasn't been used for months.
When it's turned on for the first time, especially on old boilers, it can cause parts to break down.
Summary
Fixing a radiator that's not working is usually straightforward but sometimes you have to bite the bullet and change the radiator.
If the cold radiator has been hot before then you can rule out a pipework problem and if you just drained the heating system then it's almost certainly an airlock.
The first and simplest things to check should be:
Make sure the valves are open
Bleed the radiator with a radiator bleed key
Close all the other valves to check for an airlock
Having just the downstairs radiators or just the upstairs radiators working will most likely be caused by a zone valve or thermostat problem, and all radiators not working will probably be a boiler, system pressure, or controls problem.
Feel free to ask me any questions in the comment section below and I'll try my best to help.
Please share this post if you find it helpful.
---
FAQs
---
Should both pipes on a radiator be hot?
Yes, both pipes on a radiator should be hot. The flow pipe has heated water going from the boiler into the radiators and the return pipe has the hot water coming out.
When the heating is first turned on, only the flow pipe will be hot until the radiator has heated up.
Both the flow and return pipes should eventually get hot as the hot water leaves the radiator and heads back to the boiler again.
What are common radiator problems?
Some common radiator problems are not getting hot, leaking, cold spots, noisy, and a rusty radiator.
Can you fix a radiator without replacing it?
Yes, you can definitely fix a radiator without replacing it. Most radiator problems can be fixed but if it is rusting then you should probably replace it.