Lots of people want to know exactly what does a boiler service include.  As a gas engineer who services gas boilers almost every day, I'll try to give you an understanding from my point of view and what's expected from the industry standards.
What is a Boiler Service?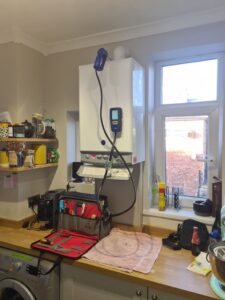 A gas boiler service is a check-up and clean of a boiler by a Gas Safe registered engineer. This will include visual inspections inside and out of the boiler and flue to make sure things are safe, and also hands on tests with gas testing equipment and tools. 
A boiler service should also include the cleaning of parts that may need cleaned, and advice to the homeowner of any recommendations the engineer thinks are needed for the boiler or heating system. 
How Long Does a Boiler Service Take?
There's no simple answer to this question as it all depends on different things including, the make and model of boiler, and the age of boiler, if there are any problems with the boiler.
For me, the minimum amount of time I spend servicing a boiler is 45 minutes, but I am often there for well over an hour.
A 45-minute boiler service might be a first year annual service on an Ideal Logic boiler, as these boilers do not have a gas valve that can be adjusted if they are not within the boiler manuals readings.
Therefore, once you've checked the flue gas analyser readings are not dangerous, you won't be spending any time adjusting the gas valve as this is not included on an Ideal Logic boiler service.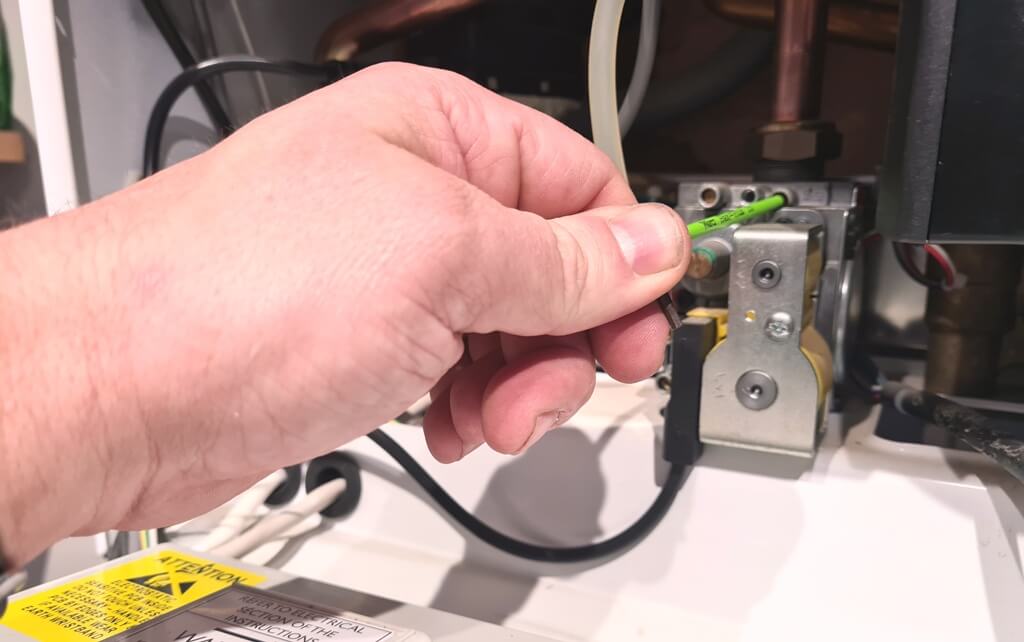 How Often Should You Service Your Boiler?
Having your boiler serviced regularly is the best way to help prevent problems and boiler breakdowns.
You may also have a warranty on your boiler, or pay a monthly fee to cover breakdowns, both of which will require regular servicing.
Every 12 months is how often you should service your boiler.
An annual boiler service is highly recommended to help keep things running smoothly and also to make sure everything is safe.
Boiler Service Checklist
A gas servicing engineer will fill out a servicing record, whether it's paper or digital, as they are servicing your boiler and will fill out and check everything on the form.
I personally use an app and website called Gas Engineer Software, which sends you a copy of the service record and an automated email reminder for your annual boiler service two weeks before it's due.
Here is my boiler service checklist that shows what a boiler service includes:
How to Service a Boiler
To service a boiler, I will first turn the heating on before doing anything else to make sure it's working before I work on the boiler.
I will then turn the boiler off and remove the case, then check and clean all the parts that might need cleaned inside the boiler.
The next step is to put everything back together and fit the case, then put the boiler in maximum service mode or run the hot water tap on full rate and maximum temperature.
While the boiler is running at maximum rate, it's now time to check the gas rate it at the gas meter and then put the flue gas analyser in the flue test point and check the readings match what the boilers' manual says it should.
I will then put it in minimum rate and do the same.