Last updated on November 10th, 2023
What a gas boiler service includes depends on the gas engineer doing the servicing.
A boiler service does not include repairing the boiler.
Some people will book a boiler service when their boiler is broken, thinking they can pay for a boiler service only and the boiler will be repaired.
This is not the case.
I have been servicing boilers full-time for over a decade. Here I'll show you exactly what a boiler service includes.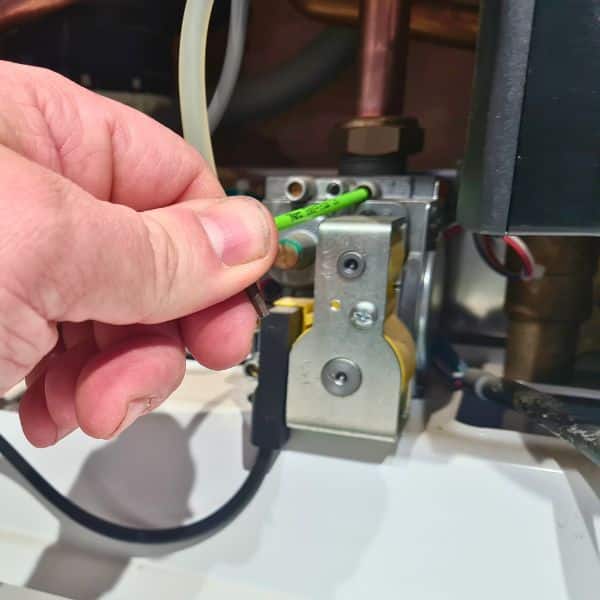 What is a Boiler Service?
A gas boiler service is a check-up and cleaning of a boiler by a Gas Safe registered engineer.
This will include visual inspections inside and out of the boiler and flue to make sure things are safe, and also hands-on tests with gas testing equipment and tools.
A boiler service should also include the cleaning of parts that may need to be cleaned and advice to the homeowner on any recommendations the engineer thinks are needed for the boiler or heating system. 
Boiler Service Checklist
| | |
| --- | --- |
| Combustion ✔ | Make sure the combustion gases are safe and within allowances |
| Flue Inspection ✔ | Check the full length of the flue from the boiler to the terminal outside |
| Gas Rate ✔ | Make sure the boiler is burning the correct amount of gas |
| Safety Devices ✔ | Make sure the boiler cuts out when the gas is turned off |
| Leaks ✔ | Check for any signs of water or carbon monoxide leaking |
| Clean Parts ✔ | This might include traps, electrodes, burners |
| Electrical Connections ✔ | Make sure the electric power and control wires are fitted correctly |
| Controls ✔ | Make sure any thermostats and timers are working correctly |
| Inspect Parts and Seals ✔ | Make sure all parts in the boiler look good and replace any seals if needed |
Boiler Service Checklist
There is no standard boiler service checklist that gas engineers are given or have to follow.
As long as we leave everything safe, boiler servicing engineers can pretty much do as much or as little as we like when servicing a boiler.
It's up to homeowners to find a boiler servicing engineer or company that they can trust to do a good job.
When it comes to boiler warranties, we have to follow the servicing procedure in the boiler manufacturer's instructions to keep the warranty valid.
But, it is good practice to follow them even when not under warranty.
How Long Does a Boiler Service Take?
There's no simple answer to how long a boiler service takes as it depends on different things including, the make and model of the boiler, the age of the boiler, and if there are any problems with the boiler.
Also, how long a boiler service takes mostly depends on the gas engineer carrying out the boiler service.
For me, the minimum amount of time I spend servicing a boiler is 45 minutes, but it often takes well over an hour.
A boiler service that takes 45 minutes might be a first-year annual service on an Ideal Logic combi boiler.
These boilers do not have a gas valve that can be adjusted, whereas, with other boilers, you have to check the combustion readings in the boiler manual and adjust the gas valve if they're out.
Therefore, once you've checked the flue gas analyser readings are not dangerous, you won't be spending any time adjusting the gas valve as this is not included on an Ideal Logic boiler service.
I will normally carry out all checks and tests on the boiler servicing record, remove the trap and clean it out in the sink, and clean the electrodes with a wire brush.
How Often Should a Boiler Be Serviced?
Having your boiler serviced regularly is the best way to help prevent problems and boiler breakdowns.
You may also have a warranty on your boiler, or pay a monthly fee to cover breakdowns, both of which will require regular servicing.
Every 12 months is how often your boiler should be serviced.
An annual boiler service is highly recommended to help keep things running smoothly and also to make sure everything is safe.
Boiler Servicing Software
A gas servicing engineer will fill out a servicing record, whether it's paper or digital, as they are servicing your boiler and will fill out and check everything on the form.
Although not a boiler service checklist, it does have a list of things to check off as you go.
I personally use an app and website called Gas Engineer Software, which sends the customer a copy of the service record and an automated email reminder for an annual boiler service two weeks before it's due.
It's also great for invoicing.
How to Service a Boiler
To service a gas boiler, I will first turn the heating on before doing anything else to make sure it's working before I work on the boiler.
This will check the controls are also working (the thermostat and timer).
I will then turn the boiler off and remove the case, then check and clean all the parts that might need to be cleaned inside the boiler. Condensate trap, electrodes, heat exchanger, burner, etc.
The next step is to put everything back together and fit the case.
Then put the boiler in service mode at maximum rate or run the hot water tap at full flow rate (hot tap fully open) and at maximum temperature.
Flue gas analyser testing
While the boiler is running at maximum rate, it's now time to check the gas rate at the gas meter and then put the flue gas analyser in the flue test point and check the readings match the readings in the boilers' manual.
If they are not correct, then I will adjust the gas valve until the readings are within the allowances.
I will then put it in minimum rate and do the same.
I will then visually inspect the full length of the flue and flue terminal outside to make sure it is safe and fitted to the manufacturer's instructions. And check all the pipes and for the boiler leaking water from underneath.
As I go, I will be on the Gas Engineer Software app filling in all the info for the boiler service certificate record.
Boiler Service Certificate
A boiler service certificate, or servicing record, is a document that is filled out by the gas engineer who services the boiler.
They are normally paper boiler service certificates, but more people are using software apps.
I have gone full digital so all of my invoices, gas safety certificates, and service records are online. I will email my customers the records when I'm finished, which are PDFs attached to the emails.
They can be printed out or sent to anyone. It's so much better than paper certificates.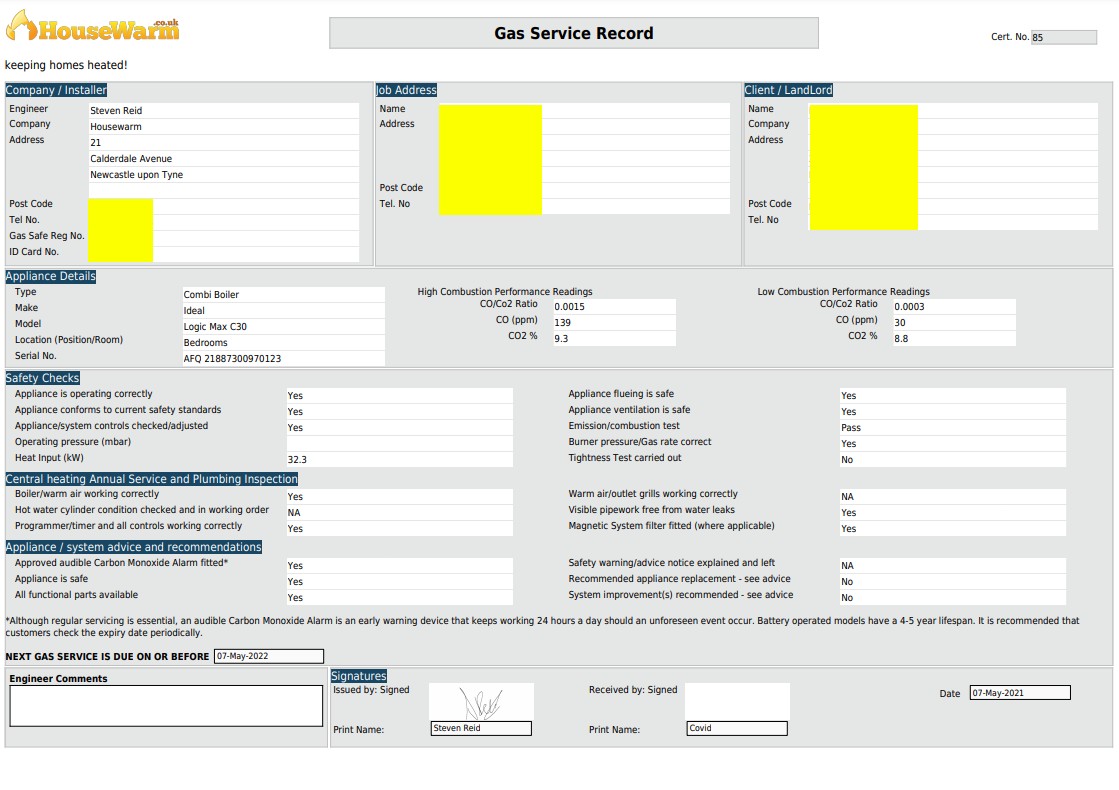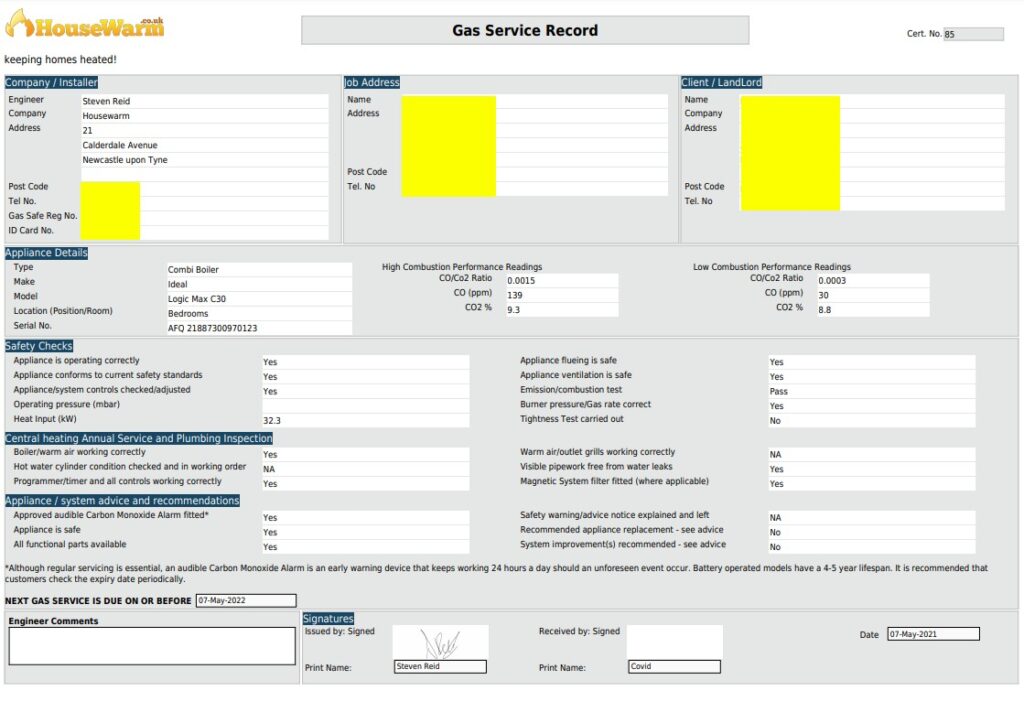 Summary
A boiler service includes checking and cleaning the boiler internally to make sure your boiler keeps running smoothly and check it's not dangerous.
Keeping on top of your boiler can help prevent it from breaking down, or from needing a new boiler installation before it's due.
Feel free to ask me any questions in the comment section below and I'll try my best to help.
Please share this post if you find it helpful.
---
FAQs
---
Do they check radiators on a boiler service?
No. Radiators are not checked on a boiler service.
If you are having problems with your radiators, you can ask the engineer to have a look while they're there, but it's not included on a standard boiler service.
Do I need to turn the boiler off before service?
It's not necessary to turn the boiler off before a service, but not having the heating on when the engineer arrives is good practice.
Is boiler servicing worth it?
Yes! Most of the time, annual boiler servicing is definitely worth it as it can prolong the life of your boiler.
It can also help find problems before they cause your boiler to break down, and put right any potentially dangerous situations that you may not be aware of.
It's not recommended to fix your own boiler, but if you're competent, then there are a few easy things to check.
It is also good practice to get the magnetic system filter cleaned out. You can check what condition the water inside your system is like and take care of potential problems before they cause an expensive problem on your central heating system.
Does a boiler service include inhibitor?
No, a boiler service does not include inhibitor as standard.
This will cost more money. If you want to put inhibitor into your central heating system, you should ask for it to be done when you book the boiler service.
How often should a boiler be serviced by law?
There are no laws or regulations stating how often you have to get your boiler serviced.
You do not have to get your boiler serviced by law. It is only recommended to get it serviced every year.
You might have to have an annual service carried out every year for the warranty, but that is not a law.
If you don't keep up with warranty servicing, then you will lose your warranty and have to pay for the boiler to be repaired if it ever breaks down.
Rental properties have to have a gas safety check done every year by law, which the boiler will be part of, or else the landlord will be in trouble. But there is no law for boiler servicing.