Fitted new boiler, new bathroom taps and unblocked bathroom basin. Pleasant, efficient and done in time specified at a very competitive price. Excellent.
I had Steven visit today to service my boiler, absolutely fantastic, efficient and even helped me diagnose a couple of other niggling issues without any further charge. I would highly recommend if anyone is looking for a reliable, knowledgeable and skilled plumber.
Contacted Steven via email about a leak we had on our toilet. Had a prompt reply and arranged a date/time to visit. He arrived on time, managed to fix the issue within a couple of hours and left everything clean and tidy. Very professional and would highly recommend. Many thanks.
Steven carried out a boiler service and fitted a new thermostat and timer. Good price and excellent service. Would definitely recommend and use again
Very quick response to my email enquiry, then the two radiators were replaced within days. They looked great and the work was undertaken with care. I would highly recommend and would definitely use the company again if I had any plumbing or heating needs.
Combi Boiler Installation
Combi boiler replacements are our most common new boiler install job we get asked to carry out, so we have a lot of experience.
An installation will usually take a full day to complete, that is if it's a straight combi boiler replacement going in the same place as the boiler being replaced.
Some installations may take longer depending on what other work needs doing.
For example, when fitting gas boilers in a different location, or if you are having radiator installations as well.
One of Housewarms combi boiler replacement jobs
Baxi Platinum Boiler Installation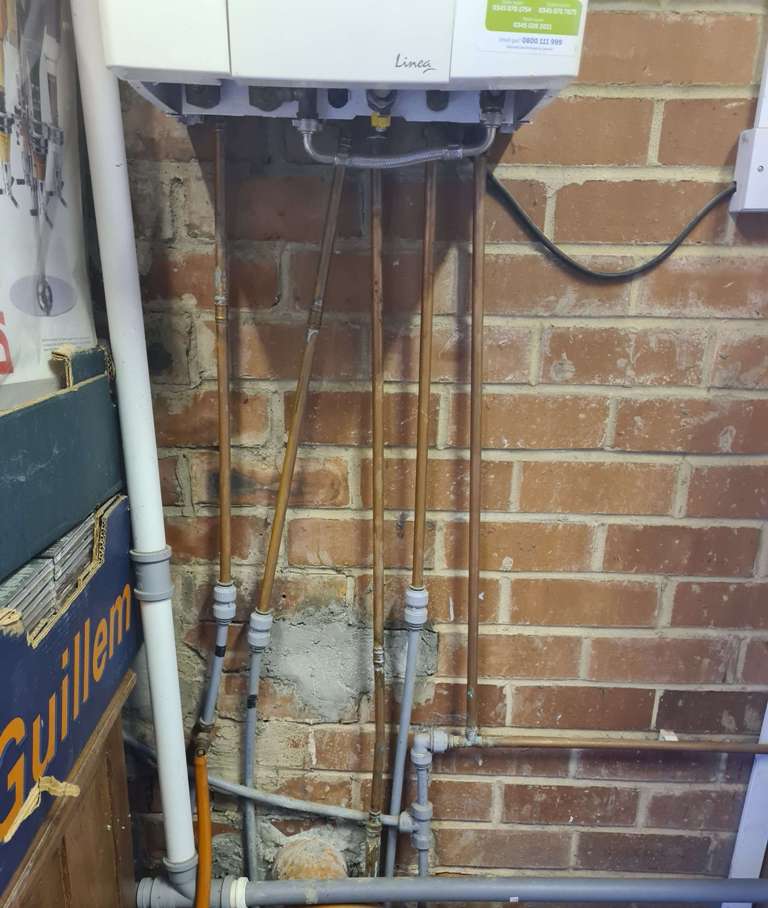 There was quite a few problems with the original installation of this old boiler, as you can see by the old pipework, but we also discovered the gas pipe had a solid lump of cement restricting it inside the pipe under the house. 
This was discovered after the installation of the new boiler as we were not getting the correct amount of gas when commissioning the boiler.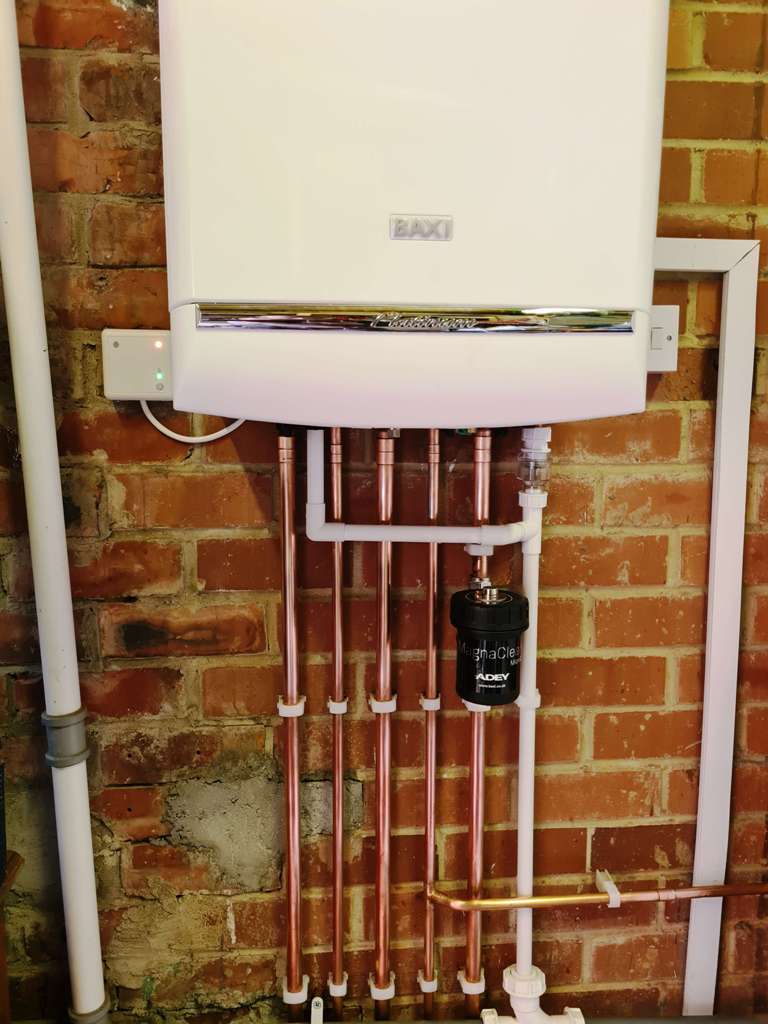 This was a Baxi Platinum+ 40kW combi boiler installation carried out by Housewarm in Gateshead. 
This boiler comes with a 10 year Baxi parts and labour warranty, and a Magnaclean Micro 2 magnetic filter that comes in the box with the boiler.
We also fitted a Hive smart thermostat, and upgraded the copper pipes to the correct sizes under the boiler.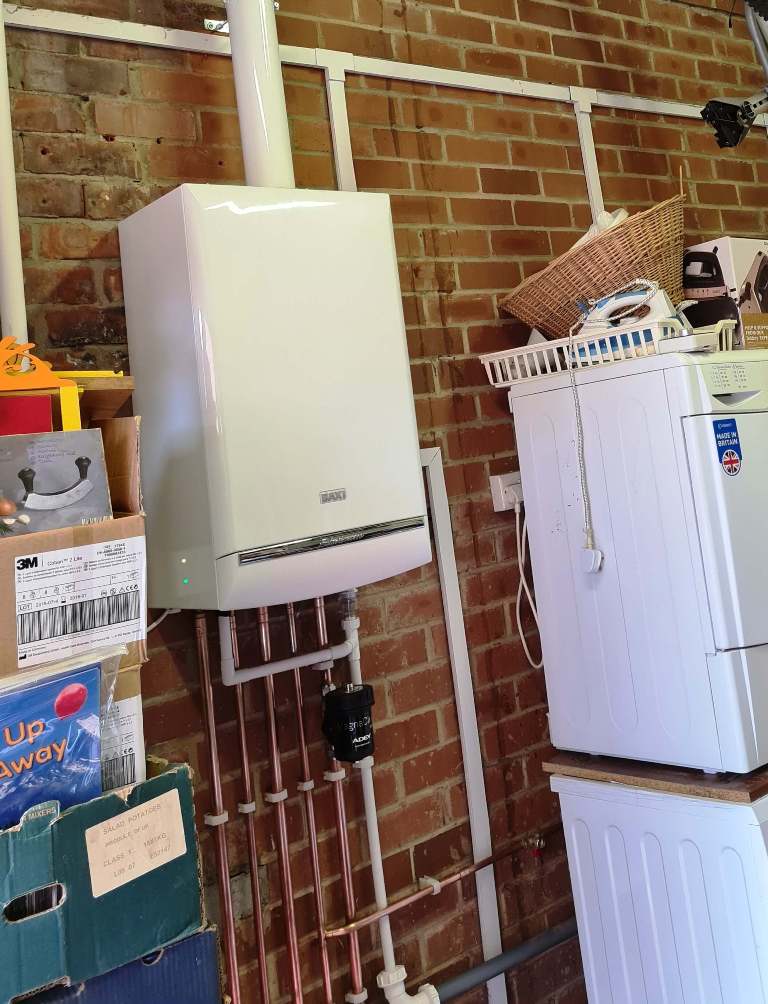 After replacing some gas pipework under the floor, we managed to find and remove the blockage.
This gave us all the correct readings, so we were able to get the boiler commissioned and registered with the Gas Safe Register and Baxi.
Frequently Asked Questions
Most frequent questions and answers
Who has to register the boiler?
Anyone can register the boiler warranty using the warranty card supplied or online, and the installer has to register the install with the Gas Safe Register.
Housewarm will always register the warranty with the boiler manufacturer and the install with the Gas Safe Register.
You do not have to do anything and will receive a building regulations certificate and warranty info in the mail usually within a couple of weeks after the boiler is fitted.
Is the heating system flushed?
Yes, heating systems needs to be flushed on every install to get rid of any sludge and debris, and should be fitted with a magnetic central heating filter to keep it clean and protect it.
How long does a boiler installation take?
A like for like boiler replacement will usually take one day to complete.
If the boiler is going in a new location or it's a conversion from a heat only boiler to a combi boiler, then this will usually take 2 or 3 days.
How long is the warranty on the boiler?
It depends on the boiler. Different boilers have different warranties which is with the boiler manufacturer.
At Housewarm, we will usually give you free quotes for two boilers, one with a 5 year warranty and one with a 10 year warranty.
The boiler manufacturer will replace any parts for free over that period if you have any problems, as long as you get the boiler serviced every year.
Do I need to do prepare anything before the installation?
No, not really. You just need to make sure that it's clear around the boiler to work and that there is access to all the radiators for bleeding them and potentially fitting thermostatic radiator valves if needed.
Boiler Plus is a regulation which says new combi boilers have to be fitted with Boiler Plus time and temperature controls.
If your old combi boiler doesn't have a Boiler Plus compatible (or smart) thermostat, then you will need a new one which we can supply and fit.
Housewarm is a small, local heating and plumbing services company going strong for over a decade.
We have all the plumbing tools, knowledge and experience needed to carry out your heating and plumbing jobs to a high standard. 
With no call out fees and free fixed price quotes, we can offer recommended and reliable plumbing services at competitive prices.