Outside Tap Fitters Near Me!
Get a local plumber to fit an outside tap in Newcastle, Wallsend, and surrounding areas. Hot and cold outside taps supplied and fitted by a recommended local outside tap fitter.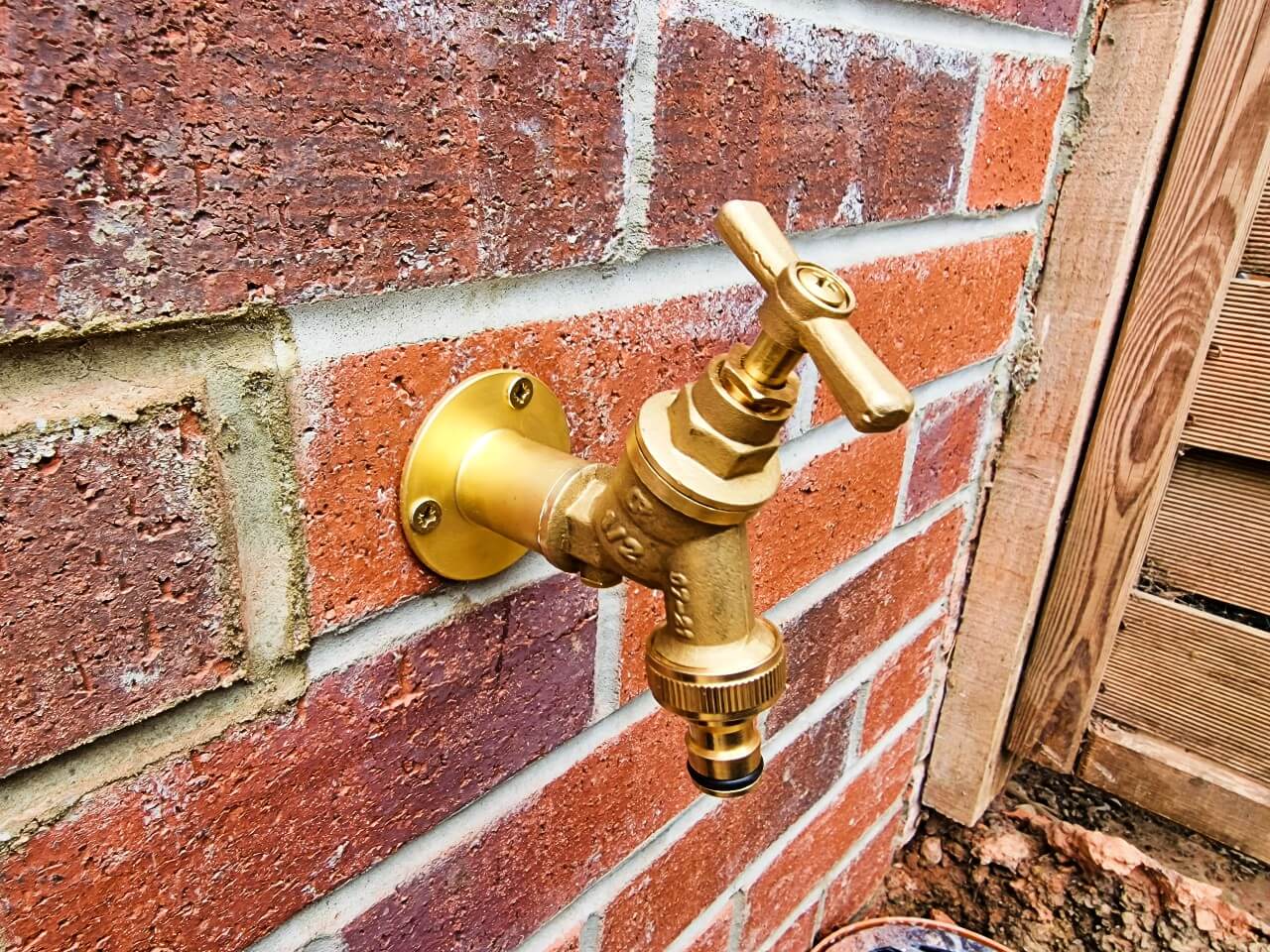 Can an Outside Tap be Fitted Anywhere?
Yes, outside taps can be fitted anywhere. You have to run a water supply to the new outside tap location, which can be difficult but almost always possible. We will work out how to fit an outside tap in any location you like and give you a fixed price quote.
For example, if you wanted to have an outside tap fitted at the bottom of your garden or an outbuilding away from the house, then you would have to run a water pipe from your house to the newly fitted outside tap, and the pipe will need to be well insulated to help stop it from freezing in the winter.
How Much to Fit an Outside Tap?
The outside tap fitting cost at Housewarm is £80 including VAT.
This price is to supply and fit a hot or cold outside tap with all the fittings needed for an outside tap installation, including an outside tap hose connector, so your hose will click straight on to the tap. 
Hot and cold outside taps can be fitted together in the same place at the same time for £140.
The outside taps must be fitted near a water pipe for these prices. This is normally on the outside wall behind the kitchen sink.
There may be additional costs if the water supply for the outside tap is far away from where the tap is being fitted. 
Call or text today for a free outside tap installation quote.
"Friendly, professional and fast. Have had two radiators fitted
including some pipe work and won't use anyone else now. Highly recommended."

"We have used HouseWarm before for a service to our old boiler, so it was the first place we contacted for a quote for new one. Have used other companies in the past and been charged loads for call out and parts etc. Really good competitive quote for top quality product. Great during installation and over the moon with the finished job. Would highly recommend HouseWarm to anybody."
Housewarm provides plumbing services to homes in and around Newcastle upon Tyne.
We are a trusted plumbing company that has been going for over 10 years.
We have all the best plumbing tools and experience needed to carry out and complete your job to a high standard.
Furthermore, we guarantee all of our plumbing work for a full twelve months.
Get a local plumber in Newcastle, Gateshead, Wallsend, and around the North East.
No call-out fees and free quotes. 
Housewarm Limited is a company registered in England and Wales | About us | Company registration number: 07678055. Gas Safe registration number: 533062.
Registered office address: 21 Calderdale Avenue, Newcastle upon Tyne, NE6 4HN
Book an outside tap installation or a free quote
Opening Hours:
Monday to Friday, 8am to 6pm